Posted in Technology on August 26, 2021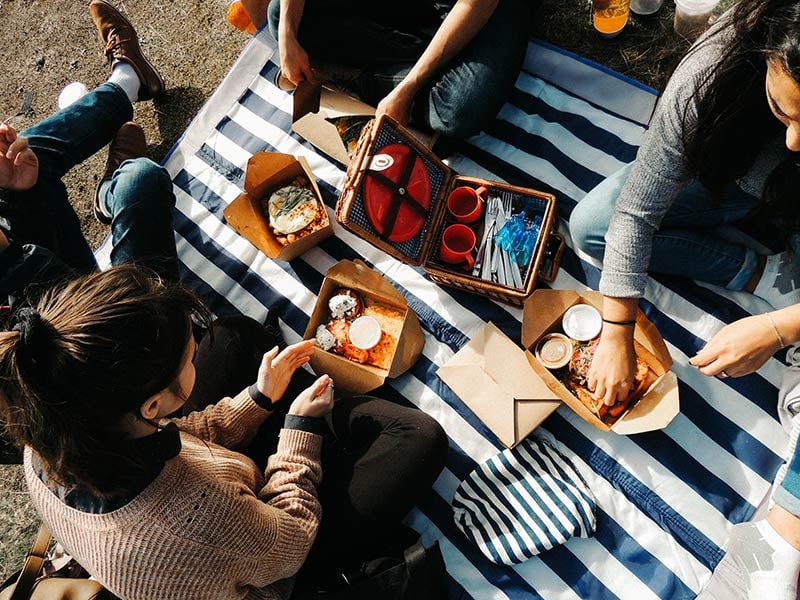 Over the past year and a half, operators have addressed emerging pandemic-related consumer preference, safety and other needs by introducing innovative menu and operational changes—and a number have shown some staying power.
Take family and bundled meals, for instance, which 43% of casual dining, 35% of fast casual and 28% of quick service restaurants added between March and December 2020. More than a quarter of off-premise customers say they're more likely to choose a restaurant that offers bundled options.1
Consumers also appreciate the value family meals provide, according to Mark Brandau, an analyst at Datassential.
"Early on in the pandemic, restaurants had to find every method they could think of to be generating some revenue," Brandau says. "The [family meal] price-value equation was really favorable for a lot of people. That is one of the things consumers have said they want to see stick around; it's probably a smart thing to keep on the menu."
Capitalizing on Off-Site and DIY Selections
To offset reduced on-premise dining revenue, operators offered numerous incentives to encourage people to place takeout and delivery orders, particularly early on in the pandemic, such as selling grocery items and including rolls of toilet paper with delivery orders. Some of the efforts, including those that specifically addressed pandemic-related needs, eventually tapered off.
Other approaches, such as to-go alcoholic beverages, are still being utilized more frequently. During the pandemic, more than 35 states began allowing cocktails to be sold via takeout or delivery. As of July 2021, 16, plus Washington D.C., had passed legislation to permanently allow take-home cocktails to be sold, and others had measures in place to enable it through up to 2025.2
"The move to start delivering alcoholic beverages was fairly unprecedented in the industry," Brandau says. "For some of the more upscale chains with a great bar menu, it was a way to maintain some sales, and it will probably stick around after the pandemic is over."
Hannah's Bakery and Café in Salem, New Hampshire, still sells the cookie and cupcake decorating kits and to-go cookie dough that were immediate hits when introduced in March 2020—but has scaled back on the amount.
Owner Hannah Matte believes the cookie dough holds continued appeal as a fresher, locally produced alternative to what's available at grocery stores. However, because one of its original selling points—the reduced number of trips customers had to make to the store to have fresh baked goods at home, since they could prepare the cookies at their leisure—may now be less of a focus, she puts out fewer containers.
After noticing a post-holiday season lull, the bakery also began offering its decorating kits, originally intended for children who were sheltering in place, primarily around major holidays when families will be spending time together.
"Every parent was looking for an outlet for their kids because you really couldn't go out or have friends over," Matte says. "[Now] it's an activity people can do with their kids, or on Father's Day, [a child] could give a hand-decorated cookie [as a gift]. We'll keep doing it for holidays because it's really popular."
Igniting Interest Through Name Recognition
Menus generally didn't expand significantly during the pandemic; virtually no operators said they were planning to increase their menu size in a May 2020 Datassential survey, and 35% intended to reduce the amount of things they were making.3
Due in part to staffing and cost control challenges, menus shrunk in 2020 by 10.2% on average, according to Brandau. Roughly half of casual and family dining operators had fewer items available at the end of 2020 than before the pandemic.1
However, even with the focus on core menu elements, a number of eateries introduced periodic limited-time offers, which can be an effective way to draw customers—including some items that featured well-known, iconic ingredients. As of February 2021, 37% of best-in-class LTOs included brand mentions.4
"Nostalgic flavors like OREO, smores, birthday cake—[which] are usually very, very popular—are probably a good way of having something new on the menu, but [with] a familiar flavor people instantly recognize and know they like," Brandau says. "We've seen that, especially with dessert, when looking at menu trends over the last several years."
Although Atlanta's Sublime Doughnuts had stopped offering ice cream when the pandemic slowed business, owner and founder Kamal Grant says the eatery ultimately brought back its white chocolate OREO gelato because customers asked for it.
This summer, Sublime introduced a caramel and white chocolate gelato doughnut sandwich, stuffed with chunks of CHIPS AHOY!, and a doughnut filled with CHIPS AHOY!-infused buttercream, inspired by Grant's memories of eating the cookie as a child.
"CHIPS AHOY! is delicious," he says. "That's what's always worked with our business—people seeing special donuts like the CHIPS AHOY! one, [and they] have to come now because it [may] not be here next month. We've tried to do that more—looking back at my past or some classic American treats and making them more gourmet and doughnut-like, because people really enjoy it."
Augmented Ordering
To efficiently serve menu items during the pandemic, a number of operators implemented new external and on-premise technology—a growing trend within the industry.
Crumbl customers, for example, can buy cookies like its Mallow Sandwich—made with components consumers voted for, including a marshmallow fluff and OREO filling and two chocolate cookies rolled in OREO Cookie Pieces—via self-service kiosks the 200-location eatery began installing about a year ago. Approximately 40% of operators across all six restaurant segments have added a contactless or mobile payment option since March 2020.1
Crumbl customers simply tap cookie images on the kiosk screen and can watch the icons move into their box; an employee will bring the requested items out after the order is submitted. The kiosks, like curbside pickup (another amenity the company debuted during the pandemic) help make the ordering process easy—something customers appreciate, even if they now feel more comfortable with in-person interactions, says Anna Tibbitts, public relations manager at Crumbl.
"It's super visual, which is a reason we wanted to do it, because it's just a great in-store experience," Tibbitts says. "While people are excited to be around each other, they also see the value and convenience of offerings that were implemented because of the pandemic."
Some—such as curbside pickup, which 41% of operators had added by October 20205—may not have been in widespread use before last year; however, consumers have since come to expect meals that will serve multiple family members, contactless exchanges and other pandemic-era options, Brandau says—and likely will continue to in the future.
"As modern life gets more hectic and complicated, these conveniences are now seen as standard operations going forward," he says. "The demand for them will still be there. I wouldn't advise any restaurant to mothball their new capabilities for takeout, curbside and delivery—you'll get enough use out of them, even if it's not the only way to do business, like it was during the pandemic."
In the midst of the often uncertain dining atmosphere, many operators cast a wide net to try to boost business in the pandemic's early days. After more than a year of testing out new techniques and lessons learned, the industry now has a better sense of what specific menu components consumers want—and how they'd like to order and receive them.
By focusing on elements that have seen success, ranging from LTOs that harness the power of brand recognition to touchless delivery and new menu categories like to-go cocktails, operators can effectively meet the current consumer demand for convenient, yet dynamic dining options—helping to propel sales today and in the coming year.
Get inspiration for boosting your business with our latest Inspiration Guide.