Posted in Noncommercial on June 24, 2021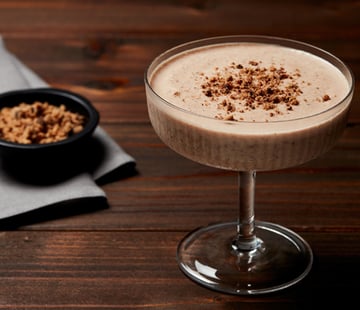 As foodservice operators continue to expand their dining capacity and hours, the competition for customers could get fierce. An enticing dessert menu that features intriguing flavors could be the ideal sweet solution to attract hungry patrons.
After months of at-home meals, consumers want new—not necessarily vastly different—eating experiences, according to Patty Mitchell, executive chef for Mondelēz International Foodservice. Desserts made with off-the-beaten-path or newly popular ingredients can allow diners to dip a toe into uncommon culinary waters.
"This is where current trends come into play," Mitchell says. "You can choose desserts or flavors that are in the proliferation stage or try items in the adoption stage—and be the first to showcase and put your own unique spin on them."
Trending and emerging tastes tend to first show up in fine dining and mixology environments but can often seamlessly transition into the dessert course, she continues. Take Irish cream, for example, which ingredients provider Kerry has identified as one of the 20 fastest-growing flavors in the past three years.1 Mitchell used the liqueur last year to create "a fun twist on chocolate cake" that also included OREO Cookie Pieces.
Following sea salt's more frequent inclusion as a topical texture component in baked goods roughly six years ago, other savory flavors such as chili pepper and coffee have found their way into sweet desserts as well.1 "The combination of savory and sweet has now become mainstream in North America," says Leslie Serrano, a senior innovation chef at Kerry. "The savory component adds a familiar taste in an unexpected application, which can be a really fun combination."
Up-and-Comers
The ways in which different flavors, textures, cooking methods and other elements play together also can influence how desserts perform. Serrano says she's seen culinary leaders in both foodservice and CPG product development begin to incorporate rich flavor inclusions such as cookie butter (a creamy spread typically made from pureed speculoos or Biscoff cookies) and brown butter, which were two of the fastest-growing sweet flavors last year, in their offerings.1 "These are perfect flavors for frozen desserts, cheesecake and pastries," she says.
Nostalgia has become a particularly popular selling point for younger consumers, Serrano adds, noting that desserts containing neon colors, crunchy textures and a push-pop format are trending in the dessert category right now. "We see flavors like [peanut butter and jelly], brownie, apple pie, fudge, and s'mores used in these applications—both with added flavors or by deconstructing a dessert profile like apple pie and reconstructing it with flavors and inclusions in an application like yogurt or frozen desserts," she explains.
Cookies—everything from chocolate chip to snickerdoodles—appear to be another taste trend. Category sales increased 6.5% from November 2019 to November 2020, per IRI.2 Classic varieties like CHIPS AHOY! are being leveraged in dessert offerings like the McDonald's McFlurry, which was available for a limited time late last summer3, and in unconventional ways as well. Mitchell, for example, created this Blended Brandy Alexander made with CHIPS AHOY! and layered in smoke—another Kerry-identified emerging beverage flavor trend1—to create this Smoked Earl Grey Cheesecake Mousse made with CHIPS AHOY!
Sprinkling ingredients such as Chunky CHIPS AHOY! Cookie Pieces (available in July) on top of whipped cream or SOUR PATCH KIDS on drinkable desserts like this Cosmo Float made with SOUR PATCH KIDS Bitz allows operators to tap into recognizable tastes and create Instagrammable dessert menu items, Mitchell says.
Datassential's concept testing score-based research shows branded ingredients bolster sweet dishes' sales potential, says Mike Kostyo, a trendologist at Datassential. OREO Cookies are a prime example. "If you offer it in a dessert, you're going to see that purchasing intent score increase," he says.
Menu Considerations
The pandemic has prompted many consumers to focus on their health. As a result, one of the key trends that has emerged over the past 12 to 15 months is a desire for better-for-you ingredients.
Consumers looking to reduce their sugar intake don't necessarily want to sacrifice flavor, however, Serrano warns. Alternative ingredients—such as honey, maple and dates—are appealing to consumers. "They help provide sweet flavor to products" without added sugar, "allowing them to feel better about their indulgent choice," she explains.
Clean, natural ingredients that offer functional benefits, such as peanut butter and other nut butters (which are perceived to be high in protein), also could help operators meet the demand for healthier dessert options. "We've been at home eating foods that are maybe not so good for us, so people want to get their health back on track," Kostyo says. "If you can offer a dessert option that gives consumers permission to indulge, that's going to be a great option in the next year."
As a dining occasion, dessert appeals to the vast majority of consumers: 93% of those surveyed by Datassential in 2019 said they enjoyed dessert at least once in the past week, according to Kostyo—and more than 50% opted for dessert in the past day.4
Given current labor challenges, Kostyo continues, it may behoove operators to focus on simple-to-execute options that don't require special skills or a huge time commitment, such as hand-held or other single-serving items that can serve as dessert or a daytime snack.
"A little over half of dessert occasions are between meals," he says. "Anything prepared, like prepackaged cookies, are a great option. Or instead of a whole cake, [consider] cake slices, cake pops, churros—anything that's really easy for operators to offer [that can be sold] as a snackable option or end-of-meal treat."
When crafting new desserts, look to cocktail and fine dining menus for inspiration, as they're often where emerging flavors and ingredients first appear. Whether your offerings incorporate unexpected ingredients such as cookie butter and chili pepper, supply health benefits or function best as a satisfying snack, capitalizing on food and flavor trends will always attract consumer interest—and potentially boost sales in the process.
Looking for the latest warm-weather dining insights? Check out Summer Sizzles, the next edition of our Culinary Inspiration Guide.
1 2021 U.S. Taste Charts (Kerry, 2021)
2 "Cookie Essentials," Snack Food & Wholesale Bakery, January 2021
3 "McDonald's launching two LTOs: Spicy Chicken McNuggets, Chips Ahoy! McFlurry," Nation's Restaurant News, Aug. 25, 2020
4 Desserts' Sweet Spot SNAP! Keynote Report (Datassential, February 2019)