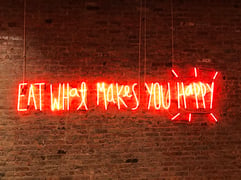 Snacking has become increasingly popular in recent years—and shows no signs of slowing down.
In 2018, 80% of consumers snacked at least once a day.1 Two years later, 88% of adults surveyed for Mondelēz International's 2020 State of Snacking™ report said they were noshing between meals just as much as—or more than—they did in 2019.2
Snacking has become an even more common occurrence among certain generations, with nearly two-thirds (64%) of millennials and 6 in 10 centennials (also known as Generation Z) saying they snacked more often throughout the day in 2020 than they had previously.2
With specific age groups showing a strong preference for snacks, as well as specific snack foods, it behooves operators to understand the flavors, formats and other factors that resonate within each demographic so they can tailor their offerings accordingly—and potentially increase snack sales.
What should operators keep in mind when innovating and marketing for specific age groups? Ingredients, healthfulness and cost all play a role.
Generation Z/Centennials
Compared with the general population, members of Gen Z—born in 1997 or later3—are more inclined to favor global tastes; 42% want to see more street food on menus, for instance.4 Modern-day comfort food and items made with recognizable ingredients—particularly candy and sweets—may also resonate with this age group.
"Branded [ingredients] are more important for younger consumers," says Datassential Trends & Insights Practice Lead Jamie Howe, noting that some brands appeal more than others. "We've seen OREO dessert items at pretty much every national quick service operation," for example. "Popeyes even had deep-fried OREO bites—a perfect example of a limited time offer that's going to drive traffic with younger audiences."
The OREO Concrete Mixer at Culver's is one of the chain's top-selling desserts, says Quinn Adkins, director of menu development for Culver's. Although the Concrete Mixer wasn't created with a specific generation in mind, the ability to customize it by choosing from more than two-dozen available toppings (from both well-known and lesser-known brands) allows the chain to cater to different demographics' traditional and emerging tastes.
"No matter what flavor profile any specific demographic tends to gravitate toward, we can make it fresh for them," Adkins explains. "If there's a new ingredient or flavor that [enters] the zeitgeist, we can respond to that opportunity pretty quickly."
Millennials
This generation, born between 1981 and 19963, snacks for comfort—and often. In fact, 70% of millennials say they prefer snacking to eating full meals.2
"Millennials are the largest generational group to identify as foodies and also have more money to spend," Howe says. Because they're often attracted to foods that allow them to try new flavors, packaging or other novel elements5, operators can potentially draw them in with "more premium snacking occasions," she adds.
Emphasizing all-natural ingredients, corporate citizenship or other positive attributes may also have an impact. "Claims on clean labels, as well as claims that touch on personal values, are going to [bring] people through the door," Howe continues. "Millennials, more than any other generation, are very invested in lifestyle eating."
Generation X
Born between 1965 and 19803, GenXers are currently snacking more frequently to boost their mood.2 Indulgent categories that can provide an instant hit of happiness, such as ice cream, muffins and donuts, often do well with the age group.5
Gen X may be less interested in revolutionary, cutting-edge flavors and concepts than their Gen Z or millennial counterparts, however, Howe cautions.
"In terms of flavor profiles and cuisines, this generation skews toward familiar global favorites—think more traditional Mexican or Chinese—[rather than] emerging ones," she says. "Whereas younger consumers might want a Japanese ramen bowl, something like teriyaki or Italian is popular with Gen X consumers."
Baby Boomers
Well-being is on the minds of the generation born between 1946 to 1964.3 In fact, 63% of boomers worry about their health.6 But they are prone to indulge sometimes: More than one-third (36%) of boomers surveyed for the State of Snacking™ report said they sometimes snack to reward themselves.2
Boomers also tend to be more budget-conscious, Howe adds. Operators can combat this by menuing smaller, less expensive portions featuring classic American flavors. "Maybe that snack is a bowl of soup, or a mini cheesecake for one," she suggests. "Offering discounts can help get boomers back out to restaurants."
A Bright Snack Outlook
Nearly half (46%) of operators position specific menu items as snacks.5
Culver's is among them: Its "Snackworthy Sides" offerings include chili cheddar fries, cheese curds and other savory dishes. Adkins says consumer interest in the chain's "snack" offerings—especially its onion rings—has grown in recent months, without any new or different promotion. In the past year especially, he adds, "People were very much craving favorites and seeking comfort."
Numerous restaurants have had success with snack menu offerings in the past: As of 2019, 97% of operators had snackable items on their menu, and 68% said those items had been profitable.5 If consumer interest in snacks continues to grow at the pace it has in recent years, operators may find single-serving items eventually contribute a significant amount of business—particularly if those offerings play to their strengths.
"Whether it's donut holes or mac and cheese poppers—it can be sweet or savory—the key is craveability," Howe says. "Do what you're known for, times 10. Or do it with a little bit of a twist, because people are going to be attracted to things they know or love." And do it in ways that speak to every generation.
"Whether that's a partnership with a brand or a fusion mashup of items people love, things that are interesting and unique are going to draw people to restaurants," at any age.
For additional insights into generational snacking preferences, download Mondelēz International's State of Snacking™ report.
1 Snacking Occasion Consumer Trend Report (Technomic, 2018)
2 State of Snacking™ report (Mondelēz International and The Harris Poll, 2020)
3 "Defining generations: Where Millennials end and Generation Z begins," Pew Research Center, Jan. 17, 2019
4 "Consumer Insight: Gen Z," FONA International, Jan. 17, 2020
5 Snacking SNAP! Keynote Report (Datassential, December 2019)
6 "Survey: 7 in 10 respondents worry poor health will limit their life experiences," American Heart Association and American Diabetes Association, July 7, 2020