Posted in Snacking on September 20, 2022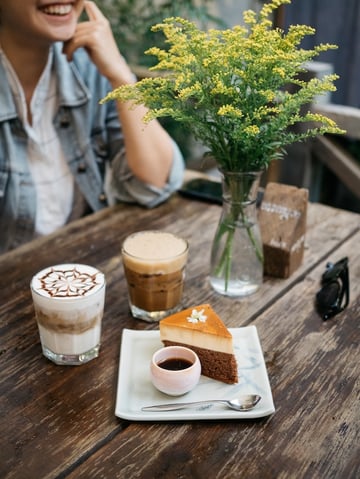 Beverages that include OREO cookies and cheesecake, cotton candy and other indulgent ingredients have played a dual role on menus in recent years, often serving as both drink and dessert options.
Today, with 42% of consumers saying unique flavors are the reason they decide to try new baked goods, desserts featuring tastes that have traditionally been associated with beverages can also potentially be big sellers.1
Rock Bottom Restaurant & Brewery's popular four-layer carrot cake, for instance, is made with kolsch beer its locations produce, according to Kaitlyn Venable, director of culinary at SPB Hospitality, the Houston-based operator behind Rock Bottom and several other casual dining restaurants.
"It gives it just a little bit of an additional depth of flavor from that maltiness; and also a little bit of dryness from the beer to help balance out the sweetness of the cake," Venable said in an interview with Mondelēz International. "Our guests love it so much that it probably will be forever on our menu."
Thirst-Quenching Treats
Other types of beverages are also appearing in desserts—such as bubble tea, which is used to make national chain Xing Fu Tang's brown sugar boba soft serve ice cream; Dairy Queen's latest Blizzard lineup includes an OREO Hot Cocoa option.
Coffee and tea flavors seem to be a welcome dessert inclusion, as well. "Tea flavors are more prevalent than ever," said Christine McCabe, Corporate Pastry Chef at BomboBar, in an interview with Mondelēz International. McCabe cited espresso, green tea, earl grey, hibiscus and chamomile as flavors that work well in desserts.
Chai has become increasingly more common in frozen items; similarly, ingredients provider Kerry singled Irish cream out as one of 20 flavors that's experienced the fastest growth in both beverages and desserts in recent years. 2, 3
With post-morning coffee consumption up 15% in the past year, restaurants may find the Café Gourmand concept—an approach that caught on first in France and has since spread to the U.S., which involves pairing a java drink with several mini desserts—can be a way to collectively boost beverage and dessert sales. 4, 5
Espresso-based drinks, for example, are a great match for numerous types of chocolate, according to Gregory Kong, head bartender at the Japanese-Italian New York restaurant Kimika.
"Additionally, herbal teas work well with darker, higher cacao percentage chocolate," Kong told Mondelēz International. "One example of a great pairing is a roasty, nutty genmaicha tea with an earthier chocolate to complement each other's flavors."
Bakery-Themed Libations
Beverage-inspired sweets—such as cappuccino cheesecake and Thai-tea-and-OREO-flavored mochi, for example—aren't the only items that have gained ground in recent years. Numerous drinks have popped up that contain aspects of various desserts.
The amount of pie-flavored latte offerings, for instance, grew 33% in 2021 alone.6 Venues ranging from Krispy Kreme, which started serving an iced coffee topped with pumpkin pie sauce this month, to Disneyworld—which created an apple pie milkshake adorned with two cinnamon donuts for its Halloween festivities this year—have also debuted pie-oriented drinks.
Some Rock Bottom locations have integrated conventional dessert tastes into beers. This holiday season, according to Venable, the chain's Denver location plans to offer a tiramisu-flavored blonde stout that will be made with lady fingers, liquid cacao, espresso and vanilla extract that's added after the fermentation process.
Other SPB eateries, including the Washington, D.C. District ChopHouse restaurant, have also woven sweet components into craft beers.
"The last time I was at ChopHouse, they had a vanilla porter on tap that was delicious," Venable said. "The brewer used real vanilla beans; you got that really fresh, strong vanilla flavor. That definitely was a dessert beer."
Rock Bottom further tapped into the dessert-flavored beverage trend with a previously available line of alcohol-infused milkshakes, including one that contained whiskey and salted caramel. Another featured pieces of the fudge brownie from the restaurant's dessert menu, Kahlua, chocolate syrup, and stout or porter, depending on what the brewers had on hand, Venable says.
Rock Bottom's beers have also made their way into other menu items, including a chili recipe, fish and chips batter and a caramel dip served with donut holes.
"Because we brew our beer, we're forever trying to connect the brewery piece with the food piece—so any way we can incorporate our beer specifically into our food is always a win for us," Venable said. "We try to use it in as many applications as possible, just to make sure we're telling a cohesive story. [Having] the beer inside helps tell that story."
Including proprietary beverages in dishes can certainly help with branding; restaurants, however, don't need to have an in-house brewery to benefit from the current interest in drink-and-dessert mashups.
Offering cocktails or nonalcoholic beverages that feature classic cake, pie and other flavors, or desserts like a coffee-imbued ice cream bombe or smoked earl grey cheesecake mousse made with CHIPS AHOY!, can help operators appeal to a wide range of consumers—whether they're looking for a unique new take on dessert or would prefer something sippable that also happens to be sweet.
Looking for more menu inspiration? Check out our Culinary Center for a bevy of beverage and dessert recipes.
1 2022 Food and Beverage Flavor Trends Report, T. Hasegawa, 2022
2 Datassential Desserts Keynote, Datassential, May 2021
3 2021 U.S. Taste Charts (Kerry, 2021)
4 National Coffee Data Trends 2022, National Coffee Association, March 2022
5 "Cafe Gourmand, the French Mini-Dessert Trend, Hits the U.S.," Bon Appétit, Dec. 12, 2012
6 Technomic, LTO Seasonal Review, Spring 2021