Posted in Promotions on July 28, 2022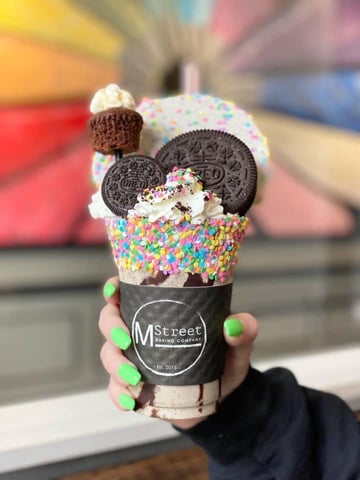 With an enticing mix of menu items, the dessert category can produce considerable revenue; 60% of operators say it's helped them increase profits.1
During the COVID-19 pandemic, however, numerous operators—48%, according to one tally—trimmed their menu to control labor, cost and other challenges, and their dessert offerings weren't necessarily spared.2
As a result, novel items, including limited-time offer desserts, could now resonate with consumers who are eager to see different dining options.
The primary reason consumers order LTO menu items, in fact, is because they want to try something new—and they prefer checking out unfamiliar desserts more than dishes from other menu categories.3
If your restaurant is hoping to increase business by making some dessert menu tweaks this summer, the following suggestions can help you craft the most effective LTO promotion.
1. Offer Inventive Items
Including buzzworthy flavor and other elements can make LTO desserts a substantial draw.
Nearly half (48%) of consumers say they've stood in line for more than an hour to try a trendy beverage or food item. Nearly 7 in 10 say they've sampled a dessert drink, in particular, to feel like they're in the know.4
Currently, interest in global flavors is high. Including fruits that are sometimes utilized in Asian and Latin cuisine, such as yuzu, and dessert styles like Greek baklava, which has experienced a 21% increase on menus in recent years can help position LTOs' growth, according to industry reports.5
Consumers have also expressed interest in desserts that contain lush tastes like cookie and brown butter, cardamom, matcha, espresso and bourbon, as well as items with crispy, fluffy and light textures.5
2. Revisit Conventional Recipes
Since the pandemic's onset, retro-themed treats have been popular choices, with some fresh takes on dessert featuring classic cereals, candy and soda.5 Research indicates nostalgic dessert LTOs are often some of operators' top-performing items.6
Different generations' favored flavors, though, can vary. Older consumers, for instance, may recall enjoying desserts like cherries jubilee and pineapple upside-down cake in their youth; desserts that encompass things like Nutella and sour apple might resonate with Gen Z members.1
Utilizing well-known branded ingredients is another way to evoke nostalgia. Approximately 37% of best-in-class LTOs have included brand mentions.7
This summer, the East Coast Wawa convenience store chain is offering vanilla, caramel or chocolate frozen cappuccinos, blended Hurricane treats and milkshakes topped with Chunky CHIPS AHOY! Cookie Pieces.
New York-based Pastry Chef Clarice Lam, who designed a special MoonPie Cake made with OREO Cookie Pieces—a chocolate glazed cake made with OREO cookies, marshmallow crème, OREO Cookie Pieces and rainbow sprinkles—to commemorate OREO's 110th birthday, says the classic chocolate sandwich cookie has, over the years, become an iconic dessert component.
"OREO really is America's favorite cookie," Lam says. "I love creating recipes with OREO Cookies because the flavor is so recognizable it automatically infuses nostalgia into whatever I make."
3. Incorporate Seasonal Flavors and Formats
Including ingredients that are generally only available during part of the year, such as rhubarb, and tastes commonly associated with summer, like lemonade and watermelon, can help imbue LTO dessert items with an additional sense of urgency.
More than a third of consumers (36%), for example, say seasonal flavors motivate them to try baked goods; for 41%, seasonal flavors factor into their decision to purchase a new menu item at a restaurant. 5, 8
With more outdoor activities featuring food during summer, portability can be an important LTO consideration. Beverages—which comprise 33% of overall LTO purchases—can be an easy, on-the-go treat format.3 Nearly 7 in 10 Americans say they're actually more likely to order a drinkable dessert such as bubble tea or a milkshake than something sweet to nosh on.4
4. Leverage Chocolate's Universal Charm
Consumers generally prefer traditional dessert flavors like chocolate and vanilla over fruity or other tastes—and with chocolate being ranked as the most popular cupcake, doughnut, cookie and cake flavor among all generations,9 it's no surprise fudgy LTO items tend to perform well.6
Chocolate was one of the top flavors featured in North American seasonal LTO products between December 2021 and March 2022.9 Recently, consumers have shown a specific interest in chocolate-tinged cookies, croissants and tortes.6
Some operators are capitalizing on the continued interest in chocolate by combining it with other dessert elements. In May, Shake Shack, for example, introduced two new LTO shakes10: an OREO Cookie Funnel Cake Shake that contains vanilla frozen custard mixed with OREO Cookies and a funnel cake crunch, topped with chocolate whipped cream; and a Chocolate Churro Shake, made with cinnamon churro-flavored frozen custard, spiced dark chocolate sauce and cinnamon waffle cone crumbles.
Creating a Successful LTO in Today's Environment
Despite being a lifelong OREO fan, Chef Keegan Gerhard never imagined he'd use the cookies—a snack he'd brought on road trips, packed in school lunches and enjoyed on numerous other occasions—in his professional work. Yet Gerhard now views OREO Cookies as "an indispensable ingredient," due in part to their versatility.
D Bar, the Denver restaurant he owns, introduced a number of OREO-based LTOs in March, including a cinnamon roll made with OREO Cookies and a cream cheese frosting that contained OREO Cookie Pieces.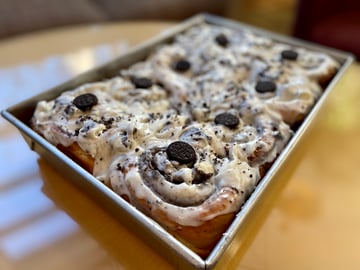 "Just imagine an ingredient that can be chocolate or vanilla, gluten-free or not, comes in different levels of sweetness (stuffing options) and gives you all the most popular flavor trends/options (mint, fudge, java, lemon, toffee, hazelnut, birthday cake)," Gerhard says. "[OREO Cookies] can serve as the inspiration for a complete dessert or as a perfect way to fortify flavor. If you include OREO Cookies on the menu, you know [the item] will sell!!"
To make the most of your LTOs, a social media campaign can help inform customers of your new, innovative desserts that feature familiar, trending and other key elements.
Additional promotional tools, such as on-premise signage, can also build excitement about the items—and potentially help maximize sales by encouraging the 63% of consumers who treat LTOs as an impulse buy to prioritize ordering your latest dessert menu items before it's too late to try them.3
To learn how to create innovative desserts that elevate familiar flavors and formats—and translate into more sales—contact us using the form below.
1 How Restaurant Operators Can Tap Into the Latest Dessert Trends, SmartBrief, October 20, 2021
2 Webinar: The Mindset of the Modern Operator, Datassential, May 12, 2022
3 The Simply Smarter Webinar: S4E11 The Innovation Episode, Datassential, May 31, 2022
4 "Sippin' Something Sweet," 72Point INC, May 10, 2022
5 2022 Food and Beverage Flavor Trends Report, T. Hasegawa, 2022
6 Regional Desserts report, Datassential, 2021
7 New State of the Menu Report from Technomic Spotlights Trends to Come in 2021, Technomic, February 23, 2021
8 Seasonal Flavors: Trends of Winter, FONA International, March 11, 2022
9 "Comax Research Finds What Consumers Are Sweet on in Baked Foods," BakingBusiness.com, June 23, 2021
10 "Shake Shack Just Dropped Two New Chocolate Shake Flavors," Mashed, May 4, 2022