Posted in Millennials on July 5, 2022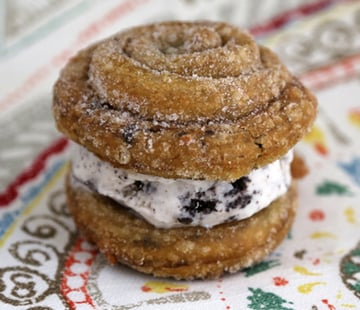 Latin cuisine—originating from Mexico, in particular—has become an increasingly popular dining choice in recent years.
Between 2017 and 2018, the number of independent Mexican restaurant locations in the U.S. grew by 1,500.
1
Even with the COVID-19 pandemic impacting the foodservice industry, the amount of Mexican restaurants increased by 2.4% last year—the same annual rate the industry has seen since 2017.
2
While restaurants that center on dishes from Cuba, Puerto Rico and other regions may not be as prevalent, Mexican food's move to the mainstream has undoubtedly helped familiarize consumers with a number of flavors used in Latin countries' cuisines—particularly if they've been blended with other styles in dishes, according to Mario Carrasco, co-founder and principal at consumer research company ThinkNow, in an interview with food and beverage marketing agency The Food Group.
"We're seeing a proliferation of elevated Mexican cuisine—more modern takes on traditional Mexican desserts, like churro cheesecake," Carrasco said. "Churro is obviously a traditional Mexican dessert/snack; cheesecake is more American, [and] cheese is definitely prevalent in many Mexican desserts."
Local and Latin Ingredients Unite
Churros have appeared on 38% more menus in recent years—and their cinnamon-and-sugar essence has also been included in items ranging from Danish kringle pastries to OREO ice cream sandwiches and elaborate cakes.3
In an interview with The Food Group, Hector Santiago, chef/owner of Atlanta-based El Super Pan, said he included churros on his menu to represent his Puerto Rican heritage; in addition to a more classic version, the eatery offers a variation.
"Our churros are maybe a quarter inch in diameter, and they're about 6 inches long," Santiago said. "We also do a chocolate churro. We add cocoa powder to the dough and a little melted chocolate, as well."
Santiago also serves pastelitos, a puff pastry that contains guava paste and queso fresco cheese and is heavily coated in powdered sugar, and he's introduced desserts that combine conventional U.S. and classic Latin cuisine elements, such as tres leche, which Santiago says originated in Central America. Currently, tres leche is one of the top 10 leading flavors in Latin and Mexican cuisine.4
"In the South, we love pies and cakes," he said. "We do a basically Southern-style, multilayer coconut cake, but made into a tres leche-type cake. We toast the coconut and [use] dulce de leche."
Presenting traditional Latin flavors and formats in a way that will resonate with U.S. consumers can be a balancing act. Santiago has had to alter his preferred flan style, for instance, adding an egg and condensed milk, because he's found people expect a denser, more congealed texture.
"My flan has always been like what I ate when I was a kid—super cold, usually super light, and the burnt caramel, that's what really gives it flavor," he said. "Nowadays in Puerto Rico, you can take a flan and throw it on the floor and it will bounce; there's so much sugar and eggs. My flan has always been quite different, but we kind of gave up on that a little bit."
A More Global Landscape
Today, 72% of consumers say they regularly or sometimes have Latin cuisine—including Latin-inspired desserts, which more than a quarter (29%) report they typically eat.4 Certain age groups have expressed a notable interest in food that has ties to Latin culture; unlike their Gen X and boomer counterparts, millennials and Gen Z, for example, prefer Mexican cuisine to Italian.5
Nearly half—45%—of Gen Zers say they'd choose to eat Mexican food if they could only have one type of sustenance for the rest of their lives.5
A number of consumers now expect restaurants to offer Latin fare. A quarter of Generation X members, 21% of millennials and 22% of Gen Z say they anticipate Latin flavors will be included on non-Latin menus.4
As a result, sweet items that intermingle American and other tastes—such as a guava empanada made with RITZ crackers, a CHIPS AHOY!-infused tres leches dessert or a parfait made with NILLA Wafers—may increasingly crop up in the future.
"It started [with] millennials," Carrasco said. "Gen Z is the most diverse demographic in our nation's history. They're going to be even more experimental and open to new foods and flavors. It's social media driven, as well. People are taking pictures of their food, and the more novel, new and interesting it is, the more engagement it's going to get on social media."
Even with strong consumer interest, authenticity is a crucial component when adding Latin-inspired desserts and other dishes. A good rule of thumb, according to Carrasco, is to confer with someone from the culture to make sure you're being respectful of the dish and the importance it holds.
"Just like millennials and Gen Z are becoming more savvy and experimental in trying foods, they're also more likely to know a restaurant or a company is just putting out a Latin flavor because it's going to get market share," he said. "That's something definitely to be sensitive of as you start to think about incorporating flavors and foods of different cultures. I don't want to say you have to be from that culture to make a dessert—but you have to consult with someone in some capacity to make sure you're doing it right."
Looking to incorporate Latin American flavors in an authentic way on your menu? Contact us below to find out how you can create enticing desserts that feature iconic flavors and formats.
1 "2018 Independent Mexican Restaurant Report: Lack of Labor Slowing Growth" (El Restaurante, 2018)
2 Mexican Restaurants in the US - Number of Businesses 2005–2028 (IBIS World, May 31, 2022)
3 Flavor of the Week (Datassential and Nation's Restaurant News, Sept. 25, 2018)
4 Trending Flavors and Ingredients: Latin Cuisine (T. Hasegawa, 2021)
5 2022 Trends: Future Food (Datassential Foodbytes, December 2021)