Posted in Technology on April 14, 2020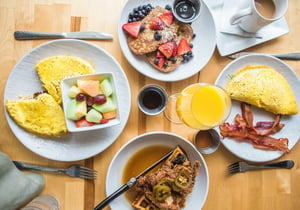 As they scramble to make the most of the delivery phenomenon, foodservice operations seem to be waking up in a big way to the sales potential of breakfast delivery.
For time-strapped millennials hungry for convenience, delivery during the morning daypart seems likely to go over easy. According to survey data from the investment bank UBS, millennials are three times more likely to order in than their parents, and their huge appetite for delivery has helped place delivery apps on average in the top 40 most downloaded apps in major markets.1
The NPD Group, an industry analysis and advisory firm, reports that between 2012 and 2017, delivery of breakfast or morning snacks rose 13%—far exceeding the 3% increase in lunch deliveries for the same period.2
No wonder, then, that Panera, which projected its digital sales to increase from $1 billion in 2017 to $2 billion for 2018, is taking its online- and app-driven delivery program to the next level with breakfast dispatched from 381 locations in 22 states.3 Panera will deliver breakfast ordered through the company's app or website within an eight-minute drive from participating locations for a minimum purchase as low as $5.3
The fast casual chain has been quick to expand its delivery service across dayparts as "the first national restaurant company to offer breakfast delivery using its own drivers."3
As Mike Bufano, Panera's CFO and EVP told Forbes, "Panera has more than 1.7 million digital orders placed each week, and digital sales are more than 35% of our business." By adding breakfast to the menu with free delivery, digital sales have soared to hit the $2 billion mark.
Giving Breakfast a Crack Without Breaking the Bank
Survey results from the foodservice market research firm Technomic underscore the shift in the breakfast landscape and the potential to hatch a higher check average by extending delivery to the morning daypart. Sixty-three percent of survey participants consume both food and beverage for breakfast and average 3.5 breakfasts per week (versus 1.2 away from home).4
With continued growth and a boost from breakfast delivery, USB's projection of delivery sales skyrocketing at an average of more than 20% annually, from $35 billion to $365 billion by 2030 seems feasible.1 But while delivery has become a powerful revenue, it may also pose a threat to in-store sales.
Cracker Barrel, which uses third-party delivery services and takes carry-out orders via the company's app or website, saw off-premises sales increases in the high teens. But guest satisfaction scores gave cause for concern that all the emphasis on takeout and delivery is taking a toll on the in-store experience.5 As CEO Sandy Cochran said: "We don't ever want to sacrifice the experience of the guests that come to eat with us in the dining room."5
For Cracker Barrel and other chains, delivery across dayparts may be a revenue engine that's hard to resist. The trick, it seems, is to get a taste of success with the right menu mix for breakfast delivery.
Mondelēz International can help boost your takeout and delivery business at breakfast and throughout the day, with a combination of culinary creativity and popular brands. Contact us below to learn how our customized menu solutions can help make your sales rise and shine.