Business has become a little too relaxed for the casual dining sector. For nearly a decade, casual dining chains have been a casualty of seismic shifts in the restaurant industry.1 The recession eroded business and a tepid recovery failed to jump-start sales as competition from a rapidly expanding variety of limited-service options siphoned off the traffic the segment relied upon for years.1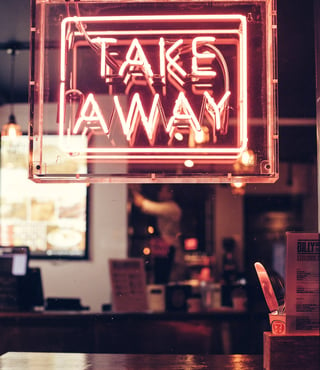 With fewer and fewer customers patronizing their restaurants, casual dining establishments have been at a loss to reach a huge and growing cohort: consumers who no longer want to dine out. Enter the takeout craze, driven in part by digital ordering platforms that offer the consumer convenience and the operator efficiency.
The market research firm NPD Group has determined that 61% of all restaurant visits consisted of to-go orders in 2016.1 Effective to-go and delivery platforms have become so important to the segment, "the only part of casual dining that's growing right now is the off-premise side," according to Bonnie Riggs, foodservice industry analyst for NPD.1 The mantra for casual dining and other restaurant chains hungry for the business of eat-at-home consumers seems to be: If the customer won't come to us, we'll take the food to them.
An ever-growing list of large casual dining concepts is developing to-go and delivery strategies, from Outback Steakhouse parent company Bloomin' Brands Inc. and Olive Garden owner Darden Restaurants Inc., to Red Robin Gourmet Burgers Inc., Applebee's Neighborhood Grill & Bar, Chili's Grill & Bar and Cheesecake Factory Inc.
Chili's, Applebee's and Red Robin are investing in curbside service, which could facilitate to-go orders made online or with mobile apps by providing a designated place where customers can pick up food without having to go into the restaurant.
Special Delivery: Big Chains Prep for Big Business
Buffalo Wild Wings is an example of a major chain committing to delivery as a solution to the fall-off in restaurant traffic. With its company-owned sales reaching 18.2% in the first quarter ended March 26 (up 16.6% from last year), the chain is working with third parties to deliver its food at 180 locations and plans to expand that service to 250 by the end of the year.1
According to Michael Schaefer, the head of food and beverage research at Euromonitor International, modern delivery is an innovation on par with the drive-thru. Just as restaurants of a bygone era were designed to accommodate the drive-thru phenomenon, he predicts that delivery, automation and mobile marketing will shape restaurant concepts in the foreseeable future.2
Already a significant foodservice trend with far-reaching implications for menu innovation and concept development, delivery is expected to become even bigger business. Worth $114 billion last year, the global food delivery market is projected to grow by 8.5 percent a year through 2021, according to Euromonitor.2
Survey results from Mintel indicate that half of U.S. adults ordered food delivery in a three-month period, with nearly 60% among them having done so simply to avoid the inconvenience of having to venture out.3 Millennials in particular seem to be driving the delivery trend, with 69% of millennial survey respondents having ordered in over the course of three months.3
As Caleb Bryant, an analyst at Mintel, explained: "We generally see that young men are the heaviest restaurant users across the board. They're willing to spend a bit more on convenience."3
While to-go and delivery appear to be a juggernaut foodservice trend, it has yet to translate into a higher check average. According to NPD Group's Riggs, the average on-premise check is $15.16 compared to $12.11 for the average carryout order.1 As he points out, "You're not getting those high-profit alcoholic beverages. You're not getting those add-on items like dessert."1
Smart Cookies Use Flavor Combos to Help Deliver Sales
Signature twists on traditional favorites with popular branded ingredients can help drive in-restaurant traffic as well as increase to-go orders. By leveraging demand for unique flavor profiles that fuse familiarity with novelty, foodservice and restaurant operations can help spur sales, especially among millennials in search of new taste experiences.
As the leading branded dessert ingredient,4 OREO cookies are widely used as a versatile topping and mix-in enjoyed by consumers across America. The iconic brand is sponsoring a recipe contest that invites professional chefs and foodservice operators to display their creativity and submit original dessert recipes featuring OREO Cookie Pieces. The winner will be awarded a year's supply of the popular pieces.
What is your opinion of the takeout trend sweeping across the foodservice industry? Any ideas on how to attract customers, either on premises or off? Deliver your thoughts below.
4 Technomic, Dessert Webinar, Nov, 12, 2015