Posted in Desserts on March 30, 2023
On-premise activity-based dining options are predicted to be one of this year's top culinary trends—and snack-focused, potentially shareable menu items could be the star attraction on their menu.1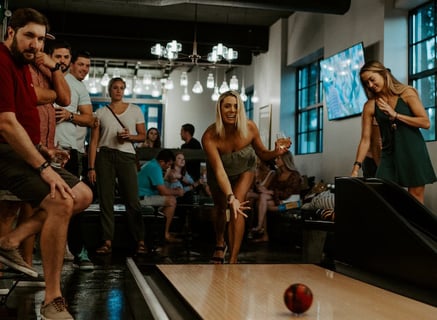 In tandem with a mounting interest in experiences—which more than three-quarters of U.S. millennials and 76% of consumers globally prefer to possessions—after social distancing and sheltering in place in recent years, a number are eager to spend time outside of their home or office.2,3
As a result, eateries that offer engaging elements, sometimes referred to as eatertainment or third place venues, can hold considerable appeal. The concept isn't new; the game-centric Dave & Buster's chain, for example, has been in business since 1982.
In the decades since, consumers' affection for eatertainment options has continued to grow. In 2019, nearly a third (29%) of Americans said they preferred going to a bar or club that offered food, drinks and an activity—a potentially profitable combination. Twenty-one percent said they'd spend more at that type of venue than at a traditional restaurant or bar.4
A More Active Meal
Approximately 82% of consumers, to date, have been to an eatertainment venue; 50% say they're very interested in revisiting the experience.5,6
In the past few years, eatertainment options have expanded to include a number of unique pastimes, such as pickleball, painting and axe throwing. Some contain several activity options. At the 44-location Main Event chain, for instance, guests can partake in laser tag, bowling or virtual reality.
Hobbies and games, though, are just part of the allure. While 14% of U.S. consumers rank the availability of activities other than drinking as the main reason they chose to go to a certain bar or club, quality food is the deciding factor for twice as many (28%).4
Menu planning, consequently, is often a key consideration for eatertainment venues. Nearly a third of consumers—32%—say new and better food options would prompt them to visit eatertainment venues more often.6
Some offer chef-driven menus—such as the 75-location Topgolf, which pairs its tech-based golfing with area specialties and beers. Instead of typical bar or baseball stadium food, the test menu for Texas' Home Run Dugout, a batting experience that's scheduled to open in spring, featured upscale eats like fried chicken sliders and brisket flatbread.
At venues where people will be stepping up to the plate or testing their swing at varied times, operators may benefit from serving appetizers and small plate selections that are quicker to consume than a full meal. Items like these Fried Cheese Patties, Chicken Pot Pie Bites and Fish Tacos made with RITZ Crackers can easily be eaten between turns and shared among multiple guests.
Diverging from Traditional Dayparts
A number of consumers could be driven to dine out to connect with other people, given that only 35% now are in an office or other workplace daily, and 1 in 5 who work from home at least part time say they miss seeing co-workers and socializing.5
Impromptu happy hours can become less likely if colleagues aren't sitting a few desks away. However, with snacks now serving as a regular part of consumers' lives—71% eat at least two a day, according to Mondelēz International's most recent State of Snacking™ report7—some co-workers may get together during the day to catch up over a quick bite or an indulgent coffee drink, such as this latte infused with OREO Cookies.
Consumers are also increasingly skipping meals and noshing throughout the day. Operators may be able to capitalize on the recent 42% rise in 6-10 a.m. morning snack/breakfast consumption by offering single-serving menu items like a Yogurt and Melon Parfait featuring layers of belVita Breakfast Biscuits, a fruit-filled empanada made with NILLA Wafers or coffee cake muffins made with CHIPS AHOY! cookie pieces.7
Sausage-and-egg-stuffed bites, a breakfast pizza containing RITZ Crackers, or sweet selections like these donut bites made with OREO cookie pieces can be well-suited for groups that stop by between morning and midday and want to order something to share.
Restaurants can also appease breakfast food fans by offering a.m. items outside of the usual hours. Pompette, for example, a wine bar and cafe in Chicago, bills itself as an all-day destination and serves brunch from 10 a.m. until 4 p.m., when dinner service starts.
The Little Less section of the breakfast menu at the Black Bear Diner, which is spread across 14 states, consists of smaller portions of several of the chain's full-sized dishes, served all day for diners with a lighter appetite.
An Amended Value Proposition
Adding sports facilities or other large-scale configurations can require a significant amount of space and capital, but restaurants don't need to completely remodel their interior to take advantage of the budding enthusiasm for eatertainment experiences.
Smaller tweaks—such as putting out board games or hosting a regular trivia night—can help operators introduce amenities that may entice patrons who are looking for a more interactive day or night out.
Food can be another compelling incentive. Crafting a menu that caters to both groups and the demand for snack-sized items can potentially serve as a way to draw crowds—whether customers are seeking a festive celebration with friends, a more social change of scenery during the workday or a completely different type of next-level dining.
For additional menu and other innovative ideas, contact us today.
1 What's Hot 2023 Culinary Forecast, the National Restaurant Association, 2022
2 "Millennials: Fueling the Experience Economy," Eventbrite and The Harris Poll, January 16, 2015
3 "76% of Consumers Prefer to Spend on Experiences than on Material Items, New Study Finds," Momentum Worldwide, October 14, 2019
4 "The Evolution of Nightlife: 1 in 3 Americans Prefer an Eatertainment Venue for a Night Out," SevenRooms and YouGov PLC, August 2, 2019
5 2023 Datassential Food Trends report, Datassential, February 3, 2023
6 FoodBytes Summer 2022 Trends report, Datassential, 2022
7 State of Snacking™ report, Mondelēz International and The Harris Poll, 2022