Posted in Promotions on August 25, 2022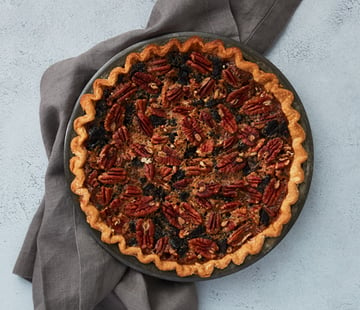 In fall, as the weather begins to cool, consumers' appetite for desserts that include warm, toasty flavors starts to heat up.
Restaurants may find customers are seeking sweets such as pies and souffles, featuring autumnal ingredients like cinnamon, ginger, nuts and apples, according to Clarice Lam, Mondelēz Foodservice brand ambassador, contributor to Epicurious and Spruce Eats, and founder of The Baking Bean, a Brooklyn direct-to-consumer bakery specializing in all-natural seasonal sweets.
"Consumers want warm and cozy dishes for the fall—flavors that remind them of the holidays and family," Lam said in an interview with marketing agency The Food Group.
In fact, more than half (53%) of consumers say they're interested in seasonally influenced desserts.1
The ingredients, trendiness and other aspects, though, can affect how new menu items are received. To ensure any fall desserts you introduce are a sales success, consider weaving in some of the following features.
Annual Flavor Favorites
For years, pumpkin has reigned supreme in fall; the market for products made with pumpkin spice grew by $100 million between 2015 and 2018, and currently, the ingredient appears in more than 130,000 restaurant menu items.2,3
The two most popular pumpkin spice products are desserts—baked goods and ice cream. While the majority of people (73%) prefer to see pumpkin items appear in mid-October, some are now introduced in August, making the flavor a versatile choice throughout the season.4
In recent years, however, other rich, warm flavors—including salted caramel, cranberry and maple—have also popped up in fall desserts and sweet drinks.5 Salted caramel is projected to grow 20% on menus over the next four years, and 60% of consumers state that they love or like the flavor.6 It's become increasingly widespread in everything from drinks, such as Dunkin's Salted Caramel Cream Cold Brew, to treats, such as Culver's Salted Caramel Pecan Pie Frozen Custard.
A number of fall-friendly beverage-based tastes have become more frequent inclusions in desserts, such as chai, which is finding its way into cakes more often.1
Although honey hasn't traditionally been associated with the season, it's been used as a natural sweetener in a number of items introduced during autumn—such as the honey-roasted peanut soft serve frozen yogurt franchise Yogurtland debuted in 2020.7
Enduring Formats and Inclusions
Along with nostalgia, comfort-themed foods have continued to resonate with customers since the onset of the COVID-19 pandemic. Recent research found nostalgic dessert limited-time offers are frequently one of operators' top-performing items.8
Instead of trendy, unknown options, 43% of consumers prefer traditional dessert classics—for older generations, selections such as cherries jubilee and pineapple upside-down cake; and for Gen Z members, items that feature flavors they enjoyed in their childhood, like Nutella, Funfetti and sour apple.1
Operators can meet both generations' desire for familiarity by incorporating recognizable items in desserts—such as using SOUR PATCH KIDS in place of candied fruit in panettone or fruit cakes, according to Lam.
Similarly, mixing OREO Cookie pieces into a pecan pie or including an OREO Cookie crust in a pumpkin cheesecake can entice fans of the iconic chocolate sandwich cookie.
International Tastes
In addition to giving dessert recipes a refresh by incorporating well-known brands, including elements from cuisines that are traditionally served in various countries can tap into consumers' growing interest in global ingredients. Approximately 36% say they like to try regional varieties of mainstream ethnic cuisines they've never had before.9
Some restaurants have offered items inspired by popular desserts from a specific country or culture. Churros, for example, are projected to grow 42% over the next four years and are loved or liked by 49% of consumers.10 This Latin American treat is a perfect fit for fall desserts due to its traditional cinnamon-sugar flavoring. Sonic released a churro-flavored shake, and the dessert's cinnamon sugar coating has also appeared in the edible spoon served with Del Taco's Churro Dipper Shake.11, 12
Del Taco has also represented Latin American flavors on the dessert menu in the past with their OREO Cookie Horchata shake and Mexican Chocolate shake.13
Lam said in her interview with The Food Group that she plans to explore dessert combinations that involve international ingredients and Asian flavors this fall—a pairing she suggests can provide a unique twist on familiar desserts.
"I had an apple crostata with kabocha ice cream mochi on the menu before that was very successful," she says. "[It's about] taking something fairly traditional and pairing it with something new and fun."
While desserts that include conventional fall flavors like pumpkin can often be a hit, operators have some room for experimentation throughout the season. Including beloved dessert formats, cool-weather ingredients and other elements that consumers have expressed an interest in seeing can help drive excitement about desserts that are sold in fall—and potentially also increase your overall profitability during those months.
Eager for more menu innovation? Contact us using the form below to find out more ways to energize your dessert offerings in fall—and beyond.
1 Datassential Desserts Keynote, Datassential, May 2021
2 "Inside the $600 Million Pumpkin Spice Industrial Complex," Forbes, Oct. 31, 2018
3 Pumpkin Spice Trends, Analytics And Statistics, Tastewise, 2022
4 "Pumpkin Spice Products Are Arriving Earlier. This Year More Than Last, Some Consumers Say Bring It On," Morning Consult, Aug. 21, 2021
5 2021 Kerry U.S. Taste Charts, Kerry, 2021
6 SNAP! by Datassential, Salted Caramel Report, 2022.
7 "Show Me the Honey: Fall LTOs Embrace Nature's Sweetener," FastCasual.com, Sept. 22, 2020
8 "How Restaurant Operators Can Tap into the Latest Dessert Trends," SmartBrief, Oct. 20, 2021
9 "Technomic Finds that 32% of Consumers Are Willing to Pay More for Authentic Ethnic Fare," Technomic, July 31, 2018
10 SNAP! by Datassential, Churro Report, 2022.
11 "A Churro You Can Sip! SONIC Drive-In Introduces the New Churro Shake," Business Wire, July 25, 2022
12 "Del Taco Introduces Dessert With a 'Churro Spoon,'" Globe Newswire, May 24, 2018
13 "Del Taco Pours New Oreo Cookie Horchata Shake And Mexican Chocolate Shake As Part Of New Chocodays Beverage Lineup," The Fast Food Post, June 9, 2021.