Posted in Technology on June 6, 2023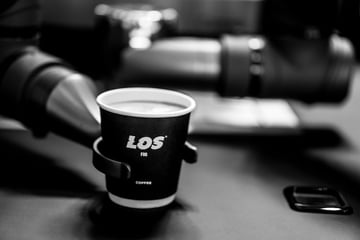 Artificial intelligence is giving us all a lot of food for thought. From robotics that prepare recipes and relieve the need for costly labor to apps that collect consumer data to personalize the customer experience, AI is serving up solutions that are transforming the foodservice landscape.
International food and restaurant consultants Baum+Whiteman are among the chorus of voices singing the praises of AI and its power to disrupt the industry. In fact, "Artificial Intelligence Will Design Your Dinner" tops their trends to watch this year.1 In their 2023 industry forecast, Baum+Whiteman cite the ease with which innovative new culinary concepts can be concocted with AI image generators. "This may be how food is created and styled in the future," they report, using a pic of an AI-generated doughnut as an example, "you send the proper prompts to an AI image generator, and it produces a dish somewhere between fantasy and reality."1
That said, to make it clear that some kinks are yet to be worked out, their report includes the image generated from their request for "chicken a la king"—an actual chicken dressed in a comical-looking king costume.1
Baum+Whiteman's #2 trend for the year: "Artificial Intelligence Also Will Run Your Restaurant. Sweetgreen Opts for Machine-Made Food." While restaurants are increasingly automating output with robotics, AI is poised to take on managerial responsibilities to increase efficiency and further reduce reliance on labor that can be both costly and hard to come by. "The future, it appears, lies in artificial intelligence systems that direct the robots … systems that soon will replace most functions of restaurant managers," they explain. "These are computers programmed to learn, but unlike real people, they don't repeat their mistakes."1
The consultants foresee operators harnessing the data-mining power of AI to manage inventory more effectively, examine trends and optimize menus while directing robotic production, fielding phone calls and performing other managerial tasks with machine precision. They cite Sweetgreen's plans to debut a duo of fully automated restaurant formats as examples of the trend. "That could erase about half of a typical store's variable labor cost while, quite literally, fast-tracking customer throughput," they predict.1 The new challenge will be to maintain a personal touch and foster an environment of hospitality with less human staff.

(For more on how Sweetgreen and other restaurant chains are turning to amplified automated concepts for greater efficiency and profitability, be sure to read our post "Smaller, Faster, Smarter: Automated Restaurant Formats Feed the Future of Foodservice.")
Opening the Floodgates: Beck's Autonomous Pours on the AI
Meanwhile, Anheuser-Busch tapped two of the most popular artificial intelligence platforms—Chat GPT and MidJourney—to create the first AI-generated beer in honor of the 150th anniversary of the Beck's beer brand. Not only was the recipe for "Beck's Autonomous" sourced through artificial intelligence, but the branding, packaging and marketing for the new brew are also the handiwork of AI.
"After being at the forefront of the brewing world for 150 years, this represents the next step in our journey," said Laura Salway, marketing director at Beck's.2 "It's been fascinating to see Beck's Autonomous come to life and how we can continue to embrace new technology in the industry and across brand communications."2
With every detail of its development driven by AI, Beck's Autonomous signals the start of a full-scale AI revolution for the food and beverage industry and gives credence to prognosticators who predict AI will expand its influence throughout foodservice.
Looking for smart menu solutions to keep your food service operation ahead of the curve? The world-class chefs at Mondelēz Foodservice serve up creative culinary concepts that help boost sales across dayparts and foodservice sectors. Check out our Chefs Culinary Corner for Inspiration Guides and chef-favorite recipes—all on the house. Hankering for custom recipes to help whip up sales on premises and off? Reach out below for a prompt response.
1 Baum+Whiteman, 12 Hottest Food and Beverage Trends for 2023, December 12, 2022
2 Little Black Book, "Beck's New Beer and Its Ad Campaign Were Created By Artificial Intelligence," March 31, 2023