Posted in Technology on December 20, 2022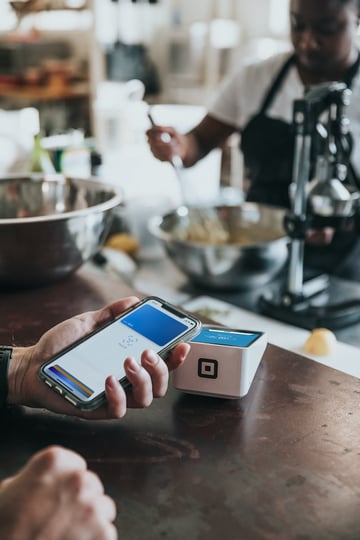 Spurred on by the pandemic, the foodservice industry shifted from sampling automation technologies to feasting on them as touchless solutions to labor shortages and platforms for safer, more streamlined operations.
While the pandemic has ebbed, economic challenges continue to accelerate the adoption of these technologies, which are becoming increasingly advanced and cost-effective. As explored in previous posts such as "Va-Va-Vending: Technology Transforms Vending Machines into 24/7 Restaurants" and "Robots, Plants, Profits: A Fresh Recipe for Success in the New Age of Foodservice", automation has become so varied and advanced that it now can be counted on to minimize—and, in some cases, even eliminate—the need for human labor.
Fast-casual specialty salad chain Sweetgreen has announced plans to open two completely automated restaurants. Last year, the brand acquired the robotics startup Spyce, which gained renown for its menu of healthy bowls created in its fully automated kitchens and delivered by its fleet of drivers on electric mopeds. Sweetgreen intends to use the Spyce technology to power its Infinite Kitchen format in the new robotic restaurants.1
As Sweetgreen CEO and co-founder Jonathan Neman explained: "These restaurants will serve our food with even better quality, perfect portioning, faster speed and will create a more consistent customer experience, all while elevating the role of our team members."1 The Infinite Kitchen format with fully automated production lines will also help "create a more profitable and scalable model."1 He asserts that automation could be "transformative for the restaurant industry."1
Keen on Lean: Chili's and Panera Show Small Is the Next Big Thing
Nimbler, more digitally driven, tech-oriented formats with smaller footprints and a focus on to-go orders are also helping major chains make inroads into markets with denser populations, where space is tight.
Fast-casual chain Chili's has debuted its first to-go-only store in Dallas, near the Southern Methodist University campus.2 The 1,600-square foot restaurant is about one-fifth the size of a standard-size Chili's and features a menu scaled down to the most in-demand items, plus the brand's virtual offshoot, It's Just Wings.2 A second to-go store is planned for Columbus, Ohio next year. Chili's off-premises sales now account for nearly 30% of its revenue.2
Meanwhile, Panera Bread has opened a new smaller prototype in New York City as part of the brand's expansion into city centers and nontraditional locations. Forty-percent smaller than the typical Panera store, the new urban format near Columbus Circle is similar to Chicago's pickup-only Panera To Go store but includes limited dine-in seating. A Panera To Go is also planned for Union Square in the Big Apple as the brand continues to use takeout and delivery formats to bite deeper into denser markets.3
Eduardo Luz, Panera's chief brand and concept officer, summed up the strategy: "At Panera, our innovation has always been rooted in the guest and associate experience, how we can reduce friction, drive convenience and bring Panera to new places where we know the demand is high for the freshly prepared food we serve. With a flexible portfolio of café designs, we're now able to bring Panera anywhere, from suburban cafes with double drive-thrus, to a digital-only Panera To Go, and everything in between."3
Looking for ways to optimize your menu for a changing market? At Mondelēz Foodservice, our acclaimed chefs are superbly skilled at creating signature dishes, desserts and drinks to help drive sales on- and off-premises. From travel-friendly concepts to innovative limited-time offers, they're ready to help jump-start sales and keep customers coming back for more. Be sure to browse Our Insights for a buffet of actionable data and industry news and analysis to help your foodservice operation thrive. Crave custom menu solutions? Have a specific challenge you'd like to resolve? We're here to help. Just reach out below.
1 Jennings, Lisa, "Sweetgreen to Test Fully Automated Restaurants Next Year," Restaurant Business, November 8, 2022
2 Guszkowski, Joe, "Chili's Opens First To-Go-Only Location As it Eyes Denser Markets," Restaurant Business, November 8, 2022
3 Jennings, Lisa, "Panera Bread Goes After City Centers with Digital-Focuses Formats," Restaurant Business, November 8, 2022