Posted in Millennials on July 25, 2023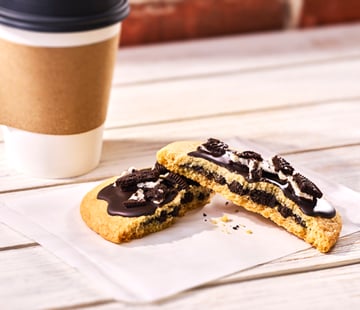 Desserts have helped fuel profitability at 60% of restaurants; nearly all types of sweets, in fact, have proved to be as lucrative as other menu items—or even more so.1,2

With consumers increasingly bypassing traditional meals to snack their way through the day —and noshing on sweet, as well as savory, items, according to Mondelēz International's 2022 State of Snacking™ report—eateries that only offer after-dinner dessert options may be missing out on an opportunity to fulfill the demand for sweet treats during other dayparts.3

Drive profits with sweet treats all day by incorporating the following three tips.
1. Lean Into Presenting Desserts as Sweet Snacks
Currently, just 15% of foodservice dessert sales come from snacking occasions—possibly because two-thirds of desserts are sold in combination with more substantial dishes or a full meal.2

To cater to the more than half (56%) of consumers who say they recently chose to have a dessert item as a snack, operators could potentially benefit from positioning sweet choices as all-day or between-meal items on their menu. At least once a week 65% of consumers snack on cookies, and 51% have cake.2,3

Serving individually sized portions—one of the top 10 aspects people who regularly consume dessert say factors into their selection process—may also help encourage sales. In the past year, several snack-friendly handheld desserts, including cookies, pastries and brownies, showed the biggest sales increases.2
2. Serve Convenient Fare that Travels Well
Portability is another feature consumers covet; operators say low-prep items that can be eaten remotely, such as brownies, are the bestselling and have the highest margins. Cupcakes—such as these frosted cookies'n'creme cupcakes made with OREO Cookie Pieces—and ice cream—such as these avocado paletas made with NILLA Wafers—are also viable grab-and-go options.2

Cookies hold a particular appeal for consumers; ones who'd eaten dessert at least once in the past two weeks chose them over ice cream, cake and other selections.2

In general, different age groups prefer certain desserts, so restaurants may want to consider what clientele they're looking to attract when designing a dessert menu. Gen Z, for instance, ate slightly more brownies, bars and frozen novelties than boomers last year; 77% of boomers, though, had pie, compared with only 56% of Gen Z members.2
3. Flavor Comes First
When ordering a dessert outside of their home, flavor and taste are consumers' main consideration; 84% rate flavor profile as an extremely or very important factor. For 72%, that's a key concern specifically when buying ice creams and frozen treats.2,5
Savory Flavors
Including savory flavors in desserts—a trend 63% of the consumers who partake in dessert frequently are at least somewhat interested in trying—can be a particular draw for millennials; 47% say they're keen to sample savory-infused sweet items. Just 32% of restaurants currently serve any, however.2
Global & Tropical Flavors
Although only 28% of operators offer globally inspired desserts, more than two-thirds (69%) of consumers have at least some interest in them.2 Fruits traditionally used in Latin and Asian cuisine, for instance, are gaining ground in the dessert realm—58% of consumers say they're curious about dragon fruit, and 30% find yuzu compelling.2,5

With more than triple the amount of Gen Z members interested in internationally inspired items than boomers, the desserts' may ultimately perform better at restaurants that have a sizable amount of young patrons.2
Nostalgic Flavors
While newer flavors such as matcha, guava and fig may attract the 18% of consumers who feel uniqueness is an important factor in ordering desserts, 57% of consumers have expressed a desire for nostalgic desserts like cookie dough and banana pudding.2

Familiarity can be a big draw; 68% of Americans say it's a central reason why they purchase foods and beverages. In the dessert category, 45% of consumers prefer classic, traditional options to more trendy ones.2,6

Incorporating recognizable elements in dishes—such as a crust made with OREO Cookies in a mocha ice cream pie or mixing CHIPS AHOY! Cookie Pieces into a raspberry-infused bread pudding—can also spur interest; 31% of consumers say they're more likely to purchase menu items that contain branded ingredients.7
Whether a restaurant introduces an expansive line of sweet treats that feature emerging flavors, debuts a new take on familiar dessert format or simply begins promoting its existing dessert menu items as all-day snack options, novelty can be a strong selling point.

If your organization is looking for a way to bring in more business, revising your current dessert docket could potentially be an effective approach—adding a new item was, in fact, one of the top three moves that helped operators increase their dessert sales last year.2

Contact us to find out how you can tap into desserts' ability to drive profits.
1 "How restaurant operators can tap into the latest dessert trends," SmartBrief, Oct. 20, 2021
2 Desserts: Keynote Report, Datassential, 2023
3 State of Snacking™ report, Mondelēz International and The Harris Poll, 2022
4 "Ice cream: The ultimate year-round indulgence," Packaged Facts, July 22, 2015
5 2022 Food and Beverage Flavor Trends Report, T. Hasegawa, 2022
6 2021 Food & Health Survey, the International Food Information Council, 2021
7 "3 Premium Ingredients Consumers Will Pay More For," Restaurant Business, May 31, 2018