Posted in Donuts/Pancakes/Waffles on September 26, 2023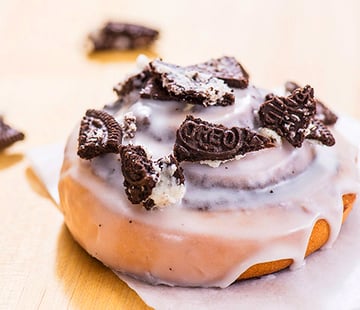 The "most important meal of the day" is on the rise. More than a third of operators report breakfast and brunch sales have grown in the past year.1

With numerous Americans now back to shuttling between home and school or an office for at least part of the week, the interest in morning meals that are quick to obtain and eat could also escalate. More than half of consumers (58%) say they choose to consume breakfast remotely because it's easier than making it at home.2
By offering prepared grab-and-go options—a format more than a third (36%) of consumers say factors into their decision to eat breakfast away from home—operators can meet the mounting demand for fresh, fast morning meals.2

Grab-and-go selections have proved particularly popular at convenience stores, where 77% of customers eat the food they've purchased in their vehicle.3 Prepared food items now account for 67% of C-stores' monthly foodservice-related in-store sales.4

"Even if you're working at home, if your workload is increased, you're not going to go to the kitchen and make something from scratch," said Suzy Badaracco, president of food industry think tank Culinary Tides, in an interview with Mondelēz Foodservice. "You're still going to do grab-and-go and walk right back to your home office desk and keep working. Plus the kids have to be fed—so there's still a huge need for grab-and-go."
Striking a Balance
Nearly half of consumers like to start their day with a healthy breakfast, such as high-protein foods, which more than half (51%) are drawn to. Adding high-fiber and low-sugar choices might also help boost business, since the majority of operators don't currently serve early-in-the-day offerings with those specific qualities.2

Yet that doesn't mean there's no place for cookie-topped donuts or OREO-infused cinnamon rolls on menus. According to Badaracco, the interest in salty and sweet fare is starting to tick upward.

The majority of consumers, though, seem willing to splurge at least occasionally; 61% say "indulgent snacks" are part of their daily routine.5

"They want indulgence and health to be allies within a product," Badaracco said. "Maybe your breakfast burrito has to be a whole-grain wrap, and it has eggs and cheeses—your indulgent part—but there's black beans, so you've got fiber in there. That's the health aspect."
A number of C-store chain menus balance both better-for-you options and splurge-worthy fare. Customers at the East Coast-based Wawa market locations, for example, can order avocado toast, an egg white omelet—or breakfast hoagies stuffed with scrambled eggs and meat selections such as cheesesteak ingredients, pepperoni or ham, served on an elongated roll.

Convenience store chain Love's Travel Stops & Country Stores serves a chorizo-and-egg-filled taco and a sausage, egg and French toast breakfast sandwich—and also began offering breakfast bowls, fruit cups and other prepared options in 2022.
Reconsidering Sammy Selections
Since portability can be a key component in grab-and-go dishes, hand-held breakfast items may be well-received. Portability is, in fact, particularly important to more than half (55%) of Gen Z members and 47% of millennials when buying food away from home.2

While breakfast sandwiches, wraps and burritos offer a respectable margin, breakfast platters provide an even higher one, according to operators. Packaging sandwiches with side and other items could potentially help increase profits.2

Breakfast wraps, burritos and sandwiches are the second-most prevalent breakfast food offering, falling just behind breakfast proteins. As such, in late August, Wendy's debuted two English muffin sandwiches made with a butter spread that features a hint of sweetness and black pepper—part of the chain's mission to save customers "from boring and bland breakfast options by bringing fresh twists on familiar flavors to the morning," according to a press release the company issued.

Eggslut, with locations in Los Angeles and Las Vegas, has been whipping up breakfast menu items made with elements like wagyu tri-tip steak, cage-free eggs, a brioche bun and chimichurri—which ties into another cuisine trend, according to Badaracco.

"Consumers want global flavors," she says. "They want to try new things."
Coffee Cake Takes Center Stage
Pastries—such as danishes, donuts, cinnamon rolls and beignets—were one of the portable, snack-friendly dessert varieties that saw the greatest sales increases on menus last year. 7

They're also the one dessert that's primarily eaten during the breakfast daypart—and the type that's consumed most often outside of the home.7

With Southern flavors, gourmet donuts and mini-pastries comprising three of the top five breakfast food trends consumers are interested in trying this year, regional U.S. fare, such as chicken and waffle dishes, may strike a chord with customers.

"That's why we're seeing a lot of Deep South trends," Badaracco says. "In New Orleans, beignets are a comfort food; you move that to New York or California as a breakfast item, and they're like 'Ooh, what's that?'"
Earlier this month, Sheetz, with more than 600 C-store locations in the U.S., launched a line of eight upscale donuts, including flavors such as Cookies N Cream, Strawberry Shortcake and Apple Fest Fritter; the Founding Farmers restaurant in Tysons, Virginia, sells dessert-themed crème brulee, bananas Foster and other donuts.

Convenience will undoubtedly remain a key selling point for grab-and-go breakfast items; prepared and packaged breakfast options may also be more likely to resonate with customers if they involve some of the other cuisine-related characteristics consumers have expressed an interest in.

Some operators may find including ingredients that imbue health-related benefits, such as energy, are big sellers. At other establishments, customers may respond best to a unique twist on a classic food format—such as Good to Go stores' heatable breakfast pizzas or TXB's yogurt-and-fruit and banana NILLA wafer-filled parfaits, which are technically listed on the chain's dessert menu.

"You're seeing these crossover hybrid things—everything bagel seasoning on a donut, or two waffles are your bread for a breakfast sandwich," Badaracco says. "It's fun, quirky, new, but it's entirely approachable. It's waffles, and now you put scrambled eggs between them. That is exciting to the psyche; it's a little bit of adventure—a little bit of escape."

Is your breakfast menu delivering the optimal results? Contact us to find out how you can transform your morning meal selections to drive profits.
1 The National Restaurant Association's 2021 Restaurant Trends Report, The National Restaurant Association, January 2021
2 Breakfast SNAP! Keynote Report, Datassential, 2023
3 Food, Fuel and the Future, Intouch Insight, 2023
4 "U.S. Convenience Store Sales Hit New Highs in 2022," NACS, April 19, 2023
5 The Fourth Annual State of Snacking 2022 Global Consumer Trends Study, Mondelēz International, The Harris Poll and Ipsos, January 19, 2023
6 "Bettering Breakfast Sales," CStore Decisions, December 12, 2022
7 Datassential Desserts Keynote Report, Datassential, 2023