Posted in Desserts on November 7, 2023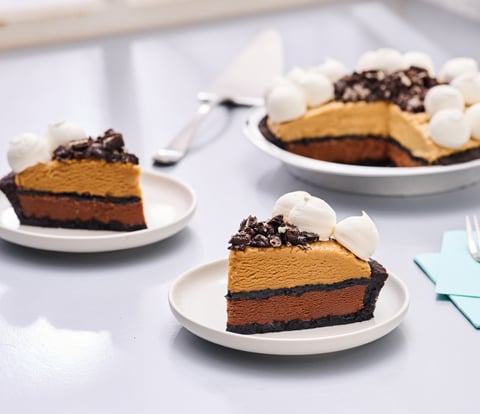 Dessert is more than the cherry on top of a meal. It's a big deal itself. While there may be a perception that it's an afterthought—a treat you enjoy after your meal, if you "have room"—the truth is dessert is a sought-after delight with high levels of consumption.
The market research firm Datassential reports that 95% of consumers surveyed said they had a dessert within the past week, and 63% indulged within the past day.¹ Interestingly, most (77%) reported having dessert at home.¹ Only 23% had their last dessert away from home¹—a stat that underscores a sweet opportunity for foodservice operators to diversify with signature dessert concepts that are exclusive to their menus.
Forty-five percent of operators surveyed saw an increase in overall dessert sales from the year prior, and there is ample room for growth.¹ Datassential research reveals a robust appetite for decadent desserts, with nostalgic favorites (Viennetta ice cream and Dunkaroos) and grab-and-go snacking desserts (sundaes and brownies) trending.¹
But just how creative can chefs get when developing desserts that satisfy the need for gratifying taste experiences? Do the wellness trend and demand for better-for-you options restrict indulgent concepts and rich flavor profiles?
Mindful Mouthfuls: Consumers Savor the Flavor of Feel-Good Desserts
The State of Snacking™ from Mondelēz International found that "mindful indulgence" is widely considered part of a balanced diet, with emotional benefits that boost a sense of overall well-being.¹ As such, indulgence is a key need. Seventy-eight percent of consumers surveyed worldwide see it as a way to pamper or reward themselves, and 77% rely on it for a sense of comfort.² Both percentages jump to 85% for millennials.²
The report cites chocolate as a prime example of a mood-boosting snack. Eighty-four percent of partakers surveyed consider it "good for the soul."²
"Snacking continues to meet a growing range of needs across consumers' lives, with indulgence remaining a welcome part of a balanced lifestyle," explained Mondelēz International CEO and Chairman Dirk Van de Put.² "In fact, three in four consumers across the world (78%) attest 'these days, it's more important than ever to have moments of indulgence in the day.'"²
With 63% of consumers less restrictive in their eating habits and more intuitively tapping into their mood and other factors to guide food choices,² the bottom line looks good for over-the-top desserts.
Forking It Over: From Shareable to Global to Simple
In its "Top 10 Dessert Trends and Statistics for 2023," restaurant point-of-sale technology provider Toast cites the growing popularity of shareable concepts like dessert boards and high tea services that offer a rich range of flavor profiles.³ Sixty percent of operators offer deserts as a regular part of their menus, and the market is projected to keep growing.³
Trending global and culturally relevant dessert flavors like chipotle, star anise, turmeric and cayenne open up opportunities to experiment with bold taste experiences.³
However, Toast research shows that while dessert ingenuity is trending, a balance between the familiar and fanciful may be advisable for today's dessert. "Desserts that require little prep—like cookies, cupcakes and ice cream—are popular with consumers and have high-profit margins."³

Hungry for ideas and inspiration to help optimize your dessert menu? The acclaimed chefs of Mondelēz Foodservice combine world-class culinary expertise with trusted brand ingredients to create signature desserts that can help your foodservice operation hit the sweet spot. Browse the wide variety of inventive dessert recipes like Mocha Ice Cream Pie made with OREO Cookies available on the house in our Culinary Center. You'll also find a plateful of valuable information in our post, "How to Use Sweet Treats to Help Drive Profits." For custom dessert menu solutions that take the cake, simply reach out below.
1 Datassential, Foodbytes: Dessert Decadence, 2023
2 Mondelēz International, The Harris Poll and Ipsos, State of Snacking 2022 Global Trends Study
3 Toast, Top 10 Dessert Trends and Statistics for 2023