Posted in Pies/Tarts on January 26, 2023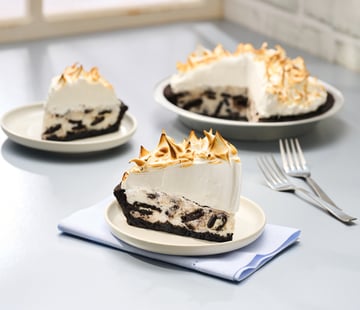 Familiarity is a key food and beverage purchase consideration for 68% of consumers—which is one reason why offering menu items that incorporate retro formats and ingredients, an approach sometimes referred to as newstalgia, is one of this year's most anticipated menu trends.1
Several operators have already introduced successful blast-from-the-past promotions. In 2021, Pizza Hut debuted a limited-edition PAC-MAN box that contained an augmented reality version of the video game customers could access with a smartphone—and sponsored an arcade-sized PAC-MAN game giveaway.
In January 2022, TGI Fridays launched a Remixed and Remastered menu, consisting of slightly altered versions of fan favorites like OREO Madness—a large cookies-and-cream-ice-cream-filled cookie decked out in sprinkles and fresh strawberries—that customers had named as their most-missed items.
Desserts are another dinner daypart aspect that can benefit from a newstalgic touch, according to Chef Jackie Joseph, Brand Ambassador, founder of Louisville, Kentucky's JJBakes & Co. and the season four winner of the Food Network's "Best Baker in America."
"I see consumers requesting nostalgic desserts or elevated classics," Joseph told Mondelēz Foodservice. "New and innovative desserts are lovely and exciting, but enjoying something that reminds you of a special time in your life can't be beat."
A Sweet Selling Point
Treats people have traditionally enjoyed throughout their life—including "the comfort foods of their childhood or the more recent memory of a sandwich from a favorite deli they haven't visited in two years," according to a 2022 Symrise report—can provide a sense of security and solace that many consumers may be seeking in the wake of the COVID-19 pandemic.2
As a result, traditional American dishes are poised to make a comeback, according to Maeve Rochford, Brand Ambassador and owner of the Sugar and Scribe bakery in La Jolla, California.
"People are looking for comfort; for memories," Rochford told Mondelēz Foodservice. "Additionally, a fusion of classics will be huge, from twists on donuts to croissants."
Although the specific components may vary, nostalgia-influenced foods hold considerable appeal for various generations. Approximately 70% of consumers over age 65 and 76% of 22- to 55-year-olds love to eat things that remind them of their past.3
Products that have been consistently popular for decades, which more than one age group might associate with their childhood, can be particularly powerful inclusions. A crust made with OREO cookies, which have been sold since 1912, can invigorate a classic like Baked Alaska, for example; and make Boston or banana cream pie even richer and more flavorful.
Memory Lane-Focused Meals
Operators' emphasis on sweet newstalgia items can extend beyond just the dessert menu, according to pastry chef Paola Velez, who "Food & Wine" included on its Best New Chefs list in 2021.
"I foresee a lot of folks venturing into the comforting and fun twists on Americana comfort breakfasts," Velez told Mondelēz Foodservice.
In September, McDonald's released what it called "a fresh take on a pastry McDonald's first offered in the '80s," its Cheese Danish. A month later, Taco Bell—which had reintroduced the iconic Klondike Choco Taco it had stopped serving seven years ago earlier in 2022 in two markets—announced a unique campaign that involved a pledge to tone down its breakfast menu innovation and "focus on ease and familiarity," the company's Global Chief Brand Officer Sean Tresvant said in a press release.
Taco Bell did introduce one brand new sweet breakfast item last year, though—Cinnabon Delights coffee, which sports the same flavor as the icing-filled Cinnabon Delights donuts the company describes as "dessert, disguised as breakfast."
Adding revered ingredients in beverages, either as a garnish, flavoring or other element, can help infuse standard drinks with a hint of retro appeal—such as topping a classic soda shop-style Butter Pecan Milkshake with pieces of Golden OREO Cookie Pieces, for example, or combining chilled espresso with Chunky CHIPS AHOY! Cookie Pieces to capitalize on the comeback of the espresso martini.
Today, with restaurants vying for customers amid changing eating patterns, inflation and other challenges, competition can be fierce. Crafting a menu that builds on classic flavors by leveraging the appeal of recognizable brands, potentially including well-known candy, cookies and other ingredients in dishes, can help set operators apart from other restaurants in their market—which will hopefully help draw customers, and ultimately transform the eatery's desserts and other sweet items into increasingly lucrative offerings.
For more insight into what consumers will be looking for in the coming months, read our 2023 trends report.
1 2021 Food & Health Survey, the International Food Information Council, 2021
2 "New Nostalgia and Multicultural Everything for Food and Bev in 2022," Symrise, April 7, 2022
3 "The New Nostalgia of Foods," Symrise, May 10, 2022