Posted in Loyalty on September 5, 2023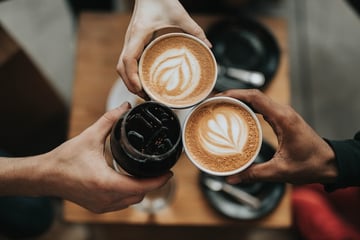 Given its versatility and perennially high demand, coffee can always be counted on to keep the buzz going. And should there ever be a lull, we always have the java giants of the coffee shop segment to jump-start the brew-haha.
Take Starbucks, the 36,000-unit juggernaut that continues to perk up profits as it pours on the innovations for the 100 million customers it serves each week.1 In his final earnings call, the brand's founder and former CEO Howard Schultz turbo-boosted the buzz with the announcement that not only had Q1 sales surged to record heights, but a "game-changer" was on the horizon—"something much bigger than any new promotion or beverage."1
What that "alchemy" may be has yet to be revealed, but one thing is sure: Starbucks' signature blend of innovation and customization has served it well historically, even during the pandemic and throughout the economic challenges left in the outbreak's wake.

As Starbucks' Chief Marketing Officer Brady Brewer explained: "If we look at the last quarter, we have more customers in total population than ever in the U.S. They're very highly engaged." Brewer cited the success of the brand's "existing strategy around cold, customized and plant-based beverages" that customers can only find at Starbucks. "And that was true throughout the pandemic, and it's true right now," said Brewer.
For Q2, Starbucks continued its perky market performance, with earnings and revenue that beat analysts expectations.2 Same-store sales were strong both domestically (+12%) and internationally (+7%), with a 30% jump for March in China, Starbucks' second-largest market.2
Perhaps most impressive: The brand's loyalty program continues to grow at a caffeinated pace, with a 15% rise to 30.8 million members.2
From Pushcart to Powerhouse: Coffee and Culture Blend at Dutch Bros
Now America's third-largest coffee chain, Dutch Bros has done a lot of growing up over the years. What brothers Trav and Dane Boersma started 31 years ago as a humble espresso business run from a pushcart in a grocery store parking lot has become a publicly traded java juggernaut with projected earnings of $1 billion for 2023.3
For years, the company expanded through franchising. Then, in 2017, it pivoted away from the franchise model to cherry-pick managers that exemplify the Dutch Bros culture, where team members must be employees for seven to nine years before running a store in a new market.
As Trav explained: "Then we could build a pipeline of people and a ladder for them to climb and pay them extraordinarily well, and they could build their teams and do leadership development and cultivate culture like nobody's business. That people system that we developed I think is one of the best things that we've ever done."3
CEO Joth Ricci summed up why the shift away from franchising has been key to the success of Dutch Bros: "As I tell people, we're not a real estate company plugging people into it. We're a people company plugging real estate into it… We're taking the best of the best of the leaders that we have currently in the system and then we're moving them in to basically create what people view is so special with Dutch."3
The brand plans to open 150 stores in 2023 and surpass 1,000 locations by 2025,3 on the strength of a beverage-led menu that includes Blue Rebel, its proprietary energy drink, and an ever-expanding range of specialty drinks like its Chocolate Crunch featuring dark chocolate, chocolate macademia nut and chocolate milk topped with Soft Top and OREO Cookie Pieces. This flavor can be enjoyed as a Cold Brew, Frost or Freeze!
Ready to optimize your beverage menu? The acclaimed chefs at Mondelēz Foodservice always have innovative concepts brewing, like Frozen Espresso Martini made with Chunky CHIPS AHOY! Cookie Pieces, to help foodservice operations across segments satisfy their thirst for sales.

To learn about the many perks of working with our team of world-class culinary experts, leave us a message below for a prompt reply.
1 Klein, Danny, "Starbucks Teases 'Game-Changer' as Sales Rocket Higher," QSR Magazine, February 3 2023
2 Lucas, Amelia, "Starbucks earnings beat as China reverses same-store sales declines, CNBC, May 2, 2023
3 Coley, Ben, "Dutch Dynasty: The Story of the Next Great Coffee Brand," QSR Magazine, May 2023