Posted in Pies/Tarts on October 31, 2023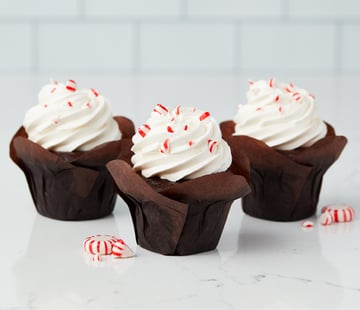 Seasonality can be a big seller; 85% of consumers who eat dessert at least once a month say they're interested in trying sweet menu items that relate to a specific time of year.1

In addition, 48% of consumers look forward to ordering—or go out of their way to get—a seasonal limited-time offer dessert from a restaurant each year.1

Expanding the dessert daypart's roster may position operators to increase on- and off-premise business. Introducing a new menu item was one of the top ways restaurants grew dessert sales in 2022.1

To help your eatery increase orders and foot traffic—and potentially, profitability—consider incorporating some of the following seasonally focused elements into your dessert lineup this winter.
Familiar Formats
Research indicates 39% of people strongly connect certain foods with New Year's Eve, and 64% associate dishes with religious holidays that occur in winter, such as Christmas and Hanukkah; this includes cake, candy and pies—such as this version of Pecan Pie made with OREO Cookie Pieces.2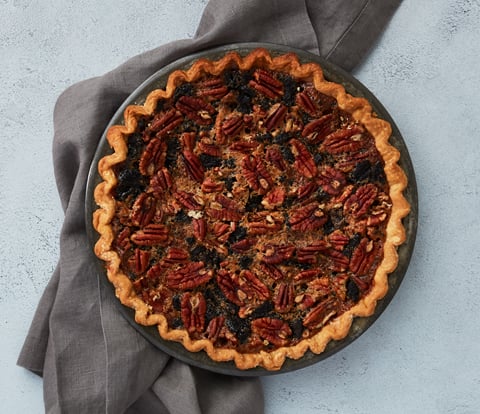 Pie was the most frequently added new dessert menu item in the second half of 2022. It can particularly resonate with boomers, who are the biggest pie consumers; 77% of the generation had some in the past year—although an only slightly lesser amount (72%) of Gen X members also enjoyed pie in 2022, in tandem with 65% of millennials.1

While coffee is often sipped throughout the year, other hot beverages tend to primarily be in demand during wintertime when chilly restaurant patrons may opt to warm up with a toasty cup of cocoa or hot cider.

Adding alcohol—which can give delivery menu orders a $14-$15 bump—may prompt some patrons to purchase adult versions of those drinks. Seasonal margaritas, Moscow mules and other cocktails can also be infused with fruits like cranberries and clementines that are in season in colder months.3
Holiday Flavors
Including winter-friendly flavors in desserts may help sway customers who are on the fence about purchasing them. Nearly a third (32%) of consumers say they'd be willing to try a new menu item if it's a seasonal type of dessert or one that features seasonal flavors—which in winter, can equate to inclusions like chocolate or mint.1,4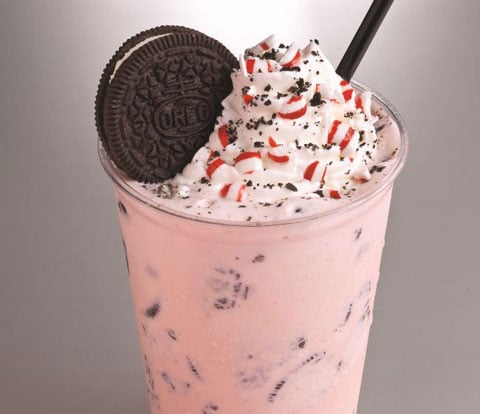 Considering consumer feelings throughout the winter season is key, according to Mondelēz Foodservice Brand Ambassador BomboBar.

"As we head into fall & winter in the Midwest, it is very important to be cognizant of consumer sentiment towards winter flavors, because it is a pretty fluid process," said Luke Domask, marketing manager, DineAmic Hospitality from the Bombobar team in an interview with Mondelēz Foodservice. "Going into November and December specifically, consumers are mainly anticipating traditional holiday flavors like apple and pumpkin pie for Thanksgiving and gingerbread, peppermint, eggnog etc. for Christmas."

Incorporating that nostalgia is key during the holiday season but so are elevating classic dishes and providing something new.

"Everyone for the most part is engaging in the similar holiday trends and dishes, so while it is important to include those nostalgic themes, you still want to stand out from the rest and offer something new. For Bombobar, a large portion of standing out is the 'aesthetic' of our desserts. Our customers love sharing and posting their desserts on social media, so it is vitally important for us to not only make sure we're 'playing the hits' of holiday flavors but also making sure it is photogenic enough to be shared across social media."
Post-Holiday Tastes
The winter season still extends after the holidays, especially in certain parts of the country, so it's important to consider what else is on-trend.

"In the Midwest, winter of course lasts much longer beyond the holidays," said Domask "It is important to plan accordingly for post-holiday offerings where consumers are no longer interested in holiday themed desserts but still engaging in the seasonality of winter flavors."

Chocolate is, in fact, a fairly common ingredient in today's winter desserts. While fruit-flavored pies may dominate summer, the varieties served in frostier months include chocolate cream and chocolate; chocolate layer, chocolate raspberry and chocolate ganache are the seasonal cake flavors most likely to be found on menus.4

Mondelēz Foodservice Brand Ambassador Chef Clarice Lam incorporates chocolate into one of her annual holiday treats.

"My favorite thing to make during the holiday season is also one of my signature treats: a giant s'more," she said in an interview with Mondelēz Foodservice. "I make my own 3-by-3-inch graham cracker squares, a homemade marshmallow patty of the same size and place it in a pizza oven for optimal toastage on the outside and gooeyness on the inside. It gets finished with a thin square of chocolate, which I temper and cut to the same exact size. The warmth from the marshmallow immediately melts the chocolate for the perfect graham-to-marshmallow-to chocolate ratio bite."

Bombobar also leverages the popularity of chocolate in the winter season with their Hotter Chocolate offerings.

"Our Hotter Chocolates have been a destination item for many customers over the years and are a fully customizable sweet treat that keeps our guests warm throughout the winter months," said Domask.


Other winter-friendly flavor options include candy cane and crème de menthe, which, along with chocolate-and-berry combinations, became more frequent inclusions in top foodservice chains' desserts between 2020 and 2022.4

Peppermint and crème de menthe have also popped up in winter in ice cream, gelato and other frozen treats, which during the season can also feature milk or dark chocolate, white chocolate and other flavorings.4

Restaurants and convenience stores have introduced coffee drinks in recent years that contain flavorful components such as chocolate whipped cream, butterscotch and candy canes.4

Gingerbread has also increasingly found its way into seasonal beverages throughout the winter season. Its use, in general, has been on the rise for the past three years; during that time, gingerbread has become one of the fastest-growing flavors to be been included in sweet items.4,5
A Twist On Common Treats
Inventive, highly Instagrammable winter desserts—such as a unique interpretation of traditional hot chocolate that's served chilled with an OREO topping—can earn restaurants word-of-mouth appeal, giving customers an incentive to venture out in the cold to check out their dessert items.

The Bungalow Club in Minneapolis, for example, serves an olive oil cake dessert that's topped with luscious malted hot chocolate ice cream and marshmallow fluff.

Dough, a doughnut shop with several New York locations, sold sufganiyot, a round jelly pastry customarily enjoyed during Hanukkah, filled with apricot, strawberry and mixed berry jam and custard last year for Hanukkah—along with more nontraditional Boston cream and Nutella versions.

Chip City, which has 18 outposts in New York and New Jersey, shared a mouthwatering clip of its newly introduced Chai Snowball cookie—made with chai tea, cinnamon and nutmeg—being coated in a marshmallow glaze and coconut on social media last December. The cookie chain called the item "a true nostalgic treat" that it said was "perfect for this time of year."

In 2022, portable, individually formatted desserts experienced the largest menu item sales increase.1 More shareable, grab-and-go offerings are perfect for the holiday season, such as to-go-ready individual cheesecakes made with OREO Cookie Pieces, or these peppermint cupcakes made with OREO Cookie Pieces.

Looking for more winter dessert suggestions? Visit our Culinary Center for recipe inspiration and guidance.

1 Desserts: Keynote Report, Datassential, 2023
2 Seasonal Flavors & Holiday Menus, Datassential, 2022
3 "8 Holiday Drinks to Add to Your Winter Menu," Grubhub, Dec. 1, 2022
4 Seasonality report, Datassential, 2023
5 "The Most and Least Popular Christmas Cookies," YouGov, Dec. 16, 2020