Posted in Technology on October 19, 2023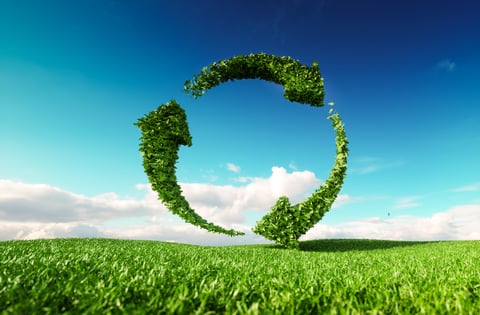 Illustration 116932229 © Malpetr | Dreamstime.com
As suppliers offer more eco-friendly products, operators are positioned to provide solutions that can help clients meet their own sustainability objectives.
According to Miguel Gonzalez Jr. of Gudpod, maker of compostable single-cup coffee pods, his visits to large employers have taught him one thing about how customers view sustainability. "Many companies are not focused on one simple sustainability issue," he said. "They have a long checklist of sustainability goals that need to be met, and when an operator can provide a way for them to check off several of those boxes, it creates real opportunity."
While there are many challenges facing convenience services operators today, including a 50% reduction in the number of employees working on-site, sustainability is moving higher on the priority list. According to the 2023 Technomic Climate and Sustainability Foodservice report, 70% of foodservice operators confirm sustainability is currently a priority for their organization and 74% say sustainability will become more important in the next five to seven years.
Vendor Sustainability Is Important
In an Automatic Merchandiser article from August 2023, Jennifer Ridnour, client relations rep at First Class Vending and Coffee, said she has seen the importance of sustainability grow and evolve over her 23 years in the industry. Ridnour said that customers today are asking for more than just eco-friendly products; they want to be sure that their supplier is good to their own employees and the community. They also expect their vendors to minimize their carbon footprint.
"Most of our vehicles are either hybrid or electric," Ridnour said in the article. "So, we are delivering products in a sustainable way." Ridnour added that First Class makes extensive use of solar power and uses technology to improve route efficiency, cutting down on needless trips and further lessening their carbon footprint – sending an important message to their clients.
Eliminating Single-Use Plastics
Dan Welch of World Cup Coffee in Portland said his clients want access to eco-friendly products and are quite motivated by organic and sustainably farmed coffees. "To communicate what we have to offer, we educate our staff and our drivers," said Welch. "When it comes to one product besides coffee that is important to clients, it is the elimination of single use plastics."
Shawn Vargo of 3rd Coast Coffee in the Cleveland area said that even though the region is not as committed to sustainability as some parts of the country, single-use plastics is the number-one sustainability objective, which leads to more point-of-use water filtration systems and alternative packaging. He talks to his clients to make sure they know what 3rd Coast Coffee can offer.
The desire to ban single-use plastics is taking on global appeal. According to Reuters, "the percentage of people calling for bans is up from 71% since 2019, while those who said they favored products with less plastic packaging rose to 82% from 75%, according to the 2022 IPSOS poll of more than 20,000 people across 28 countries."
Avoid Overpromotion
Welch also noted the importance of communicating your own sustainability practices, but with caution. "While sustainability is important, you can't overpromote it or you can easily be accused of greenwashing and that is the last thing you want," he said. "If you are going to bring forth sustainability, do it honestly and be educated about it."
According to the 2023 Mintel Global Trends Report, "As consumers become savvier and aware of 'greenwashing,' companies must demonstrate commitment to sustainability by making real changes within their industries to make a genuine impact and engage with their customers' sustainability priorities. 60% of U.S. consumers agree that many companies are just pretending to be sustainable."
Sustainability Education
Confusion about the true sustainability of certain products – the difference between compostable, recyclable, biodegradable and the myriad of terms describing eco-friendly products – is leading to an increased emphasis on product education. Some suppliers are stepping up to assist operators with product education and to help them communicate the impact of their sustainability efforts.
Ralph Bianculli, founder and CEO of Paradigm Group, Emerald Brand, said operators have an opportunity to enjoy a competitive advantage when they utilize the resources that his company makes available. "Operators who work with us have access to a portfolio of 300 sustainable products for their office customers," said Bianculli. He pointed to the importance of the ESA (Emerald Sustainability Accreditation) program offered by his company, which is available to educate operators about sustainable products. Additionally, Emerald Brand offers an impact report for operators, allowing them to show their customers how their responsible purchases had a positive impact on the environment. "Operators need to evolve and become more proactive about selling sustainability. Communication that quantifies the impact of the purchases is a powerful way to send a message," he added.
Mondelēz International ESG Report
The 2022 Mondelēz International ESG (environmental, social and governance) Report outlines the company's goal to build a more sustainable snacking company. Dirk Van de Put, Chairman and CEO of Mondelēz International, wrote that his company's strategic commitment to Snacking Made Right is fundamental to more sustainable growth. "It is our way of determining our environmental, social and governance (ESG) priorities and delivering on our mission of leading the future of snacking by offering the right snack, for the right moment, made the right way.
"We are prioritizing key areas of Snacking Made Right, so we can help drive innovative, more sustainable growth the right way for people and the planet. With that in mind, sustainability now follows growth, execution, and culture as the fourth pillar in our long-term business strategy," he wrote. "We are focusing on more sustainable snacking – more sustainable sourcing of key ingredients, lowering climate impact, respecting human rights, and reducing packaging waste."
Key Objectives
With numerous sustainability objectives targeted for 2025, the Mondelēz International ESG Report points to key focus areas.
Helping to build resilient landscapes.

Taking action on climate change by reducing carbon emissions.

Managing water and waste as effectively as possible.

Making packing light and right so it is better for both people and the planet.

Sourcing key ingredients more sustainably, so they can keep making the snacks people love and help to promote social sustainability and prosperity in the communities their business touches.

Recognition that sustainable snacking is an immense and important task – one they are embracing holistically and wholeheartedly, to drive ever-greater long-term positive impact for people and the planet.
Operators Must Do Their Part
While suppliers are increasingly doing their part to promote sustainability, New York-area operator Judson Kleinman, founder and CEO at Corporate Essentials, encourages operators to offer a wide variety of sustainable products. "The price difference between sustainable and non-sustainable products is not that significant today, so given the choice, most clients will choose the sustainable option," said Kleinman. "We need to accept that climate change is here, and we need to do our part to make things better."

Read more on sustainability trends in the 2022 Mondelēz International ESG (environmental, social and governance) Report.