Posted in Restaurant Operations on May 5, 2020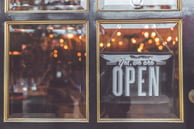 COVID-19 (a.k.a. the coronavirus) may be an astonishing outbreak, but foodservice is far from broken. Though the dark clouds of coronavirus continue to gather, there have been bright spots that show the industry's resiliency and resolve.
Prior to the pandemic, takeout and delivery were helping to drive sales as off-premises business provided a much-needed revenue engine to counterbalance sluggish in-store traffic.
Social distancing and state and city mandates to suspend dine-in services have accelerated the shift to takeout and delivery, causing major brands, independent operators and third-party delivery companies to ramp up the off-premises model. As a result, delivery and takeout are likely to be a more robust and efficient revenue source post-outbreak.
No surprise, then, that Bloomin' Brands Inc., parent company of Outback Steakhouse, Carrabba's Italian Grill and other chains, has seen off-premises sales soar. According to David Deno, Bloomin' Brands' CEO, "We have grown our sales each week since we pivoted to an off-premise-only model on March 20. We have nearly tripled our total off-premise business since the beginning of March."
Strong off-premises sales through mid-April enabled the company to keep all its locations open.
In the hyper-competitive third-party delivery space, the struggling brand Waitr is benefiting from a boost in sales during the outbreak, and GrubHub has enjoyed a record surge of new diners and restaurants. Across the segment, waiving delivery fees are helping to drive third-party orders.
Bringing More to the Table to Help Communities
The uptick in off-premises foodservice isn't the only positive news coming out of the crisis. Struggling restaurants are cooking up creative solutions to morph into aid-driven business models, such as community kitchens and temporary grocery delivery.
Panera now offers baked goods, dairy and produce available for takeout and delivery at its 2,000 locations. Available with the chain's regular menu items or separately on its website or app, the purchases are applied as loyalty points in the MyPanera loyalty program.
Some are doing their part through charitable donations, serving those in need with extra food and resources.
At the time of this writing, with grocery shelves emptying and people confined to home under quarantine, restaurants across America have stepped up to the plate to serve their communities generous helpings of goodwill.1
Dallas-based Homewood restaurant is offering delivery of a $55 Farmer's Box with produce and goods from local farmers, including a whole chicken, salad greens, fresh vegetables and pickles and mustard from the restaurant itself.
Ani Ramen House, headquartered in New Jersey, gave away 1,300 free family meal kits before temporarily suspending operations. Each kit was filled with enough broth, noodles, vegetables and protein for a family of four.
Based in Newport Beach, Calif., restauranteur Mario Marovic, owner of Malarky's Irish

Pub, Dory Deli, Playa Mesa and Matador Cantina,

stocked up on 4,000 rolls of toilet paper to give away for free for any community members in need.
As an extension of his nonprofit organization, World Central Kitchen, Chef José Andrés is converting eight of his shuttered restaurants in New York City and Washington D.C. into temporary gourmet soup kitchens, with to-go lunches offered for $7 (for those who can afford it) and meals priced on a sliding scale basis.
Boulder, Colo. Restaurant Arcana is reinventing itself into a community meal program with a wide variety of menu options available at sliding scale pricing. The first 50 meals were delivered to needy families for free.
Major Brands Soften the Blow of Hard Times
What's more, many brands are moving swiftly to adopt sweeping changes—not only protocols to bolster safety and cleanliness, but policies that protect employees on a personal level, including new paid sick leave and medical coverage.
Olive Garden, McDonald's, Subway and In-N-Out are among the chains that have instituted paid sick leave for their staff.2 Employees of &pizza have been granted 14 days of paid sick leave in the event they are diagnosed with coronavirus, or if they are suspected of having the virus or coming into contact with someone infected with it.2
In a move that could help customers struggling to save money amid layoffs, Denny's is waving all delivery fees through April 12. Dickey's Barbecue Pit is also offering free delivery, available via its website and app through April 30.2
At Mondelēz International Foodservice, we understand the importance of pulling together to overcome the challenges posed by the coronavirus. Read our COVID-19 Response and learn about the many ways we are making a different Contact us below to learn the many ways we can help.