Posted in Technology on November 3, 2022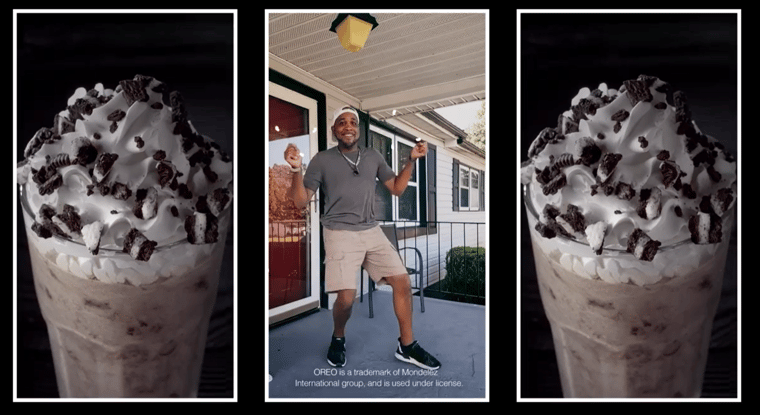 Image courtesy of Applebee's
Since bursting onto the social media scene in 2016, TikTok has swelled to include 656 million users—including a sizable amount that gravitates to its cuisine-related content.1
Videos featuring a #Food hashtag, dubbed FoodTok, have reportedly been viewed within the app more than 360 billion times globally; and that screen time seems to have had a notable impact on a number of users.2
Approximately 36%—including 65% of TikTok creators—say they've ordered something from a restaurant after seeing a video about it on the app.3
TikTok is particularly popular with younger users; 40% of Gen Z members say they use it to obtain food information—making it an effective way to get the word out about limited-time offers and other news.4
If your restaurant has been thinking about entering the TikTok realm but isn't sure where to start, consider the following approaches.
Getting Kudos from Well-Known Fans
TikTok claims nearly half (48%) of its audience is more likely to discover new brands or products from a celebrity or public figure within its app than on other platforms.5
Celebrity endorsements in videos have helped restaurants garner comments, shares and ample attention. After Justin Bieber's limited edition doughnut holes debuted at Tim Hortons, for instance, which is headquartered in Canada, in November 2021, Canadian musician Michael Bublé shared a TikTok video lamenting the fact he hadn't been contacted about a similar promotion.6
That double serving of star power has been credited with boosting business for the coffee chain. During the fourth quarter of 2021, Tim Hortons' sales rose 10.3%, according to its parent company Restaurant Brands International. During the same time period the year before, sales had declined 11%.7
In a financial results call, CEO Jose Cil called the joint Bieber-Tim Hortons' promotion "one of the more successful traffic-driving initiatives in recent memory" and said it prompted "unprecedented social engagement and increased appeal with younger guests."7
Operators have also aligned with social media influencers to promote menu items. While some of the videos feature influencers sampling foods that are currently being offered, Denny's worked with two dozen popular TikTok creators to craft new dishes that were featured on a Social Stars Influenced Menu from February to June.8
The limited-time offer items included the cream cheese icing-topped Get That Cookie Dough Pancakes, designed by Jenny Solares and The EnkyBoys, and a burger fashioned by TikTok stars Jonathan Chavez and Elise Osafo, made with aged white cheddar cheese and a blistered jalapeno.
Asking Users to Engage
Hashtag challenges are another popular type of TikTok promotion. Videos with tags like #RestaurantChallenge—which range from people eating nothing but food from New York's most famous restaurants for a day to users trying tiny tacos—have received more than 14 billion views.9
Chipotle has sponsored more than one successful challenge, including a 2020 event that touted a $10,000 prize for the three TikTok users who best illustrated why their order involved the ideal item combination.10 The chain also pledged to serve the winners' chosen mix at restaurant locations in December of that year.
In 2021, the fast-casual Mexican food chain's "Burritos or Bitcoin" campaign, which had users guessing a six-digit code to win a free burrito or up to $25,000 in Bitcoin, had 4 million unique users. 11
Similarly, operators can monitor hashtag use on TikTok and other social media outlets to identify food trends that might serve as a catalyst for upcoming LTOs. Demand for buzzworthy items that are shown on TikTok can be significant; 29% of users who tried to buy an item that was trending on the app found it was sold out.12
Posting Personal Content
A number of operators have stepped into the creator role by making videos that have garnered significant views. In some—such as the video of Applebee's President John Cywinski and his daughter dancing to "Fancy Like," a song that mentions the eatery in its chorus—the restaurant's food isn't even shown.
Cywinski's clip received more than a million views the day he shared it in 2021 and led to numerous reenactment videos from other users. Applebee's also again began offering the OREO Cookie Shake that's mentioned in the song lyrics, which had been taken off its menu—and during the subsequent months saw same-store sales rise, ultimately surpassing the previous year's amount by 12.5%.13
Some restaurants have also used TikTok to communicate their personal commitment to philanthropic efforts. Kentucky Fried Chicken, for instance, in February announced it would be giving away $500,000 in cash grants to nonprofits that are fighting hunger across the U.S. via the app.14
While, after just six years in existence, TikTok may be one of the newer social media platforms on the block, its visual nature and rapidly growing audience—projected to reach nearly 90 million by 2023—make the app a viable option for restaurants' promotional efforts. 15
By creating captivating cooking, food presentation or other video clips, or encouraging TikTok users to share their own, operators can build excitement about both the menu items they serve and their overall dining experience—potentially reaching a wider audience of restaurant-goers and driving sales to a higher level.
Contact us for menu solutions that drive buzz about your restaurant on TikTok and beyond.
1 Number of TikTok users worldwide from 2020 to 2025, eMarketer, Sept. 5, 2022
2 "TikTok is transforming how and what we eat," The Globe & Mail, Sept. 15, 2022
3 "(SURVEY) How TikTok Influences Restaurant Dining Behavior," MGH, Sept. 21, 2022
4 Social Media Drives Customer Engagement, Mondelēz International, April 8, 2022
5 The new word-of-mouth marketplace: How TikTok drives action and satisfaction throughout the purchase journey, TikTok, June 15, 2022
6 The End of the Celebrity Meal," The New York Times, Dec. 8, 2021.
7 "Justin Bieber almost single-handedly turned around Tim Hortons," CNN.com, Feb. 15, 2021
8 "Denny's Collabs with TikTok Stars on New Menu Items, Unveils New Brand Campaign," Cision PR Newsire, Feb. 24, 2022
9 "restaurant challenges," TikTok
10 "Chipotle Royalty Gives Fans The Chance to Have their Go-To Orders Become Real Menu Items," Chipotle, Nov. 17, 2020
11 "How Chipotle's Candice Beck Builds Social Media Relevancy," QSR Magazine, June 16, 2022
12 TikTok's Unique Path to Purchase, TikTok, 2021
13 "How the Viral Song 'Fancy Like' Rocked Applebee's Summer," Restaurant Business, Nov. 5, 2021
14 "KFC® Is Giving Away Half a Million Dollars on Tiktok® in a First-of-Its-Kind Grant Program," PRNewswire
15 Number of TikTok users in the United States from 2020 to 2023, eMarketer, Jan. 28, 2022