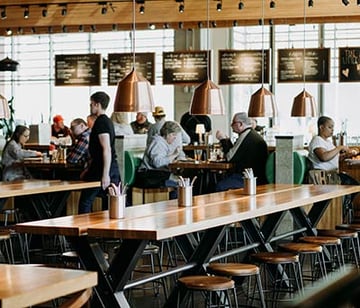 Despite the unprecedented challenges the restaurant industry faced in 2020 and 2021 due to the COVID-19 pandemic—including an estimated $255 billion sales loss1—franchising activity didn't come to a complete halt.
In April, the fast-casual Noodles & Company chain said it planned to leverage franchise development to meet its at least 7% systemwide unit growth goal.2 Mexican quick-service chain Del Taco signed a multi-unit development deal with an operator to increase the brand's franchised locations in Florida in May,3 and by the end of the third quarter, Tropical Smoothie Café had already surpassed the record number of franchise agreements it signed in 2020.4
While some of the most robust franchise expansion occurred in warm-weather states with considerable outdoor dining capabilities—Texas, Florida and California added the most units between January 2020 to mid-October 2021—franchise locations have also continued to open in the Midwest and Northeast.5
Earlier this year, the International Franchise Association projected more restaurant franchising growth may be on the way—including a 4.1% increase in quick-service establishments and 6.2% more table/full service restaurants by the end of 2021.6
In addition to more locations, some restaurant franchises are implementing new elements in response to changed operator and consumer needs.
Miami Grill, for example—which began offering franchising opportunities in the early 1990s and currently has several hundred locations in multiple states—decided to fast-track construction of its first express model location in Deerfield Beach, Florida.
The company initially viewed the prefabricated building, which has outdoor seating and no dining room, as a more cost-effective investment opportunity for potential franchise operators; its structure, though, also aligns with current customer preferences, according to Vice President of Franchise Development Robert Haar.
"We found, even with our dining rooms completely shut down or at very, very limited capacity, our same-store sales, year-over-year, were up 12%," Haar says. "That tells us what direction consumer behavior has taken. They want the drive-thru; third-party delivery; to order ahead and have a loyalty program built into that—these are things not only the consumer wants, but our franchise prospects demand."
Supporting Restaurant Recovery
Shortly after the pandemic began, Miami Grill also launched an order placement app, which Haar says franchisees appreciated because it gave locations a chance to start orders earlier and took some of the pressure off the drive-thru.
All third-party delivery, app and other orders are aggregated into Miami Grill's cloud-based POS system and immediately relayed to display screens in each location's kitchen.
"The restaurant business is about pennies and seconds," Haar says. "Anytime you can have a jump on an order and make it easier and frictionless, it's a win-win for the franchiser, franchisee and customer."
With restaurant sales still recuperating from the pandemic's effect, operators have been eager to find ways to drive traffic to their location—including offering buzzworthy menu items customers will find exciting.
Traditionally—particularly during the past year and a half—menu items that feature familiar name brand ingredients have often been strong sellers. More than two-thirds of adults (68%) say they're more interested in trusted brands, rather than trying new ones when snacking,7 according to Mondelēz International's annual State of Snacking™ report, and more than a third (37%) of foodservice best-in-class limited-time offer items last year included specific brand mentions.8
Cookie chain Crumbl's most successful product collaborations have involved OREO Cookies, says Chelsea Currier, vice president of R&D and quality. In fact, the 200-location eatery's CHOCOLATE FT. OREO Cookie, made and topped with OREO Cookie Pieces, is its most requested—and the only variety that's outsold its chocolate chip cookie, which is one of just two types that are offered regularly each week alongside a rotating lineup of four others.
In September, Crumbl—which in 2020 also released a SOUR PATCH KIDS cookie that the company says has since built a cult following—debuted a warm Golden OREO cookie, containing white chocolate chips and Golden OREO Cookie Pieces, topped with vanilla cream cheese frosting and a mini Golden OREO Cookie.
"We wanted to take that successful flavor profile of our most popular LTO and flip it on its head," Currier says. "We think about so many of those flavors in families; we have our Oreo family, and we are constantly building it."
Getting the Word Out
Even if a new menu item may help franchisees appeal to a widespread customer base, promoting it may require a customized effort.
While a portion of Miami Grill's marketing and advertising focuses on south Florida, where the bulk of its locations are, the chain also utilizes other tactics in certain areas, according to Marketing Director Jackie Maceda.
"Some markets are more digitally based," Maceda says. "We have locations in Texas now; we've actually discovered that boots on the ground are really effective there. It's very heavily residential, and because of the economics of the area, direct mail seems to be something that works."
Miami Grill has also recently begun working with a ghost kitchen operator that's preparing the restaurant's menu at several of its facilities, which Haar views as another way to extend the brand into some pockets where it didn't have a presence in the south Florida market.
"It's also a great opportunity to precede [future locations], from a marketing perspective," he says."By opening a ghost kitchen, people will become aware we are entering the market."
For would-be entrepreneurs, a franchising agreement can offer advantages ranging from time-tested operating procedures to cost savings achieved through economies of scale, which can potentially help the business succeed. Simultaneously, franchisers can gain greater reach and exposure.
However, with a decreasing number of operators expecting business conditions to continue improving in the coming months,9 having franchisers and franchisees work together to add digital ordering options, targeted promotional campaigns and other enhancements could help position restaurant locations to remain competitive within their respective markets—and ultimately enhance profitability for everyone involved.
1 "Restaurant Industry Sales Struggle Through Winter; Help from Government Needed Now," The National Restaurant Association, March 2, 2021
2 "The Future of Franchising is Now at Noodles & Company," April 19, 2021
3 "Del Taco Fires Up Florida Development with New Multi-Unit Franchise Deal and New Restaurant Growth,"May 13, 2021
4 "Tropical Smoothie Café® Posts +29% YTD Same-Store Sales Over 2019, Record-Setting Franchisee Signings," October 7, 2021
5 "Restaurants are plotting aggressive franchise expansion. Here's where — and why," Restaurant Dive, October 18, 2021
6 The International Franchise Association 2021 Economic OutlookThe International Franchise Association, February 18, 2021
7 State of Snacking™ report, Mondelēz International and The Harris Poll, 2020
8 New State of the Menu Report from Technomic Spotlights Trends to Come in 2021(Technomic, February 23, 2021)
9 "National Restaurant Association Releases 2021 Mid-Year State of the Restaurant Industry Update" (August 31, 2021)