Posted in Trends on April 27, 2023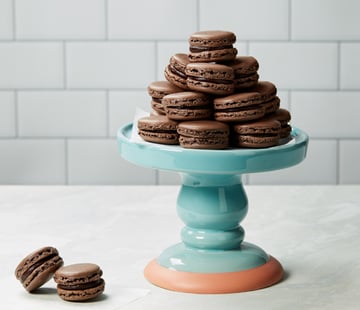 In recent years, a number of U.S. bakeries have given conventional French pastries—known for their multilayered texture and artistic look—a decidedly modern makeover.
The advent of the Cronut®, an inventive croissant-doughnut combination introduced by pastry chef Dominique Ansel in 2013, likely helped usher in other new formats, according to New York-based pastry chef Clarice Lam, who identified modern French pastry iterations as one of the five key flavor and food trends for 2023.
"The whole world's mind was blown," Lam says. "A decade later, and this deep-fried circular croissant is still being offered in bakeries worldwide. Since then, we've seen a cruffin, a croffle, a cragel and most recently, the Suprême: a hockey puck-shaped croissant turned on its side like a wheel, filled and then garnished with drips of ganache."

Elegant, innovative baked goods can be a big draw for dessert aficionados and customers who like to start the day with something sweet. Operators who are interested in trying to invigorate their current French pastry selection may find some inspiration in the following recent ingredient and other trends.
Creative Components
Macarons, which date back to the 1600s, gained ground in the U.S. when French pastry shop Laudrée opened a location in the U.S. in the early 20th century.¹

Today, macarons—whose market penetration increased 13 times between 2009 to 2019—are having a moment. Consumers are eager to find next-level versions of the original pastel variety that feature elements such as iconic ingredients—OREO cookies, for example, blended into a creamy chocolate filling.²

Bake Me Treats in Poland, Ohio, offered a macaron made with SOUR PATCH KIDS Watermelon Candy last summer as part of a local watermelon-themed festival it sponsored. SOUR PATCH KIDS were melted down and combined with fresh watermelon and watermelon-flavored beverage mix to create a jam spread inside the macarons, along with buttercream flavored with a watermelon-infused syrup.
The macaron shell had a sour sugar coating, made from sugar mixed with citric acid, according to owner Gabriele Barnhizer, who says she's a huge fan of the candy.
"One of the things I've been interested in is trying different flavors with the macarons—especially very American flavors," Barnhizer says. "That's why I was really excited to do the SOUR PATCH KIDS (macaron). We went through them really fast. If it's something people see on social media, and then it starts to build traction, we see more people coming for that specific pastry."

Before Pix Pâtisserie, which now sells sweets via two vending machines, phased out on-premise service in 2022, the Portland, Oregon, bakery hosted an annual macaron-based customer engagement event, offering 31 flavors of macarons, instead of the usual dozen, one day a year, according to owner Cheryl Wakerhauser, who is also the author of "Modern French Pastry."

"We had a checklist (to) check off all the flavors you wanted to try, and we used to invite customers to submit ideas for the following year," Wakerhauser says. "You won a certificate if we used your flavor."
International Inspiration
Aligning French pastry picks with items served outside of that region could attract customers who are interested in global cuisine.

At Marron Pastry in New York City, for example, French pastry school-trained chef David Gorgoshidze has paired items like raspberry macarons with traditional pastries from Georgia in Eastern Europe, such as cheese pies with a fairly simple format and fillings like fruit and cream.³

"The more people get interested in other cultures (and) foods from around the world, they discover these new flavors and want to incorporate them," Wakerhauser says. "Now yuzu is really hot; I see the use of savory-type herbs a lot, like sage."

Some bakeries have also given eclairs an internationally themed makeover. Cronut-creator Dominique Ansel's New York bakery, for instance, offered a St. Patrick's Day-based Black and Tan éclair.

The bakery also serves other French-focused desserts that include on-trend ingredients, such as brown butter and lavender, and a mousse cake made with passion fruit—flavors ingredients provider Kerry says have experienced some of the fastest-growing use in sweets in the past three years.4
Bite-Sized Indulgences
Much like the macaron, miniature versions of pastries caught on stateside after a French eatery, Maison Kayser—which had initially helped popularize the Café Gourmand practice of serving a coffee drink with several mini desserts as a lighter option—opened an outpost in New York.5
Chefs can pack both big flavor and visual appeal into the tiniest of items by including elements like popular candy and other recognizable ingredients—such as in these Pastry Bites filled with OREO Cookies, or a cream puff made with CHIPS AHOY! Cookie Pieces.
Because French pastries often have a rich, intricate nature, they typically work well in a miniature format, according to Wakerhauser.
Although Pix Pâtisserie's regular-sized items, Wakerhauser says, haven't all been that small, the individual portions are often just enough for five or six bites.
"When you have rich chocolate mousse, hazelnut crisp—you really only need that much," she says. "It's the perfect amount to satisfy you. Really, you can make anything miniature; you just have to have a smaller mold or cut it smaller. I've even made mini macarons. They end up being the size of a dime."
Nutritionally Focused Fare
Bakeries may also benefit from updating French pastry classics to meet the demand for certain dietary needs.

In France, artisan vegan bakeries like Land&Monkeys and VG Patisserie have fashioned dairy-free delights that look as appealing as the original versions—which is possible thanks to techniques like using turmeric to give a yellow tint to vanilla custard-type desserts that are prepared without eggs.5 Numerous businesses in the U.S. now offer dairy-free treats, such as L'Artisane Creative Bakery near Miami, which serves decadent dairy-free fare like a cookie butter croissant and guava and cream cheese macaron.6

"I see a lot more vegan options," Wakerhauser says. "There's a company in the San Francisco area—all of their chocolates are plant-based; when they do a white or milk chocolate, for example, they're using oat milk."

While plant-based and other enlightened items may be making their way onto the market, numerous bakeries will undoubtedly continue to focus on more traditional versions of French pastries, prepared with a twist, this year.

With annual pastry sales totaling more than $14 billion, operators stand to benefit from enhancing their current lineup.7

Chef Maeve Rochford, Brand Ambassador and owner of the Sugar and Scribe bakery in La Jolla, California, predicts it could be an exciting time for French pastry fans.

"I see small desserts and dessert bars coming back," Rochford says. "Additionally, a fusion of classics will be huge, from twists on doughnuts to croissants—2023 will be filled with lots of surprises."

To find out more about the latest consumer preferences and foodservice practices, read the rest of our 2023 trends report—or visit our Culinary Center.
1 "Biggest Food Fads of the 20th Century," Chicago Tribune, Jan. 4, 2023

2 "Consumer Interest Grows in Several Dessert Categories," Bake,
Aug. 19, 2019

3 "Marron Pastry: It's Not a French or Swiss Bakery But a Georgian Pastry Shop," Forbes, Sept. 12, 2022

4 Inspiring Food and Beverage Innovation: Taste Charts 2022, Kerry, 2022

5 "Cafe Gourmand, the French Mini-Dessert Trend, Hits the U.S.," Bon Appétit, Dec. 12, 2012

6 "Croissants are moving on': the vegan chefs reinventing French pâtisserie," The Guardian, July 15, 2022

7 "The Money Behind Macarons: Industry Trends and Those Capitalizing," Ventured, Feb. 6, 2020