Posted in Desserts on February 21, 2023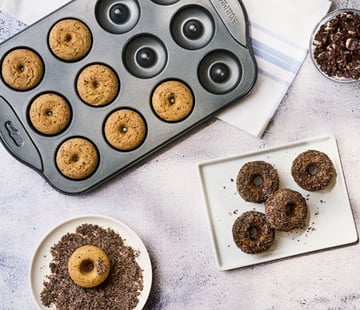 With the pandemic fading and life resuming its fast pace, pent-up demand for in-store experiences is sure to fuel the return of foot traffic and demand for build-your-own and shareable foodservice options.
As cited in our report, Five Flavor & Food Trends for 2023, 42% of consumers surveyed are more likely to try a new or unique flavor from a restaurant than one made at home, and 28% are more open to experimenting with new flavors since the pandemic started.1
The report lists Elevating the Dessert Bar as one of the key trends to watch in 2023, according to celebrated chef and Mondelēz Foodservice Brand Ambassador Jackie Joseph. As eatertainment opportunities to sample, self-serve, and mix-and-match shareable treats, dessert bars are poised to reach new heights of popularity and ingenuity.
"As a former executive pastry chef of a large convention hotel, I saw the trend of an elevated dessert bar on the rise," said Chef Jackie, whose many credits include season 4 winner of Food Network's "Best Baker in America" and official pastry chef of the 2010 Winter Olympics. "From made-to-order liquid nitrogen ice cream, to intricate mini desserts and individually customized packaged sweets, the concept of the dessert bar became increasingly modern and highly customized. Customized themed desserts and color schemes have become a huge request as well," she told Mondelēz Foodservice.
Chef Jackie explained that the trend spans large functions like weddings and galas, as well as smaller, more intimate gatherings like bridal and baby showers and engagement parties. She sees all these variations on the dessert bar as ways of "taking the eatertainment to the next level—both interactive and self-serve, as well as customized prepackaged items."
Fellow Brand Ambassador Maeve Rochford, the 2019 California Restaurant Association Chef of the Year, agrees: "2023 will be filled with lots of surprises," she said in an interview with Mondelēz Foodservice. "I see small desserts and dessert bars coming back."
Foodservice Customers Increasingly Sweet on Shareable Mini Desserts



Chef Alisha Faleiro, a pastry chef at the Academy of Pastry & Culinary Arts, explained the trend as it emerged last year. "These mini, bite-size portions are the new trend in desserts," he said in an interview with foodie lifestyle and recipe resource Slurrp. "They offer a mélange of all classic varieties that can satiate our dessert cravings and limit the calories."2

The growth of the trend has been steady. In 2021, a Pinterest report revealed that dessert charcuterie boards were being searched three times more often than conventional meat and cheese-based charcuterie boards.4 Last year, Edible Arrangements, the leading franchiser of stores specializing in fresh fruit snack medleys, debuted dessert board varieties that could feed up to 15 people.
As Angela Johnson, vice president of innovation and merchandising at Edible Arrangements, explained: "Charcuterie boards are always a hit, and our new Edible dessert boards are a perfectly sweet complement for parties big or small. The dessert boards have something for everyone, whether your sweet tooth craves fresh fruit, chocolate, or a brownie, cookie, cupcake or cheesecake."3
Looking for ideas and inspiration to elevate your menu with dessert bar options? The celebrated chefs of Mondelēz Foodservice are here to help, with recipes like Mini Cake Donuts made with OREO Cookies. To learn the many ways we can help you hit the sweet spot with customers and prospects, reach out below.
1 Mondelēz International Foodservice, Five Flavor & Food Trends for 2023, December 2022
2 Dogra, Tavishi, "Mini Pastry: How It Emerged As New Trend in the World of Desserts?" Slurrp, January 19, 2022
3 Amick, Brian, "Edible introduces dessert charcuterie boards," Bake, June 6, 2022