Posted in Snacking on June 29, 2021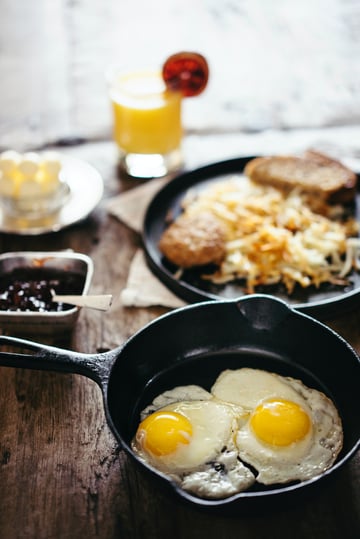 Roiled by the pandemic, 2020 became the year of transformation for the foodservice industry. Regroup, reassess and reinvent have become the gotta-get-it-done directives for foodservice operators, topping the menu of must-dos for moving forward.
That said, there have been bright spots. Snacking surged across the globe during the outbreak, with millennials and centennials surveyed (64% and 60%, respectively) choosing to eat snacks throughout the day instead of a few large meals, according to the 2020 State of Snacking Report from Mondelēz International.1 What's more, nearly two-thirds plan to continue replacing meals with snacks, and 6 in 10 intend to make snacking a part of their "new normal."2
More than 50% of global adults surveyed considered snacking a lifeline during the pandemic—a sentiment especially high among work-from-home parents who saw snacks as a go-to source of nutrition for themselves and treats for their kids.3
As a reliable source of comfort, convenience and nutrition that can help consumers balance physical, mental and emotional wellbeing, snacks are poised for continued growth. "As the global snacking category continues to grow, and we all adjust to our new normal, it's not surprising that almost 9 in 10 adults worldwide say they are snacking more or the same during the pandemic than they were before," said Dirk Van de Put, Mondelēz International's chairman and CEO.3
Modern Family: Top Family Dining Chains Reach for Higher Sales
While snacking came to the forefront as a comforting refuge and nutritional resource during the pandemic, family dining chains faced daunting challenges. Typically centered around all-day dine-in services, the family dining sector tended to appeal to older demographics and have negligible off-premises business.
Unlike the fast-casual sector, family dining was experiencing slow sales before the pandemic, and COVID-19 elevated the urgency of innovation with restrictions and shutdowns.
According to Kevin Schimpf, senior manager of industry research for the market research firm Technomic: "Sales growth had already been somewhat lackluster even prior to 2020—in 2019, family-style chain sales only increased by 1.8%. Overall sales for family dining chains within the top 500 group dropped by 34% in 2020, a notably more severe decline than casual dining's rate of -27%."4 Top family dining brands in the group saw declines of 30% or more during the outbreak.4 Golden Corral had a 62% decline in sales, followed by Bob Evans at 42.5% and Denny's at 35.2%.4

"We had to really to be our own disruptors," said Lance Trenary, president and CEO of Golden Corral, in an interview with Restaurant Business magazine. "We immediately went to work on what we called 'now innovation.'"4
As a result, Golden Corral shifted its signature buffet to table service, with staff bringing unlimited portions of food to dine-in customers. To develop its off-premises business, the chain began testing drive-thrus and cafeteria-style takeout stations where food is dished out in disposable packaging to customers.4
Denny's, meanwhile, has rolled out a delivery-only concept called The Burger Den and is introducing another delivery-only concept, The Meltdown, which offers signature grilled cheese sandwiches as its specialty. And in a scramble to capitalize on the success of the fast-casual sector, IHOP has hatched its own fast-casual concept called Flip'd by IHOP, which will debut this summer and focus on breakfast items for takeout and delivery.4
From inventive dine-in dishes to travel-friendly menu additions, consult the celebrated chefs at Mondelēz International Foodservice. Our combination of culinary ingenuity and beloved brand ingredients can help your operation boost sales. Explore our Culinary Center for inspiration, and for information on how we can help your operation transition into a profitable post-pandemic era, reach out below.
1 Mondelēz International and The Harris Poll, 2020 State of Snacking Report, p. 6
2 Mondelēz International and The Harris Poll, p. 7
3 Mondelēz International and The Harris Poll, p. 3
4 Romeo, Peter, "Family Dining Looks for Transformation after 2020's Struggles," Restaurant Business, May 27, 2021