Posted in Technology on October 26, 2021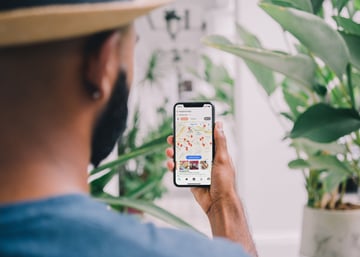 Among the many lessons of the pandemic, one stands out in particular, with far-reaching ramifications for the future of foodservice: The power of digital innovation. The rapid integration of digital platforms became a reliable way to drive sales, even under the most challenging circumstances.
By now it's clear that the make-or-break advantage of digital convenience and customization is the link that connects restaurant operators to consumers on a more personal and profitable level. While the pandemic propelled it forward, digital innovation is practically on autopilot as major chains move forward with the momentum that built up during the darkest months of the pandemic, when restrictions and shutdowns forced the seismic shift to off-premises channels.
Now top restaurant brands and smaller concepts alike look to a future bright with the promise of technology and its power to take the customer experience to a new level of customization and convenience.
As Matt Harding, senior vice president of culinary and menu innovation at the 40-unit fast-casual chain Piada Italian Street Food, explained: "Whether it's a drive-thru or pickup window, I think the customization piece that began with create-your-own, that's just flowing into every facet of the consumer use of a product or a service. Not only can they order what they'd like, and omit things, but they can pick it ​​​​​​​up a special way. And I think any restaurant company that is really going to win the day is going to make all of those access points completely available for the guest. Because, ultimately, they're going to choose by convenience."1
Hearty App-etites: Denny's and Chipotle Dig into Digital
Family-dining destination Denny's has ushered in a major modernization of its digital platforms for a more seamless and personalized customer experience. In addition to a refreshed website, the rollout includes a new digital app for the chain's latest news and offers, personalized profiles that simplify reordering and digital wallets where loyalty rewards members can access special promotions. It's all wrapped up in the chain's new Denny's on Demand platform, which promotes access to the brand's menu anywhere, anytime for takeout, curbside pickup and delivery.
"We're thrilled to offer the millions of guests who choose Denny's for a more convenient dining experience whenever, wherever and however they prefer," Chief Brand Officer John Dillon said. "Offering a seamless digital experience gives current and new guests more convenient ways to enjoy 'America's Diner.'"2
Mexican quick-service chain Chipotle, which has served up more than $2 billion in digital sales and beefed up its 24 million member-strong rewards program with in-app enhancements,3 is leveraging digital channels to ensure the successful rollout of its new menu item, Smoked Brisket. Available via the brand app, third-party delivery apps and in stores, Chipotle's chargrilled and spicily seasoned Smoked Brisket performed well in test markets and generated a feast of buzz across Twitter feeds.
As Chipotle's chief marketing officer Chris Brandt put it: "This isn't your standard brisket experience. We've created a differentiated Smoked Brisket recipe that is authentic to our menu and pairs flawlessly with our real ingredients."4 One thing's for sure: Digital channels are playing a big part in the brisket's—and the brand's—success so far.
Looking for signature dishes and LTOs that will help your operation drive traffic back onsite while also increasing off-premises sales? At Mondelēz International Foodservice, our unique combination of culinary innovation and tried-and-true ingredients with high brand recognition help operations like yours thrive in changing and challenging business environments. Reach out below to learn how we can help you overcome challenges and optimize opportunities as foodservice enters a new era of transformational shifts.
1 Nation's Restaurant News, Restaurant of the (Near) Future, September 2021
2 Ruggless, Ron, "Denny's modernizes consumer digital offerings," Nation's Restaurant News, Sept. 23, 2021
3 Jennings, Lisa, "Chipotle Mexican Grill enhances loyalty program as digital sales surpass $2 billion," Nation's Restaurant News, Sept. 1, 2021
4 Duff, Owen, Chipotle Is Now Serving This Long-Awaited Menu Option, Eat This, Not That, Sept. 25, 2021