Posted in Technology on August 30, 2022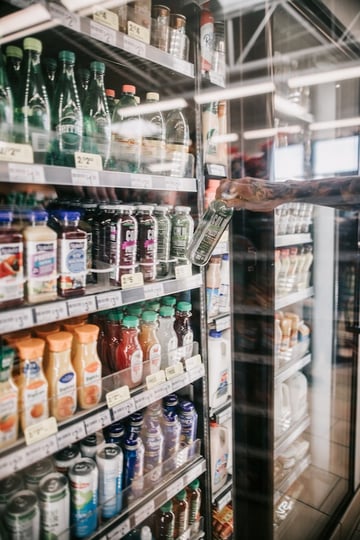 When it comes to digital innovation, Shake Shack has poured it on thick—so much so that even as in-store traffic returns, digital remains a powerful revenue engine, driving 43% of sales (app, website and delivery) in the first quarter of 2022.1 While the fast-casual supernova has become renowned for its forward-thinking, tech-driven off-channel integrations, it was actually teetering on the brink of a precipitous nosedive before it took the seismic shift that jump-started sales during the pandemic.
Fact is, the pandemic propelled Shake Shack's digital transformation. "We started to lay the groundwork for a digital channel in 2017 with the launch of our Shake Shack mobile app," said Shake Shack Chief Financial Officer Katie Fogertey. "But really, digital was a small part of our sales. When 2020 came around and demand for Shake Shack through digital channels surged, we doubled down on our support and growth of our digital transformation so that we could deliver our guests an uplifting experience through these new channels."
1
Domestic sales surged 41.5% to $739.9 million on the strength of a new strategic focus on building the brand's presence in the suburbs, tech upgrades and new restaurant formats such as drive-thrus.1 As explored in a previous post, "Think Fast: Top Fast Casual Brands Intensify Focus on Faster, Easier Customer Experience," Shake Shack has blazed a trail with its 360-degree Shack Track digital strategy—a hallmark of excellence in the fast-casual category for an end-to-end digital experience, from ordering to delivery.
Self-service kiosks have also been a big win for the brand. Along with digital channels, kiosks generate upward of 75% of sales at restaurants that have them. "Kiosks also help our team members be more efficient, and over the long term, our investments will allow us to expand our digital and omnichannel system," Fogertey explained.1
QuikTrip Accelerates AI-Driven Shopping Experience
Ordering from a kiosk is a great advantage at a time when labor is both scarce and costly and in-store traffic is returning. But the QuickTrip chain of convenience stores is taking self-service to a whole new level, thanks to Amazon's Just Walk Out Technology. The company has equipped a non-fuel site in the BOK Tower at 1 Williams Center Tulsa, Oklahoma, with the technology, which allows consumers to insert a credit card at the entry, pick up items and leave, for a totally frictionless shopping experience—with no need for human interaction. The credit card is automatically charged upon exiting.
Through "a combination of computer vision, sensor fusion and deep learning," Convenience Store News reports,2 Amazon's Just Walk Out technology tracks what shoppers take or return to the shelves, calculates price totals and eliminates the need for a cashier or checkout. The result: grab and go in the most literal sense.
The Tulsa location is the part of a nationwide rollout of standalone stores that are not anchored in gas stations, according to QuikTrip Corporate Communications Manager Aisha Jefferson-Smith. "We are excited to expand our presence in Tulsa with our second non-gas location nationwide, and we look forward to introducing this new innovative store experience to the downtown Tulsa community," she said in the lead-up to the August 12 grand opening.2 "Amazon's Just Walk Out technology is designed to eliminate checkout lines, enabling guests to enjoy a frictionless shopping experience and get what they need quickly."2
While the QuikTrip Just Walk Out store is a bold foray into frictionless foodservice, the convenience store category has been slower than restaurants in adopting digital channels.3 But according to a report from market research firm Intouch Insight, alternative shopping methods are increasingly popular among convenience store customers.
Intouch Insight cites a 47% increase in alternative shopping methods for convenience store purchases since the fall of 2021.3 The rapid growth of delivery is approaching the level of usage for curbside pickup, which is declining. Convenience store delivery purchases are made primarily through third-party apps.3
Across all segments, Mondelēz Foodservice helps ensure product selections and menu mixes are optimized for sales on- and off- premises. Our popular brands are ideal as in-demand packaged snack options or trusted ingredients in culinary concepts developed by our acclaimed chefs. Crave actionable data and practical tips to help you navigate the shifting competitive landscape? Dig into our Insights page. For custom solutions to help feed your bottom line, simply contact us below.
1 Thorn, Bret, "Digital innovations bring Shake Shack back from the brink," Nation's Restaurant News, July 18, 2022
2 Convenience Store News, "QuikTrip Opens Checkout-Free Store," August 12, 2022
3 Intouch Insight, Summer 2022 Convenience Store Trends