Posted in Technology on June 7, 2022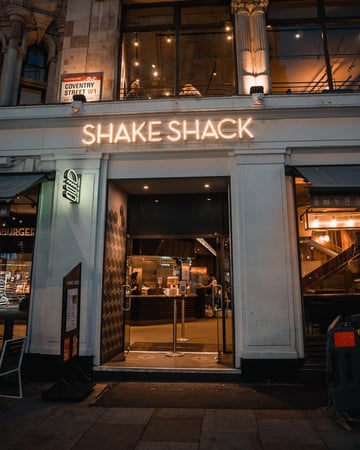 The recovery from the pandemic is picking up speed as fast-casual restaurant chains continue to accelerate tech integrations that focus on a seamless end-to-end customer experience. "Quicker, easier, better" has become the recovery's rallying cry, and the fast-casual restaurant category is moving rapidly to build out an omnichannel experience that gives customers on-demand access to food through a variety of digital channels.
Shake Shack is shaking things up with heavy investments in a big blend of digital initiatives to enable customers to order and access their food with frictionless speed and ease. By giving customers an expanding array of ways to get their must-have menu items, the brand hopes to optimize the customer experience for more sales and a higher check average.
Even as in-store sales increased more than 50% over last year, digital sales held steady—a clear indication of the staying power and growth potential of off-channel business, according to Randy Garutti, Shake Shack's CEO.1 And as Kathy Fogerty, the brand's chief financial officer, pointed out, digital customers buy from Shake Shack more often and spend an average of 25% more than in-store customers.1
"We remain committed to our digital transformation and we're ramping up investment in every digital channel," Garutti said. "Through the Shack Track digital experience, whether you want your Shack [food and drinks] in our app, web, kiosk, drive-up, curbside, delivery and now drive-thru, we're building tools to add even greater convenience to the omnichannel Shack experience."1
As part of its omnichannel program, Shake Shack plans to double its number of drive-thrus from five to 10 by the end of the year.1 "Ultimately, the thing we're really after is increasing the potential addressable market for Shake Shack," Garutti explained. "We believe drive-thrus can give us a new look at the way we can think about sites, think about sales capture and really our ability to capture as much share in a market of the burgers that are available to sell there."1
Picking Up the Pace: Restaurant Brands Accelerate Pickup Solutions
Other brands have also been busy investing in technology-enabled pickup solutions, such as Starbucks' order status board launched in the brand's New York City pickup store created in partnership with Amazon Go. And in its flagship New York City store, Taco Bell offers pickup cubbies for easy grab-and-go access to prepaid orders.2
Panera Bread is also ramping up investment in an omnichannel experience that places the brand everywhere its customers want it to be, with quick and easy access across an array of digital channels. Among the innovations the bakery-cafe brand has pioneered are coffee-brewing robots, mobile pickup lanes and a geofencing technology platform for mobile pickup orders.3
But as Panera's senior vice president and chief digital officer George Hanson emphasized, the chain is careful to avoid "technology for technology's sake" and focuses on convenience and value for the consumer.3 "We're constantly thinking about how we can increase relevance and ease for our guests as opposed to being enamored of personalization technology for its own sake," Hanson said.3
For menu solutions that match the needs of today's digitally driven consumer, foodservice operators across segments tap the culinary ingenuity and brand equity of Mondelēz International Foodservice. Our acclaimed chefs create innovative travel-friendly dishes, desserts and drinks with trusted brand ingredients to help ensure foodservice operators maximize sales while managing margins more efficiently. Have a specific menu challenge? Need insight and advice on how to balance your menu mix for optimal on- and off-premises sales? Reach out below now.
1 Thorn, Brett, "Shake Shack doubles down on omnichannel experience," Nation's Restaurant News, May 6, 20212

2 The Restaurant & Food Group, Trends & Predictions for 2022
3 Fantozzi, Joanna, "Panera Bread on how to make your technology easy, frictionless, and relevant," Nation's Restaurant News, May 6, 2022