Posted in Takeout on June 23, 2020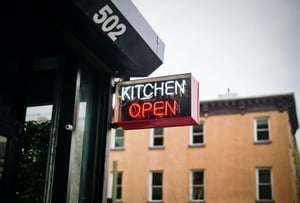 Bygone days of dine-in bliss may not be back just yet, but there's no doubt about consumers' hunger for their return. As government restrictions ease and restaurants start to reopen, foodservice operators need to be ready.
Survey data from the research firm Technomic shows that eating out (50%) is the post-quarantine activity consumers look forward to most—more than hanging out with friends, going shopping and traveling.1 With a third of consumers still ordering food and beverages at restaurants under quarantine—and half of them eager for dine-in services to resume—it's important to optimize your menu for sales during the transition.
Building up your post-outbreak pipeline is essential. If you haven't been prepping already, there's still time, given the cautious approach many government authorities are taking to reopening. Anticipation has been building for food experiences beyond what consumers can muster in quarantine.
"After weeks (maybe months) of eating at home, consumers may seek foods they couldn't easily prepare or access at home—maybe a juicy steak, oysters, a fancy cocktail or simply a well-tossed salad that isn't soggy," Technomic reports. "Give them something exciting to return to."2
So what types of dishes are quarantined consumers hankering for? Hardee's Prime Rib & Garlic Cheddar Thickburger indexed 146 (above average) for purchase intent in Technomic's limited time offer mealpart database, with 22% of consumers very likely to buy it.3 McDonald's Crispy Chicken Sandwich proved especially appealing to younger consumers: 33% of millennials surveyed said they were very likely to buy it, generating a purchase intent index of 181.4

At Your (Socially Distant, Contactless) Service
The McDonald's menu isn't the only thing that may be revisited for reopening. The iconic chain is instituting a series of dine-in safety procedures that will alter the customer experience significantly to mitigate the risk of coronavirus infection.
Under quarantine, when McDonald's suspended dine-in services and shifted to a carryout, delivery and drive-thru model, the burger giant added employee wellness checks, social distancing floor stickers, and protective barriers at order counters.
Additional safety measures for reopening will include limited seating, more frequent sanitizing of tables and restrooms, keeping Play Places closed, and eliminating self-serve beverage stations. McDonald's also plans contactless table service, where food will be delivered in double-folded bags on sanitized trays while maintaining social distancing.
"McDonald's, in partnership with owner-operators, will make reopening decisions that are right for the local communities and help ensure restaurant crew and customers feel safe and welcome," says McDonald's USA President Joe Erlinger.5 "We look forward to welcoming you back into our dining rooms, when the timing is right and with these extra precautions in place."5
Restaurant Brands International, whose chains include Burger King, Popeyes Louisiana Kitchen and Tim Horton Brands, is implementing similar precautions designed to maintain social distancing, maximize cleanliness, and minimize risk of infection.
"We are maintaining a 'safe distance' rule in our dining rooms—whether communities require it or not," explains RBI CEO José Cil. 6"We have designed beautiful tabletop signage to indicate which tables are open and which ones are reserved to help maintain safe distances. We will be sanitizing tables and chairs after each use and will have hand sanitizer available in the dining room for our guests."6
The company is also considering designing "more comfortable and reusable face masks that may become part of our standard uniforms," Cil adds.6
At Mondelēz International Foodservice, we have a long legacy of helping restaurant operations across segments thrive regardless of challenges or circumstances. Contact us or leave a message below to learn how our culinary ingenuity and iconic brands can make a difference to your bottom line, despite shifts and disruptions due to the coronavirus outbreak.
In Part 2, we'll take a look at a few of the latest developments along the road to reopening.
1 2019 Quarterly LTO Review, (Technomic, Q1 2020), p. 9
2 Technomic, p. 35
3 Technomic, p. 27
4 Technomic, p. 30
5 Luna, Nancy, "McDonald's reveals new dine-in safety procedures," Nation's Restaurant News, May 13, 2020
6 Ruggless, Ron, "Burger King parent Restaurant Brands International considers designing face masks as part of uniform," Nation's Restaurant News, May 12, 2020