Posted in Restaurant Operations on August 11, 2020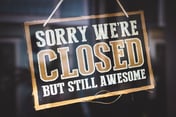 As if there weren't already enough incentive to maintain the momentum for takeout and delivery, the pandemic keeps pushing off-premises to the forefront of foodservice. As COVID-19 resurfaces at record levels in reopened states, restaurant operators again find themselves navigating this all-too-familiar roadblock on the road back to dine-in traffic.
As of this writing, Arizona, Arkansas, North Carolina, South Carolina and Tennessee are reporting record numbers of coronavirus cases, and bars have once again suspended on-premises service in Texas and Florida—two more states where pandemic statistics have spiked at a rapid pace. In Texas, the permissible restaurant capacity has been rolled back to 50% from 75%.1
California, Texas and Florida have seen new cases catapult beyond the 5,000 benchmark.1 North Carolina is joining the growing number of states, including California, Washington, Nevada and New York, that require anyone in public to wear a face mask.1
Many operations in hard-hit states are erring on the side of caution. With the pandemic spreading across age groups and the Centers for Disease Control and Prevention redefining "at-risk" as applying to anyone (not just seniors) with an underlying medical condition, restaurant companies are re-closing their dining rooms.1

The 27-unit chain Kolache Factory based in Katy, Texas, is suspending dine-in service at all locations in its home state, Kansas and Indiana. Dawn Nielsen, the chain's chief operating officer, explained: "With the surge we are seeing right now in our country, we are taking the preemptive step of shutting down dining rooms at all corporate-owned locations, so we can protect our customers and employees as much as possible, encourage social distance and continue serving our communities fresh-made kolaches."1
The New Norm: Dine-In Continues to Take a Back Seat to Takeout and Delivery
The re-shuttering of dining rooms puts the onus of sales on off-premises services as takeout, curbside pickup, delivery and drive-thrus remain critical in an uncertain environment.
Before the resurgence of COVID-19 in open states, Starbucks announced what now seems like a bold proactive plan: closing up to 400 locations throughout the United States and Canada and to open approximately 300 North American stores that focus on takeout and pickup instead.2

In its SEC filing, Starbucks explained that the "repositioning will include the closure of up to 400 company-operated stores over the next 18 months in conjunction with the opening, over time, of a greater number of new, repositioned stores in different locations and with innovative store formats."2
Given that 80% of transactions at nearly 15,000 U.S. locations are on-the-go purchases,2 the new takeout formats are a logical progression, with the added benefit of limiting crowd sizes and risk of infection.
"We were already thinking about, What does that future state look like in those metro areas?" a Starbucks spokesperson said. "COVID-19 has actually allowed us to accelerate the plans we already had on the books."2
For the menu innovation your operation needs to thrive—on- and off-premises—contact Mondelēz International Foodservice below. Is there a particular culinary challenge you need to address? Looking for delivery-friendly menu options? Let us know. Our world-class chefs and trusted brands can help make the difference between surviving and thriving in the age of COVID-19.
1 Petre, Holly, "Restaurants voluntarily 're-close' as coronavirus cases spike," Nation's Restaurant News, June 26, 2020
2 Alcorn, Chauncey, "Starbucks is closing up to 400 stores and expanding takeout options," CNN, June 11, 2020