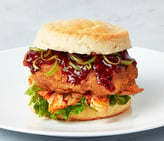 COVID-19 certainly took a steep toll in 2020, but it was also the year chicken sandwiches soared to new heights of popularity. After Popeyes achieved sky-high sales with the launch of its fried chicken sandwich in August 2019, prompting Rival Chick-fil-A to start a social media war over whose sandwich is better, the chicken scratch was on the wall: There's big money to be made with chicken sandwiches.
Popeyes' chicken sandwich was so popular, many locations sold out of it, and this one item became the driving force behind a 38% rise in the chain's same-store sales in Q4 2019.1 Hot on the heels of its success, 2020 saw a steady flight of chicken sandwiches make their way across the foodservice landscape as other chains joined the fray in a quest to reach the top of the pecking order.
No wonder, then, that in the last 18 months, at least 20 new chicken sandwiches have launched with high-flying claims of bigger, better breast fillets and more flavorful recipes.1
In October alone, chicken sandwiches took wing from a warring flock of quick service chains, including Church's, Wendy's, Zaxby's, BurgerFi and Fuku.1
According to Peter Saleh, managing director and analyst covering restaurants and food distribution for the investment bank BTIG, consumers in the U.S. have been eating less beef and more chicken. "The chicken poultry segment is a little bit more popular these days with consumers. Everybody's trying to capitalize on that," he told CNN Business.2
Saleh predicted chicken sandwich promotions would be on the rise in 2021. Many large chains have accumulated "a war chest of advertising" after withholding ad spending in spring 2020, when the pandemic reached a peak.2 "They will use those funds in the first half of 2021 for the new items, including the chicken sandwiches they plan to launch," he said.2
Top Brands Brave Challenging Times with Chicken
In early January, Shake Shack rolled out its Korean-style Fried Chick'n Sandwich, which features a crispy chicken breast glazed with a spicy-sweet gochujang, toasted sesame seeds and white kimchi coleslaw.1
McDonald's, meanwhile, has announced that three new chicken sandwiches—crispy, spicy and deluxe—will debut in late February.3 Served on a buttered potato bun, the crispy chicken sandwich pairs a "thicker and juicier" fillet with crinkle-cut pickles. The spicy chicken sandwich lives up to its name with a new pepper sauce. And the crispy deluxe chicken sandwich includes tomatoes, shredded lettuce and mayonnaise.
According to Joe Erlinger, president of McDonald's USA: "Globally, the chicken category is almost twice the size of beef. It is growing faster and represents a significant opportunity. Developing a reputation for great chicken represents one of our highest aspirations. We want customers to choose McDonald's for chicken."4
Not to be outdone, KFC is rolling out an updated version of its fried chicken sandwich. The new sandwich "boasts an upgrade of every single component," said Andrea Zahumensky, KFC's chief marketing officer.4 A test run in 15 Orlando, Florida, restaurants doubled the chicken giant's expectations.4
Named simply "KFC Chicken Sandwich," the upgrade replaces the "Crispy Colonel" and features an extra-crispy chicken fillet topped with pickles and spicy or classic mayonnaise on a buttered brioche bun. "Many customers hadn't considered KFC as a part of the chicken sandwich conversation," Zahumensky said, "but anyone who tastes this sandwich will know, without a doubt, that we're playing to win."4

Satisfying consumer demand with a standout chicken sandwich recipe can make a big difference to your bottom line, and the chefs at Mondelēz International Foodservice offer the culinary ingenuity to help you take full advantage of the chicken sandwich craze. Get a taste of what we can offer with our Chicken and Biscuit Sandwich made with RITZ Crackers. To request more recipes and specific menu solutions for your operation, contact us below.
1 Cobe, Patricia, "A Brief History of the Chicken Sandwich Wars," Restaurant Business, Jan. 7, 2021
2 Alcorn, Chauncey, "Shake Shack brings Korean Fried Chicken to fast-food's chicken sandwich wars," CNN Business, Jan. 5, 2021
3 Feldman, Kate, "McDonald's to roll out three new chicken sandwiches next month," New York Daily News, Jan. 4, 2021,
4 Valinsky, Jordan, "KFC is finally upgrading its chicken sandwich," CNN Business, Jan. 8, 2021