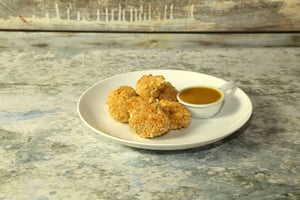 Chicken sales have wings to fly, as demonstrated by the phenomenal success of Popeyes Louisiana Kitchen's chicken sandwich, which sold out in less than a month.1 Launched on Aug. 12, with inventory forecasted through the end of September, the quick service chain's first nationwide chicken sandwich flew the coop far faster than expected.1 Now Popeyes is scrambling to bring it back as soon as possible.
Served on a brioche-like bun with pickles and a special sauce, the sandwich was the chain's biggest launch in 30 years.
1
A lot of clucking on Twitter between Popeyes and Chick-fil-A as the two feuded over which one had the better chicken sandwich generated the buzz that helped Popeyes' sales take flight.
1
Wendy's and Shake Shack joined the fray, hoping to ruffle the feathers of the two titans and get in on the chicken sandwich craze.
While Chick-fil-A may rule the roost as America's largest chicken chain, Popeyes came out ahead in a Twitter war that generated more followers for it than its competitor, and which underscored the power of social media to help send foodservice sales soaring.2
Popeyes' traffic skyrocketed 218% compared to the previous July and continued to rise days after August 27, when the sandwich was sold out.3
While hashing out the long-term supply chain logistics of replenishing and maintaining chicken sandwich inventory, Popeyes is promoting a bring-your-own-bun campaign that encourages guests to order a three-piece chicken tender and make the sandwich themselves.3 The campaign features video showing customers turning the tenders into sandwiches with their own buns.
What the Cluck: KFC Taps Plant-Based Foodservice Trend
Popeyes wasn't the only chicken chain to take sales higher than expected with a limited-time menu item. KFC's one-day test of Beyond Fried Chicken, a plant-based alternative by Beyond Meat, sold out in less than five hours at a select Atlanta location. Huge crowds on foot and at the drive-thru lined up as early as 8 a.m. to pluck clean the inventory of nuggets and wings.4
KFC summed up the results of the test in a brief statement: "The test was so successful, guests purchased in five hours the amount of Beyond Fried Chicken KFC would normally sell on average of popcorn chicken in a week."4
With the Atlanta experiment over, KFC is evaluating customer feedback to determine whether to introduce Beyond Fried Chicken to broader markets.
Beyond Meat, which collaborated with KFC's culinary team to develop the proprietary plant-based alternative to the iconic brand's chicken, has beefed up the presence of its meat alternative products in grocery stores across America. The company's chief competitor, Impossible Foods, partnered with Burger King to create the Impossible Whopper, now available nationwide. The KFC test shows plant-based chicken alternatives may have legs (and wings) in a national market.
At Mondelēz International Foodservice, our chefs create a wide range of culinary concept s to help foodservice operations capitalize on chicken's popularity and versatility. Check out our Culinary Center for menu-boosting recipes like Chicken and Waffle Bites made with RITZ Crackers, or reach out below to learn how we can custom-create chicken sandwiches and other chicken dishes to help your sales take flight.
1 Lucas, Amelia, Popeyes sells out of its chicken sandwich in less than a month, CNBC, Aug. 27, 2019
2 Lucas, Amelia, Chicken sandwich wars: Popeyes and Chick-fil-A feud on Twitter in bid to boost sales, CNBC, Aug. 22, 2019
3 Holly, Petre, "Popeyes says: 'Bring your own bun,'" Nation's Restaurant News, Sept. 12, 2019
4 Luna, Nancy, "KFC's Beyond Fried Chicken sells out in five hours," Nation's Restaurant News, Aug. 28, 2019