Posted in Restaurant Operations on June 2, 2020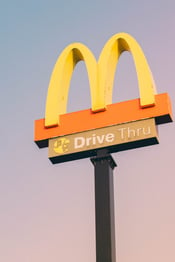 As foodservice operators and chefs get creative in their quest to serve up sales during the coronavirus outbreak, it seems that off-premises is always moving forward. But sometimes going back to the tried and true may be the best route to higher sales.
Take drive-thrus, for example. While some people may see them as a retro holdout of a bygone America, drive-thrus are feeding the bottom line for major chains and providing a lifeline for hungry consumers who crave convenience but worry about the risk of infection. Trips to drive-thrus may be only occasional, but consumers are placing larger orders, as if picking up groceries.1
Popeye's "family bundles" appeal to consumers' appetite for bigger meals, and Taco Bell's free Doritos Locos Tacos on Tuesdays has boosted business so much at some of its drive-thrus, employees have trouble keeping up with demand. Some dine-in chains, such as Texas Roadhouse, have temporarily turned their empty parking lots into drive-thru lanes.1
Drive-thru business has become more than just another off-premises revenue engine. As Jonathan Maze, the executive editor of Restaurant Business put it, "For many restaurants, it's an absolute savior."1
All Roads Lead Back to Drive-Thru Revenue
Drive-thrus have been more than mere pitstops on the road to off-premises profitability. Prior to the pandemic, they generated as much as 70% of revenue for many chains. For the month of March, drive-thru sales across the foodservice industry have risen: $8.3 billion this year compared to $8 billion in 2019.1
Available at nearly 95% of McDonald's locations and responsible for two-thirds of sales in a typical year pre-pandemic, drive-thrus now account for 90% of the burger giant's business.2 To speed up service at its drive-thrus, the chain streamlined its menu, eliminating all-day breakfast and other items.2

Delivery may drive much of the news about off-premises business during the crisis, but it's not always the segment's top source of revenue. "While delivery is up significantly, it's not the predominant thing that is driving our business," said McDonald's CEO Chris Kempczinski. "The predominant channel is really the drive-thru."2
Drive-thru sales at Burger King rose 15% year over year in late April, and at Starbucks, which closed more than half its locations throughout the United States, drive-thrus kept business brewing. "In the number of drive-thrus we've had open, without even the cafe open, we were delivering roughly 75% of prior-year revenue in those individual stores," Starbucks CEO Kevin Johnson said.2
But the drive-thru service model hasn't been a revenue-driver only for large chains. Independent restaurants can reap its rewards too. Williamson Bros. Bar-B-Q, which shuttered its three locations in Georgia when the state prohibited dine-in service, found shifting to drive-thru propelled sales to pre-pandemic levels.2
Williamson Bros. Bar-B-Q President and Co-Founder Danny Williamson explained the reemergence of each of the company's locations as viable businesses. "It's all 100% drive-thru," he said. "We're having a lot of success with it. We've hit some pre-coronavirus numbers in the opening days of doing this."2
At Mondelēz International Foodservice, we help operations of all sizes and scopes adjust to the rapid shifts in today's marketplace. To learn how our trusted brands and culinary expertise can help your business thrive, contact us below.
1 Yaffe-Bellany, David, "Drive-Throughs Now a Lifeline for Fast-Food Chains," The New York Times, May 1, 2020
2 Maze, Jonathan, "The Drive-Thru Becomes a Pandemic Necessity," Restaurant Business, May 4, 2020