Posted in Restaurant Operations on July 28, 2020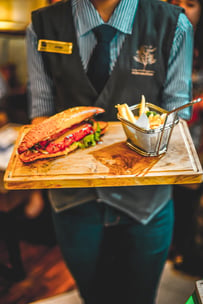 The pandemic may have put an unforeseen strain on the industry and brought business to a crawl, but a Bank of America study has revealed that sales have gone from fizzle to sizzle as the big brands turned the corner on the coronavirus.1 Small chains and independent restaurants, meanwhile, remain stalled.1
Consumer spending at large chains and the rest of the industry was even just before lockdowns took effect (5–6% year over year).1 That was in March, and by mid-April, the negative consumer spending trends sent business across segments into a nosedive.1 Still, the spending gap grew to nearly 35% in favor of large chains.1
The July 4th weekend was a turning point for large chains, with spending trending positive.1 While all segments have dug out from their lowest point at the end of March, the gap between large chains and the smaller players remains wide, at more than 25%.1
Takeout and Delivery: Links in Big Chain Success
Given their greater capacity and infrastructure for off-premises business, the large chains were better suited to shore up sales, even at the height of the pandemic. The research firm Datassential noted that consumer sentiment toward restaurants had gone from "hopeless" to "cautious," with a clear preference for restaurants with drive-thrus, outdoor seating and other social distance features associated more with large chains than independents.1
By developing these features and resolving safety concerns, small chains and independents may be able to bridge the consumer sales gap between them and the large chains.
Consumer demand remains high across segments. "Safety beats everything right now," Datassential founder Jack Li stressed.2 And yet, Li said, dining has a big upside: "Eating at a restaurant is right up there with seeing family. That's remarkable. The mental benefit and the psychological benefit we get from restaurants and this feeling of normalcy that we derive from those sit-down restaurant experiences cannot be overstated."2
Chicken Not So Little: Chicken Chain Sales Regain Altitude
During the coronavirus outbreak, chicken sales initially veered low, but since mid-April they have continued to rise, reaching between 20% and 25% year-over-year growth.5 Strong delivery capabilities at chicken chains and the phenomenal popularity of chicken sandwiches have helped keep sales flying high.


The consumer hunger for restaurants is clear in the $313.5 billion in latest-year U.S. sales generated by Nation's Restaurant News Top 200 brands.3 Chick-Fil-A is at the top of the pecking order, with incremental gains of $2.2 billion—greater than McDonald's ($1.9 billion) and Starbucks ($1.8 billion).3 Chick-fil-A also had the largest growth in U.S. estimated sales per unit in 2019, NRN reported.4
Along with Chick-fil-A, two other chicken chains—Raising Cane's Chicken Fingers and Wingstop—saw sales soar more than 20%; Popeye's trailed at 18.4%.5
Chicken also tends to travel well and offers versatility other staples can't match. As J. Sullivan, corporate executive chef of Golden Tree Restaurants, which owns the Golden Chick chicken chain, points out: "You can have a bucket of chicken, which is great in the car to eat on the way home, it's great when you get home, you put it in the fridge and it's great to eat cold. A bucket of steaks wouldn't work that way."5
For culinary inspiration and ideas to help lift sales in the coronavirus age, be sure to browse our Culinary Center, where you'll find delicious, delivery-friendly dishes such as our Honey Mustard Chicken Bites made with RITZ Crackers.
Need fresh thinking to modify your menu to meet the challenges of today's market? Reach out below, or just share a few thoughts.
1 Fantozzi, Joanna, "Large restaurant chains have mostly recovered from the effects of COVID-19, while the rest of the industry still struggles, Bank of America study says," Nation's Restaurant News, July 10, 2020
2 Luna, Nancy, "Consumers are excited to return to restaurants, but they want a safe and relaxing experience, Datassential says," Nation's Restaurant News, June 5, 2020
3 NRN Staff, "Counting down the 200 largest restaurant chains in America: No. 50–No. 1," Nation's Restaurant News, June 16, 2020
4 NRN Staff, "The largest restaurant chains in America ranked by growth in estimated sales per unit," Nation's Restaurant News, June 16, 2020
5 Thorn, Bret, "Even through the coronavirus pandemic, consumers still crave chicken," Nation's Restaurant News, July 8, 2020