Posted in Millennials on May 1, 2017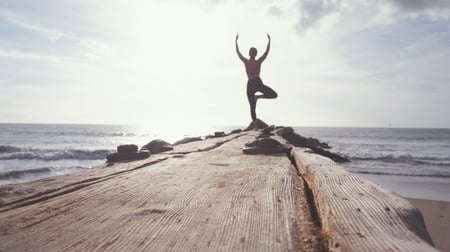 As the better-for-you movement goes from the margins of the foodservice industry to the mainstream, consumers are showing a growing appetite for well-being food and beverage products. With all the emphasis on wellness and transparency, the upward arc of the well-being foodservice trend seems a natural progression.
Estimated to achieve a compound growth rate of 5.7% in the next few years and reach sales of $25.4 billion in 2020, the better-for-you snack segment is surpassing the sales growth of the entire food and beverage market, according to market research firm Packaged Facts.1
Innova Market Insights reports that health claims helped drive more than 43% of global snack launches and 70% of U.S. snack launches over a 12-month period ending May 2016.2
By combining high nutritional content, portability and clean labeling, better-ingredient snacks bring together key foodservice trends and address consumers' wellness concerns. Add exceptional flavor profiles into the mix, and the recipe for future sales growth seems complete.
All's Well that Ends with Wellness
A variety of factors, from concerns over environmental sustainability, to a lack of trust in the foodservice industry, are helping to drive interest in well-being products.
Bolstered by research conducted by the Food Marketing Institute, the Grocery Manufacturers Association and the consultancy Deloitte, Packaged Facts' findings underscore the growing importance of wellness and social responsibility in influencing consumer purchases.3
Other research shows that while a relatively small sampling (13% of survey particpants) reported trying a vegetarian lifestyle, 43% said they more likely to give plant-based alternatives a try than they were five years ago.4 What's more, 63% have enjoyed plant-based protein alternatives, citing tofu, meatless burgers and meatless hot dogs as particularly popular.4
Firm in its conviction that well-being is holistic, inextricably linking the health of individuals, communities and the planet,5 Mondelēz International is becoming a leafer in well-being snacks.

Going Crackers for Well-Being Products
Among the new product launches developed in response to better-for-you consumer preferences is Véa, a Mondelēz International brand of crackers and mini crunch bars that contains no artificial colors or flavors. Véa varieties are Non-GMO Project Verified and include Thai coconut and Peruvian sweet potato flavors, as well as formats like mini crunch bars, world crisps and seed crackers. They are scheduled to debut in the United States and Canada later this summer.7

As Tim Cofer explained, Vea crackers and mini crunch bars "are baked with real ingredients and visible herbs and spices to deliver layers of complex tastes. We worked with chefs from around the world to design these new snacks with both regional flavors from Thai coconut and Tuscan herbs to Peruvian sweet potato and Greek hummus."7 Véa has been developed to help drive domestic and international growth in the cracker segment among millennials7, a wellness-conscious demographic with a hankering for products that combine wholesomeness with bold, savory flavor profiles.

A Hunger for Better-for-You Menu Innovation
Other examples of the company's growing portfolio of better-for-you brands include RITZ Crisp & Thins baked snacks, which launched in the United Kingdom last year and are now available in the U.S., as well as belVita Protein, which offers 10 grams of protein per 50 gram serving.7 Iconic Green & Black's chocolate bars made with ethically sourced cocoa also underscore the company's commitment to wellness-driven ingredients that don't compromise on flavor.
Staying ahead of the curve of the well-being movement will be fundamental to the success of foodservice and restaurant operations. As Inc. magazine reported in its rundown of top foodservice trends for 2017, "tomorrow's food eater" will be all-the-more sensitive to the ingredients and nutritional content they consume.8
What products are you offering to adapt to popular demand for well-being snacks that offer satisfying flavor experiences? How do you foresee growing concern over wellness and nutrition reshaping the foodservice industry?