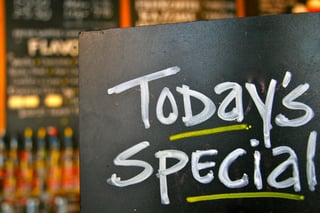 It's official. America is in love with better-for-you foods. As demand for authentic foods and better-for-you snacks continues to grow, it's important you have the strategies to grab more of this increasingly profitable business segment.
The National Association of Convenience Stores (NACS) and Cornell University's Food and Brand Lab recently shared these tips to help you tap into the growth of better-for-you snacks:1
Grab Them immediately. Create a grab-and-go area filled with an assortment of fresh and packaged better-for-you snacks. As the front of your store tends to experience the highest amount of traffic—spurring smart last-minute, in-line decisions—bundling items there with bottled water, breakfast bars and fruit can offer customers quick, convenient grab-and-go meal options.
Variety Sells Produce. Offer at least three varieties of snacks like pre-cut packaged fruits and veggies. Consumer behavior shows customers are more likely to make a purchase when they have several options, rather than just one. When it comes to serving sizes, fruit and veggie cups are great for on the go—whether in hand or in a car cup holder.
Use Creative Adjectives. Names and descriptions have a strong impact on expectations of taste, and affect likelihood of purchase. Emphasize how fresh items may taste or how better-for-you items may make consumers feel smarter about the food choices they make.
Let Your Store Do the Talking. Use signs and stickers on coolers and displays help emphasize functional product benefits and create positive better-for-you messaging. Be sure to focus on produce high in vitamin C during cold and flu season.
For more tips and additional examples, check out the full story here.
What tactics are you using to help drive better-for-you sales? Share your experiences below.
1 NACS reFresh (blog), Ideas That Work to Grow Better-for-You Sales, May 26, 2016, http://nacsonline.com/YourBusiness/Refresh/Pages/Reports/8-Evidence-Based-Ideas-for-Growth.aspx