Posted in Millennials on May 12, 2020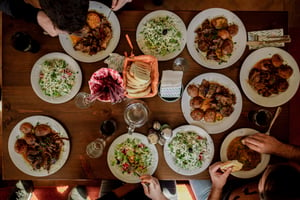 More mouths to feed, different foodservice needs. While millennials may seem renowned primarily as a coveted youth demographic, the fact is they're maturing—and their foodservice needs are evolving as they search for convenient at-home meal solutions during the coronavirus outbreak.
According to the market research firm Technomic, 47% of millennials surveyed are parents, and among older millennials (age 34–41) the number increases to 54%.1 Along with Gen Z, they are the heaviest users of foodservice,2 and now that they have not only entered into adulthood but started families, many millennials present a smorgasbord of opportunities and challenges for foodservice operators.
With a near majority of millennials now parents, a new set of traffic drivers that reflect the concerns and needs of today's busy parenting lifestyle has emerged for this core demographic. Technomic data shows that to maximize millennial traffic, foodservice operations need to be kid-friendly, with better-for-you menu variety, new and exciting products and digital order/payment options (mobile, kiosk or tabletop).3
Now, with consumers sheltering at home, where they often juggle parenting and professional responsibilities, the hunger for family-oriented, budget-friendly takeout and delivery meal options is growing. Seventeen percent of survey participants report that they are looking for meals that feed a family, and 19% are seeking value items.4
While millennials are neck-and-neck with Gen Z when it comes to off-premise dining,4 they lead the pack in foodservice app usage.5 Given the busy millennial parent's need for ease and convenience, it makes sense to emphasize and expand to-go and delivery options—both during the sheltering period, when dine-in is prohibited, and post-pandemic, when the pace of life is sure to pick up.
More Menu Innovation Needed? No Kidding!
Kid-friendly menu innovation is a must for both on- and off-premises dining, with 44% of millennials living with kids saying that updating children's menus with more sophisticated items would motivate them to patronage restaurants more often.6
"It's clear that millennial parents expect more than previous generations did in terms of kids menu offerings," Technomic reports. "Operators can start by cleaning up menus with healthier options, and some may want to go the extra step and feature organic or all-natural dishes."6 Technomic also suggests adding one or two adventurous options to the mix to stand out in the market's blur of staples like chicken fingers and hot dogs.6
Research from the National Restaurant Association determined that nearly six out of 10 consumers consider whether a restaurant is family- or child-friendly when deciding where to dine out.7
In addition to a better-for-you kids' menu, Fast Casual, an online source of news and research for the fast casual restaurant category, recommends providing games or devices to keep kids occupied while waiting for food, training staff to serve young guests and having dedicated family nights.7 What's more, because children can be especially susceptible to food-borne illnesses, food safety becomes all the more critical.7
Restaurant Operations Welcome Fresh Approaches into the Family
Of course, the frontline in the battle to win over families remains food, and restaurants are cooking up heaping helpings of culinary ingenuity to accommodate them.
"Chains in all segments—from quick service to fine dining—are jumping on the trend of ready-to-eat and ready-to-assemble meals to go," Restaurant Business reports. "The dinners and kits appeal to households sheltering in place."
Shake Shack's Shackburger do-it-yourself kit includes eight burger patties, eight potato buns, American cheese and Shack Sauce, plus an instruction sheet on how to make the burgers at home.
The Texas Roadhouse casual dining chain offers Family Packs that start at $19.99, with options that include burgers, chicken tenders, pulled port and sirloin steak; family-sized salad; four sides; and fresh-baked bread.
Qdoba Mexican Eats' family meal for five features choice of grilled adobo chicken or steak, cilantro lime rice with black beans, queso, pico de gallo, salsa verde, shredded cheese, tortillas and a large bag of chips.
Let our chefs elevate your children's menu and make your operation more appetizing to families with recipes like our Savory Mac & Cheese with RITZ Crackers and Dessert Burritos Made with OREO Cookie Pieces. For more information and customized solutions, reach out below.
1 Technomic, Generational Trend Report , 2018, p.20
2 Technomic, Generational Trend Report , p. 40
3 Technomic, Generational Trend Report, p. 60
4 Technomic, Quarterly LTO Review, Q1 2020, p. 8
5 Technomic, Generational Trend Report , 2018, p. 22
6 Technomic, Generational Trend Report , 2018, p. 74
7 Technomic, Generational Trend Report , 2018,p. 76
7 Fast Casual, The Pros and Cons of Family-Friendly Restaurants, Sept. 6, 2018