Posted in Snacking on September 22, 2020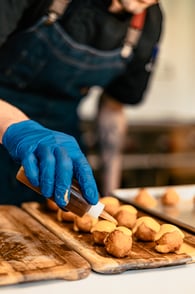 Snacking trends may evolve, but America's appetite for snacks continues to feed the bottom line in a big way. The pandemic hasn't slowed our penchant for snacking, though it has changed what we consume—and when, where and how we do it.
Prior to COVID-19, a youth-driven snacking lifestyle was in full swing, with 42% of U.S. consumers surveyed snacking more than three times a day and throughout the day, according to the research data and analytics firm IRI.1
As people shifted their eating patterns to accommodate sheltering in place, the grab-and-go trend gave way to more snacking at home. As a result, sales of smaller sizes in many categories have declined, while sales of larger sizes have grown.2 The majority of eating and drinking occasions became home-focused as shelter-in-place restrictions went into effect, and online food and beverage sales accelerated.1
As the outbreak continues, with reopening efforts slow or stalling, at-home eating and drinking occasions are becoming more entrenched as the "new normal."
Better-for-You Snacks Take Center Plate
Given the pandemic's impact on health and well-being, a heightened awareness of the importance of nutrition is intensifying demand for better-for-you snack options. A majority (54%) of surveyed adult consumers across age groups want snacks that contain vitamins and minerals; that majority is highest (63%) among consumers age 35–44.3
Consumers are adopting a more holistic view of wellness, with 35% surveyed now taking proactive measures to bolster both their physical and emotional well-being.4 Thirty-one percent say they are more focused on their health since the outbreak, and 22% have changed their eating habits.4
Snacks high in nutrients reputed to boost immune systems, such as vitamins C and D and antioxidants, are energizing sales.5 In fact, sales of all types of snacks have been strong across most channels throughout the COVID-19 pandemic: Only drug and convenience store snack sales have experienced declines since early May.6 Online snack sales have been particularly robust in that time, with "click-and-collect" sales up 141% and total delivery sales up 239%.7
Menu Innovation: Now More Than Ever
IRI has identified a series of "innovation themes" that operators should use to align with consumer needs as the industry moves forward. While some, such as Functional Benefits, are wellness-oriented, IRI includes Indulgence, which survey data from Mondelēz International shows is a key factor in a balanced diet for today's consumers. Seventy-seven percent of consumers surveyed agree it's important to enjoy a balance between healthy and indulgent snacks.8
"As the world's largest snack company, we're committed to transforming our portfolio to meet evolving well-being needs—removing what people don't want, adding more of what they do, expanding our offerings and inspiring [them] to Snack Mindfully," says Christine Montenegro McGrath, vice president and chief of global impact, sustainability and well-being for Mondelēz International.9 As the foodservice industry continues to evolve in a COVID world, look for snacks to remain an important source of both sustenance and satisfaction for consumers as their own behaviors evolve.
Reach out below to learn how Mondelēz International Foodservice can supply your foodservice operation with trusted snack brands and dessert concepts to help ensure you hit the sweet spot with today's consumers.
1 "2020 State of the Industry: Snack" (IRI, Aug. 18, 2020), p. 2
2 "2020 State of the Industry: Snack" (IRI, Aug. 18, 2020), p. 5
3 "2020 State of the Industry: Snack" (IRI, Aug. 18, 2020), p. 10
4 "2020 State of the Industry: Snack" (IRI, Aug. 18, 2020), p. 11
5 "2020 State of the Industry: Snack" (IRI, Aug. 18, 2020), p. 12
6 "2020 State of the Industry: Snack" (IRI, Aug. 18, 2020), p. 15


7 "2020 State of the Industry: Snack" (IRI, Aug. 18, 2020), p. 16
8 State of SnackingTM report (Mondelēz International and The Harris Poll, 2019), p. 14
9 State of SnackingTM report (Mondelēz International and The Harris Poll, 2019), p. 13