Posted in Technology on April 27, 2021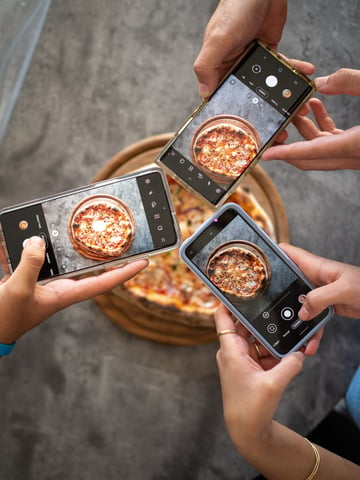 The pandemic put the brakes on in-store traffic for a protracted and painful stretch of time, but it also amplified an already ravenous hunger for social and digital engagement with foodservice. Pre-pandemic, visually appealing items became viral sensations. (Think Starbucks' limited time Unicorn Frappucino, which showed almost unlimited viral appeal.)
But ingenuity and innovation on social media took an unexpected turn when foodservice professionals who were laid off during the pandemic took to Instagram and other social platforms to showcase their culinary skills. Legions of home cooks, sheltering in place and hungry for tips and insights from these skilled pros, responded enthusiastically. Many wanted to be relieved of the burden of cooking day in and day out, paving the way for a new source of income for idle industry hands.
While ghost kitchens and other virtual brands gained notoriety during the pandemic, Instagram-based pop-up restaurants run out of home kitchens were also making inroads. Enter Alain Joseph, who was furloughed from the Spanish-influenced food hall Mercato and who, like other chefs, found a home for his skills on social media. With time on his hands, Joseph put his training to good use on social media, posting photos of his own culinary creations. The result took his career in a new direction.
"I started posting photos of the meals I was making and sent them to friends and family," Joseph told Restaurant Business. "It was my way of checking in to make sure they were doing OK during the pandemic. People started telling me 'this looks amazing,' so I posted the pictures on Instagram and Facebook too."1
With items ranging in price from $3 to $20, Joseph's menu features four or five options each day. He offers an eclectic mix of culinary inspirations, from his Shrimp Etoufee and Shrimp and Grits specialties to Duck Confit and Osso Buco. Customers initially ordered via Instagram and direct messaging, but Joseph has since created a formal order form. Joseph contacts customers directly for payment, opening a line of communication that adds a personal touch and provides the opportunity to solicit feedback and requests.
Do or Data: Survival Shift to Digital Turns Out to Be Gold Mine of Data

Meanwhile, big chains were mining customer data to get creative with customization and personalization during the pandemic. Shifting transactions to digital channels became a major trend by necessity when COVID-19 caused dining rooms across the country to shut down last March.
Pre-pandemic, digital accounted for 35% of &Pizza's orders, for example. Today, 70% of the chain's traffic comes from digital ordering.2 That shift, not surprisingly, has yielded a feast of customer data touch points—email addresses, phone numbers, order histories and preferences, to name a few.
In March 2020 alone, the number &Pizza's "visible guests" for whom the chain had gathered data soared from 10,000 customers to almost 47,000—a staggering 360% increase.2
Breakfast and lunch chain First Watch found itself flooded with customer data just a few days after reverting to online and mobile ordering and third-party delivery. "We immediately started building a 360-degree view of who our customer was, no matter how they were experiencing First Watch," said Matt Eisenacher, SVP of brand strategy and innovation for First Watch.2
With their treasure troves of data, &Pizza and First Watch have been able to develop customer profiles for more personalized offers and greater loyalty building, leading to higher lifetime customer value. As Wingstop CEO Charlie Morrison said in his company's fourth-quarter earnings call: Now having "an over 60% digital business creates a lot of good information for us to leverage, to interact and engage with our guests."2 Indeed, the opportunities are endless.
Mondelēz International Foodservice offers the culinary creativity and trusted brands to help your foodservice operation maximize its social media presence and drive digital sales. For inspired recipe ideas and customized menu solutions, use our Contact Us page or reach out below.
1 Cobe, Patrica, "From Restaurant Worker to Instagram Restaurant Owner," Restaurant Business, March 25, 2021
2 Guszkowski, Joe, "How Chains Are Mining a 'Gold Rush' of Customer Data," Restaurant Business, March 26, 2021