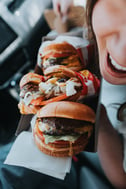 As we move into the new year, emerging data is driving home the sweeping impact COVID-19 has had on the restaurant industry.

According to the National Restaurant Association, the global foodservice trade organization representing more than 500,000 restaurant businesses, the pandemic cost the industry $240 billion in losses in 2020. Foodservice surpassed all other sectors for job losses in 2020, and 2 million restaurant employees were still out of work as of January 14, 2021.1

But the lifelines and innovations that helped many restaurants weather the storm may pave the way to new horizons of profitability throughout the industry in 2021. The National Restaurant Association compiled survey data from 6,000 restaurant operators and 1,000 consumers—and the results provide insight into the trends of 2020 that could lead to a feast of sales and opportunities in 2021.1

Menus were streamlined, but staples stayed strong. Burgers topped the list of popular dishes at full service restaurants, followed by seafood items, pizza, steak, and chicken items (other than wings).1 At limited service restaurants, sandwiches/subs/wraps took top honors; the next most popular fare included pizza, burgers, chicken items (minus wings) and ice cream/cookies/cakes.1

In addition to menu trimming, selling groceries, comfort food and the pivot to off-premises channels were among the trends operators embraced to salvage business during the outbreak.

Hungry at Home: Off-Premises Poised for Off-the-Charts Growth

Given the expansion of takeout and delivery and the ease and convenience of digital ordering online and on apps for consumers, off-premises channels seem likely to grow in 2021 even once the pandemic is under control.

Trends related to off-premises dining that also are likely here to stay include blended meals that combine food made at home with items ordered from a restaurant (popular among millennials) and bundled deals (complete, large-portion meals for families at a value price).1

Meal kits also gained momentum. More than half of consumers surveyed said they would purchase a meal kit from their favorite restaurant—a percentage that jumped to 75% for millennials and Gen Zers.1 And meal subscription services, ranging from meal kits to prepackaged foods in large quantities, drove sales at restaurants where they were offered for pickup or delivery. More than half of consumers surveyed said they'd sign up for such services if offered by their favorite restaurants.1

Transforming foodservice with ongoing development of off-premises strategies and models may have accelerated during COVID-19, but it is also the wave of the future, according to Panera Bread CEO Niren Chaudhary. Smaller-footprint stores and "asset-light models" designed for drive-thru and curbside pickup are the direction his brand is taking to achieve what he calls Panera 2.0.2 "These are the kinds of things we are thinking of recreating and redefining for the Panera of the future, which is going to be more off-premise-oriented, and led by technology and convenience," Chaudhary told Nation's Restaurant News.2

Ghost kitchens (delivery-only facilities)—another major trend to gain traction in 2020—and mobile kitchens will also be aspects of Panera 2.0. A virtual Panera Bread in Chicago is already offered in partnership with the ghost-kitchen company Kitchen United, which plans to expand with 16 new facilities on the strength of triple-digit volume and revenue growth of nearly 200% in 2020.3


Whether you're planning to capitalize on bundled deals, meal kits, or any other trend to take hold in 2020, Mondelēz International Foodservice has the popular brands and culinary ingenuity to help ensure your business thrives. Are there any trends that are particularly relevant to your business? Share your thoughts below. We'd be happy to discuss the many ways we can help you achieve higher sales in 2021 and beyond.
Petre, Holly, "The 10 trends that helped the restaurant industry survive in 2020, according to the National Restaurant Association," Nation's Restaurant News, Jan. 14, 2021
Fantozzi, Joanna, "Panera Bread is testing out ghost kitchens, mobile kitchens, and unveiling virtual catering,"Nation's Restaurant News, Jan. 15, 2021
Guszkowski, Joe, "Citing 'Unbelievable' Growth, Kitchen United to Add 16 Locations This Year," Restaurant Business, Jan. 15, 2021