Posted in Restaurant on August 9, 2022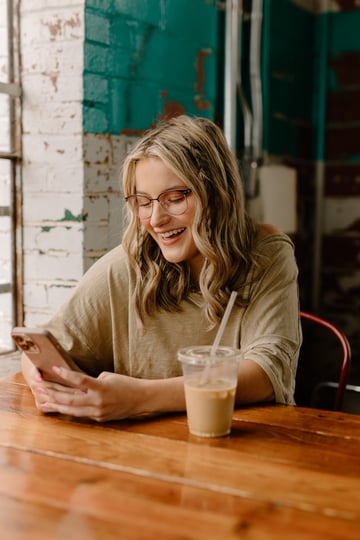 Off-premise channels have surged since the pandemic, conditioning consumers to expect ease and convenience in their foodservice options. But as foot traffic returns and younger consumers begin to raise families, restaurants are revisiting the overall experience they offer to this critical demographic cohort.
Sure, digital drives sales among them, especially since millennial and Gen Z consumers are digital natives who have been reared on technology that older demographics have had to assimilate into their lives.
1
Predisposed to off-channel experiences, younger consumers not only crave digital experiences—they expect them.
But research shows that as they age into parenthood, they're also leery of their children becoming overly immersed in digital platforms and the negative implications of too much "screen time."1 As a result, operators have an opportunity to serve up thoughtful, back-to-basics on-site engagement in the form of coloring booklets with crayons, or a designated play area.
Minions Movie Tie-In Stacks Up for Pancake House
In an example of how digital can be used to extend and enhance the dining experience for young families, pancake house chain IHOP has collaborated with the blockbuster animated movie "Minions: The Rise of Gru." The tie-in features a special limited-time "Minions Menu" with a mix of Minions-themed food and beverage options,1 such as Ba-Ba-Banana Milkshake and Pudding Pancakes—cunningly creative delights that include NILLA Wafer cookie pieces.
As IHOP Chief Marketing Officer Kieran Donahue put it: "Illumination's Minions have inspired our new menu this summer and have taken over IHOP, reimagining its menu with bananas, cinnamon doughnut holes, and more bananas. IHOP is excited to spark joy and bring guests together this summer through a mutual love of film… and a little Minions magic."2
Members of the chain's International Bank of Pancakes Rewards Programs earn double PanCoins on any Minion menu item. At the same time, to soften the blow on family budgets from rising inflation, the chain is running its Kids Eat Free dine-in-only promotion, which entitles children under 12 to a free kids' menu entree when their parent purchases an adult entree.1
Gamification Wins Over Rewards Program Members
While young parents may worry about their children's immersion in digital platforms being excessive, gamifying apps is an increasingly popular way to increase engagement for restaurant chains. According to geofencing platform Bluedot, 52% of consumers surveyed said that games and sweepstakes would make them more likely to interact with a restaurant.3
As we reported in a previous post, "Big APPetite: Restaurant Apps Feed the Need for Customer Experiences," top chains have been rapidly evolving their apps to expand the range of features and benefits available to members.
Extending the member experience into fun challenges that enable customers to accumulate rewards can be a game-changer, as fast-casual restaurant chain Sweetgreen hopes to demonstrate. The specialty salads brand is testing its Summer of Rewards program, which rewards members for completing challenges on its app and website through July 24.4 The goal is to increasingly personalize the challenges and rewards to drive customer frequency.4
Sixty-six percent of Sweetgreen's sales during the first quarter of this year were digital,4 and the chain is committed to ensuring the upward arc continues. "The company believes enhancing its digital experience, with a focus on owned digital relationships, will allow them to drive frequency and additional restaurant volume," explained a company spokesperson.4
At Mondelēz Foodservice, our acclaimed chefs help ensure your menu mix is optimized for an ever-changing market, with culinary concepts that provide new and tried-and-true flavor experiences. Explore fresh ideas for menu optimization in our Culinary Center. To learn about custom solutions for your operation's unique business needs, contact us below.
1 Hamstra, Mark, "Restaurant experience is key to attracting young families," Nation's Restaurant News, June 29, 2022
2 Businesswire, "IHOP® Launches Exclusive All-day Minions Menu to Celebrate the Release of Illumination's Minions: The Rise of Gru," June 21, 2022
3 Bluedot, The State of What Feeds Us Volume V, 2021
4 Lalley, Heather, "Sweetgreen Tweaks Its App to Add Challenges, Personalization," Restaurant Business Online, June 27, 2022