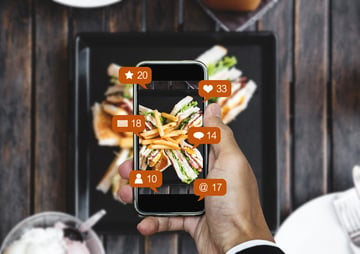 The pandemic has made consumers particularly picky. Safety, speed, convenience and great-tasting, travel-friendly food that combines value and quality are all essential ingredients for success. And even as dining rooms reopened, the new norm persisted, and tricky challenges emerged including supply-chain breaks, labor shortages and virus variants.
As a result, restaurants strive to bring more to the table while spending and wasting less in a quest to manage margins with optimal efficiency. And what makes today's ever-shifting competitive landscape even more challenging is the need to balance off-premises gains with rebuilding on-site traffic.
The industry has turned to tech to streamline and elevate the customer experience with a series of integrations, from labor-reducing robotics to AI-equipped point-of-service platforms. An essential element of the transformation of customer experiences both on- and off-premises has been the evolution of loyalty programs.
Once limited to physical reward membership cards that had to be presented at each onsite transaction, loyalty programs have gone high tech to feed the need of today's consumers for digital engagement and personalized experiences.
As of September 2021, nearly 60% of consumers surveyed had downloaded at least one new restaurant app over the last three months, according to the geofencing platform provider Bluedot.1 High demand for faster, more robust and more rewarding customer experiences drives app usage. Sixty percent of survey participants download restaurant apps to quickly place orders, 57% to earn and track loyalty points and 52% to access offers and deals.1
Consumers have shown an insatiable appetite for rewards, which keep them engaged and encourage their repeat business. Sixty-nine percent of those surveyed say loyalty programs incentivize them to visit restaurants more frequently, and 1 in 2 cite points and/or dollars off as the most important membership benefit.1
While most consumers surveyed were more likely to use an app than any other order method when ordering from a restaurant, the key to higher app downloads and usage is lower prices. Ninety-percent would order from an app more often if it provided access to better pricing.1
An APPtitude for Enhancements: Loyalty Programs Continue to Level Up
As explored in a previous post, loyalty programs became a lifeline for major restaurant brands at the height of the pandemic, and they continue to play an increasingly pivotal role in growth strategies. Velvet Taco, a growing chain of globally inspired taco varieties, has partnered with guest engagement platform Thanx on an innovative new loyalty program. Dubbed The Velvet Room, it features tiered reward levels based on usage and spend tracked through AI-enabled data capture.
As the brand's director of marketing, Cassie Cooper, explained: "A loyalty program just turns into a discount program unless we first understand guest behavior. With The Velvet Room, we are tying transactions to guests regardless of their order mode, and then trying to understand behavior. With this data capture, we can personalize our loyalty program—it's our way of building personal relationships with our guests, not just with typical rewards, but memorable experiences."2
What's more, Velvet Taco is testing Thanx's off-premises Tableside platform, which enables guests to order from their tables via a QR code. Velvet Taco started using the technology at two locations, with plans to roll it out to all its stores to ensure a faster, more seamless onsite customer experience.2
At Mondelēz International Foodservice, our acclaimed chefs use our trusted brand ingredients to create travel-friendly dishes and desserts that help drive sales on premises and off. Need inspired ideas for signature items and special offers that set your operation apart? Want expert advice on cost-effective ways to elevate your menu and keep customers coming back for more? Reach out below to learn the many ways we can help your operation overcome challenges and make the most of opportunities in 2022 and beyond.
1 Bluedot, The State of What Feeds Us, September 2021
2 Nation's Restaurant News, "Velvet Taco launches first-ever loyalty program, The Velvet Room," December 14