Posted in Millennials on December 26, 2016
Diversified, delicious and nutritious, breakfast bars and snack bar varieties are a dream-come-true for foodservice operators who want to offer snack options that cater to their customers' busy lifestyles. As a go-to snack source for on-the-go consumers who gravitate toward quick treats with enough nutritional value to replace a sit-down meal, the bar category is booming.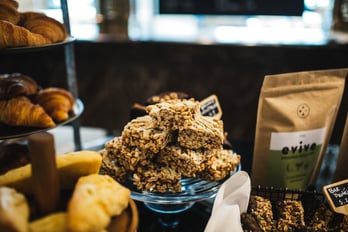 In fact, for the 52 weeks ending April 17, 2016, snack and granola bar sales grew 4.78% to hit $5.9 billion.1 C-store sales alone tallied up a total of $711.9 million for the 52 weeks ending January 23, 2016–up more than 10%–with more than 69% of C-store bar sales driven by the portable health and lifestyle segment, where dollar sales jumped 14%.2
Good for You, Good for Business
Well suited for today's grab-and-go foodservice trend and a market where on-demand snacking is increasingly popular, bars have the additional appeal of being a better-for-you snack option. This combination of convenience and nutrition points to continued growth.
As Dave Caucutt, vice president of sales and technical services for Lawrence Foods Inc., explains: "The market is growing because bars fit perfectly into our lifestyle. We are a mobile society, eating many of our meals on the run. Millennials have propelled us all to change to become a snacking culture. And bars carry a healthy halo because they are often fortified to provide a balanced meal alternative."1
While the definition of "healthy" may vary, clean label ingredients tend to be a top priority for today's bar consumer. Abby Ceule, director of market management brands for Corbion Caravan, sees this trend as a natural outgrowth of the better-for-you movement. "With consumers becoming increasingly health-conscious," she points out, "it's no surprise that several of the top claims are targeted toward this audience. These claims include gluten-free, GMO-free and organic. Additionally, we are seeing bars with a high source of protein and fiber call-outs."1
A Millennial Snack Trend Gone Global

Led by the United States, which has a commanding presence in the market overall and tends to be at the forefront of product development, the number of global cereal bar launches has doubled over the five-year period to mid-2015 and continues to undergo double-digit growth.4 Granola or muesli bars, energy and performance bars, nutrition bars and breakfast bars all occupy a highly developed and complex market with a global reach.
Demand for the speed and convenience of bars is growing globally. Mintel research shows that 42% of Chinese consumers aged 20-49 who enjoy ready-to-eat meals and 30% of Canadian adults are interested in on-the-go breakfast options.3 According to Mintel, "The focus on time when it comes to cooking has led to growth in a myriad of shortcuts, including extended-shelf-life herb purees, quick-cooking sides and
home delivery services."3
Wake-Up Call for a Higher Check Average
Three of the four breakfast-type foods with the fastest-growing popularity over the past decade have been snacks that combine portability with wholesomeness, such as cereal bars.4 As the plate and bowl give way to the bar as the preferred way to eat breakfast, and demand for grab-and-go convenience continues to grow, the overall market for snack bars is projected to reach $8 billion in 2019.4
So how can you capitalize on consumers' grab-and-go snack impulse? Kelly Fulford, senior category development manager for General Mills Convenience & Foodservice, recommends that retailers put bars where they can most easily be found.2 During the breakfast daypart, consumers tend to be in a rush and are less likely to spend as much time in the store as they would in the afternoon. As a result, she says, "convenience retailers should use coffee as a key destination and merchandise their breakfast/nutrition category as close to coffee as possible, knowing that consumers are most receptive after completing their coffee mission and on their path to purchase."2
How do you plan to satisfy the growing consumer appetite for bars in 2017? Do you think bars are a smart bet to be the snack that more and more millennials turn to for their morning fuel?
3 Mintel, Global Food and Drink Report 2017, downloadable here