Posted in Delivery on April 4, 2023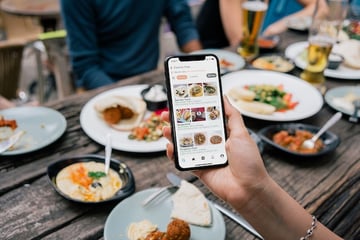 The pandemic may have faded and foot traffic returned, but as economic challenges persist, pandemic-related shifts in the foodservice landscape continue to twist and turn in new directions.
Take off-premise channels, which restaurant shutterings and restrictions accelerated and amplified. High demand grew the delivery segment exponentially during the pandemic. Now economic uncertainty and general belt-tightening are causing many consumers to pick up their own food, according to international restaurant and food critics Baum + Whiteman.1

Budget-conscious consumers are driving chains to reconfigure their operations to accommodate a shift away from delivery, which can carry high fees, to pickup, which continues to propel digital orders.
"Fast-cas and fast-food chains are making it progressively easier by building double and triple pickup lanes at their restaurants … exclusively for people who've preordered online," according to Baum + Whiteman's 2023 forecast of the 12 hottest food and beverage trends in restaurants and hotels.1 "The idea is to wean customers away from profit-killing delivery apps and, at the same time, save customers money … often as much as 30-50%."1
Taco Bell and KFC are among the top chains that have introduced multilane pickup for online orders. Baum + Whiteman cite Chipotle's strategy of developing pickup-only stores for customers who order through the brand's mobile app. The goal is a grab-and-go version of pickup that accelerates the process so it only takes a mere 30 seconds to get your food at one of the digital order-only lanes.1
(To learn more about digital innovation at KFC and other fast-casual chains, be sure to check out our post, "Digging Deeper Into Digital: Restaurant Chains Ramp Up to Meet Consumer Demand.")
In an example of drive-thru foodservice reaching into retail, Coborn's grocery store chain is adding an Erbert & Gerbert's sandwich shop, complete with a pickup lane, to its Big Lake, Minnesota location. And at a mall endcap location in West St. Paul, Minnesota, the supermarket chain has opened a drive-thru-equipped store. Last year's Power of Foodservice at Retail report from the Food Industry Association found that 48% of customers are in favor of adding drive-thrus to supermarkets.2
Loyal and Royal: Next-Gen Loyalty Programs Treat Members Like Royalty
Drive-thrus may accelerate convenience and help customers bypass delivery fees, but how can foodservice operations keep customers coming back and build brand loyalty? Restaurants are busy experimenting with next-gen loyalty programs to create more personalized experiences that maintain high levels of customer engagement.
"To help restaurateurs develop programs uniquely suited to their customers, new technology is available that allows operators to collect more data about their customers, such as when and how often they visit, who they come with, what they order and more," reported Nation's Restaurant News.3
Casual dining breakfast and brunch chain Snooze, an A.M. Eatery, for example, has introduced a multitiered loyalty program that rewards customers with 100 "jacks" for every dollar spent. Customers join online or through the MySnooze Bennyfits app. The more they visit a Snooze location, the higher they go in tiers, from bronze to silver to gold, and the better the perks. Guests who visit every month reach gold status. Since the program's debut last April, it has generated $6 million in loyalty transactions.3
At Mondelēz Foodservice, our team of acclaimed chefs, brand ambassadors and industry experts serves up a feast of inspiration and information to help you maximize sales on and off premises. Help yourself to our Insights page for research and recommendations to feed your bottom line. Have a hankering for innovative culinary concepts that could help your menu stand out and keep customers coming back? Just reach out below.
1 Baum + Whiteman, 2023 Food & Beverage Report, December 2022
2 Hamstra, Mark, "Coborn's plans in-store Erbert & Gerbet's with drive-thru lane," Nation's Restaurant News, February 10, 2023
3 Thorn, Bret, "Next-gen loyalty programs keep customers coming back as restaurant traffic declines," Nation's Restaurant News, February 10, 2023