Posted in Promotions on November 29, 2022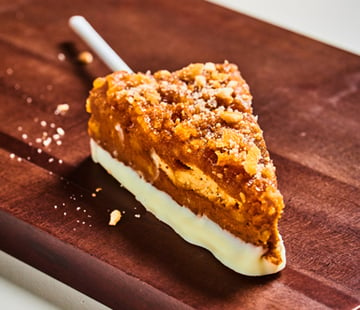 Food plays an integral role in a number of fall and winter celebrations—Thanksgiving, Christmas, Hanukkah and Kwanzaa are the top holidays consumers associate with special dishes, flavors and eating occasions.1
Thanks to the strong interest in seasonal fare, operators may be able to boost sales by offering holiday-themed menus and events.
If you're hoping to be part of your customers' plans to eat, drink and be merry this year, maximize your holiday dining options—and ensure you're able to effectively inform customers about them—with the following approaches.
Provide Culinary Convenience
Slightly more than half—53%—of consumers order delivery or takeout on any given day because it saves time.2
This holiday season, a third of consumers say the ease involved in not having to cook or clean up is the reason they're thinking about—or already planning to—either order from or dine at a restaurant.
While 20% intend to celebrate Christmas, Hanukkah or Kwanzaa in a private or main restaurant dining room, slightly more (22%) say they'll be getting a meal catered, partially delivered or otherwise provided by an eatery.1
Because holiday meal kits—which 6% of consumers say they'll be picking up for Thanksgiving this year—may only require reheating before being served, they, too, can significantly simplify the time involved in food preparation.1
For example, Mimi's Bistro & Bakery offers a Holiday Take-Home Feast for $179.99 that services 8-10 as well as a variety of options such as "Just the Sides," desserts, and the choice between turkey or ham as the main protein for the meal.
Cracker Barrel also has many take-home options for the holiday season that customers can simply reheat at home, including meals for different group sizes as well as standalone desserts and sides.
Meal kits, to-go offerings and dine-in service menus also often feature an array of side dishes and other choices. They may, as a result, be able to help hosts avoid having to personally churn out additional items to accommodate guests' individual tastes and dietary restrictions—something 37% of consumers cited as a factor in their decision to potentially include a restaurant in their holiday season plans.1
For guests looking to satisfy a plethora of dietary preferences, Seattle, WA eatery Plum Hill, offers a vegan Thanksgiving feast with gluten-free options.
Debut Innovative Dishes
Unique items can be a major draw, particularly around fall and winter holidays. More than a quarter (31%) of consumers say they're currently considering stopping by a restaurant, or plan to, because of special menus or dishes that are being offered during the holidays.1
Specifically, 44% are looking forward to ordering limited-time Christmas, Hanukkah or Kwanzaa menu items. Operators may also find inventive fare made with consumers' favorite holiday-related flavors — including toasted coconut, candy cane, chocolate almond and lox—might resonate with their customer base. 3
For example, Dunkin' launched a new Blood Orange Refresher, which has notes of citrus and cranberry, to provide a refreshing drink for when customers want fall flavors before the temperature cools down.
Sweet items, in particular, can be a popular limited-time offer choice. Consumers say they prefer trying new desserts more than unfamiliar dishes from any other menu category;4 and 53% are interested in ordering seasonally influenced desserts. 5
Making your seasonal dessert offerings available to eat in-restaurant and to-go can maximize your on and off-premise profits, like The Cheesecake Factory's Peppermint Bark Cheesecake. Available by the slice and as a 10-inch cake, this menu item is easy for customers to order in-restaurant or take to a holiday event.
Consumers who place takeout orders online spend 50% more, on average6—and may be more open to additional items like dessert. Some varieties travel better than others; with the right packaging, though, and prominent placement on social media and the restaurant's website, items like Pumpkin Pie Pops made with NILLA Wafers and Spiced Pumpkin Cheesecake with NABISCO Grahams can appeal to the to-go crowd.
And, even if the weather is cold, don't discount the popularity and portability of milkshakes. Shake Shack has featured their fan-favorite Christmas Cookie Shake, a sugar cookie frozen custard topped with whipped cream, crumbled shortbread, and holiday sprinkles, since 2018.
Host Special Events
Encourage customers to make a dine-in reservation by scheduling a festive occasion. Pennington, New Jersey restaurant Boro plans to hold two holiday-themed dinners in December, featuring a Santa's workshop setting and activities like cookie decorating.
Consider incorporating cultural celebrations centered on a seasonal tradition as well, such as the Italian-American Feast of the Seven Fishes, which involves serving a seafood-centric meal on December 24. Mattison's, a restaurant group located in Florida's Gulf Coast, celebrated Feast of the Seven Fishes with a special menu.
In addition to individual gatherings, operators can also sponsor promotions that stretch over several weeks, such as making a gift card discount available in December or donating a portion of each meal purchase during the month to charity.
For every order of Taco John's Navidad Nachos, for example, featuring yellow, red and green chips, a portion of the proceeds was donated to local charities selected by franchisees.7
Give Patrons More Bang for Their Buck
Discounts can be a powerful incentive to get customers in the door. Approximately 29% of consumers who aren't currently considering including restaurant or foodservice options in their holiday celebrations say attractive deals might change their mind.1
Make sure you're running your promotions on the following channels:
Restaurant apps

:

51% of Americans 18 and older check for dining bargains on restaurant apps, and nearly 7 in 10 are downloading apps or joining loyalty programs to get dining discounts and giveaways.8
Menu boards: More than a quarter (30%) of consumers check menu boards for deals, so including information about any you offer on in-store signage can also help spread the word.8
Social media

: More than half of consumers have visited a restaurant or cafe because they saw something about it on social media.

9
Provide Your Customers with Value
Driven in part by rising prices for staples like eggs, which are up 40%, and flour, which is 23% higher than in 2021, hosting is expected to cost more this year. Operators may be able to emphasize the value of getting at least some holiday meal components from a restaurant.10
In fact, 29% of consumers believe ordering from restaurants is less expensive than buying all the items that are needed to cook a meal; 27% feel the cost is about the same—but note that ordering involves less work.11
As in past years, a number of consumers will likely head home for the holidays this year; however, that doesn't mean they have to prepare and eat all their meals there.
Emphasizing the convenience, fun factor and other benefits on- and off-premise seasonal dining options offer can help operators pique consumers' interest in their menu around Thanksgiving, Hanukkah, New Year's and other holidays — and potentially encourage customers to stop by and enjoy a special holiday meal, or possibly order at least part of one to go.
For more creative holiday-themed menu ideas—and tips on how to effectively promote them—contact us below.
1 Seasonal Flavors & Holiday Menus, Datassential, 2022
2 The New World of Consumer Behavior: Restaurants 2022, Near, July 2022
3 Foodbytes: The Holiday Issue, Datassential, 2022
4 The Simply Smarter Webinar: S4E11 The Innovation Episode, Datassential, May 31, 2022
5 Desserts Keynote, Datassential, May 2021
6 "The Link Between Loyalty Programs and Takeout," Paytronix, January 2021
7 "Taco John's Starts Holidays with Launch of Nachos Navidad," QSR Magazine, November 22, 2021
8 The State of What Feeds Us Volume VII, Bluedot, 2022
9 Social Media and Technology Use, IFMA CPP 2021, Datassential
10 "A Little Less Jingle This Holiday Season," KPMG, 2022
11 "Consumers Spend 40 Percent of Monthly Food Budgets on Restaurants on Average, According to Popmenu Study," Popmenu, July 14, 2022