Posted in Family Restaurant on March 15, 2023
Snacks and desserts from churros to elote, empanadas and shaved ice reflect opportunities for innovation.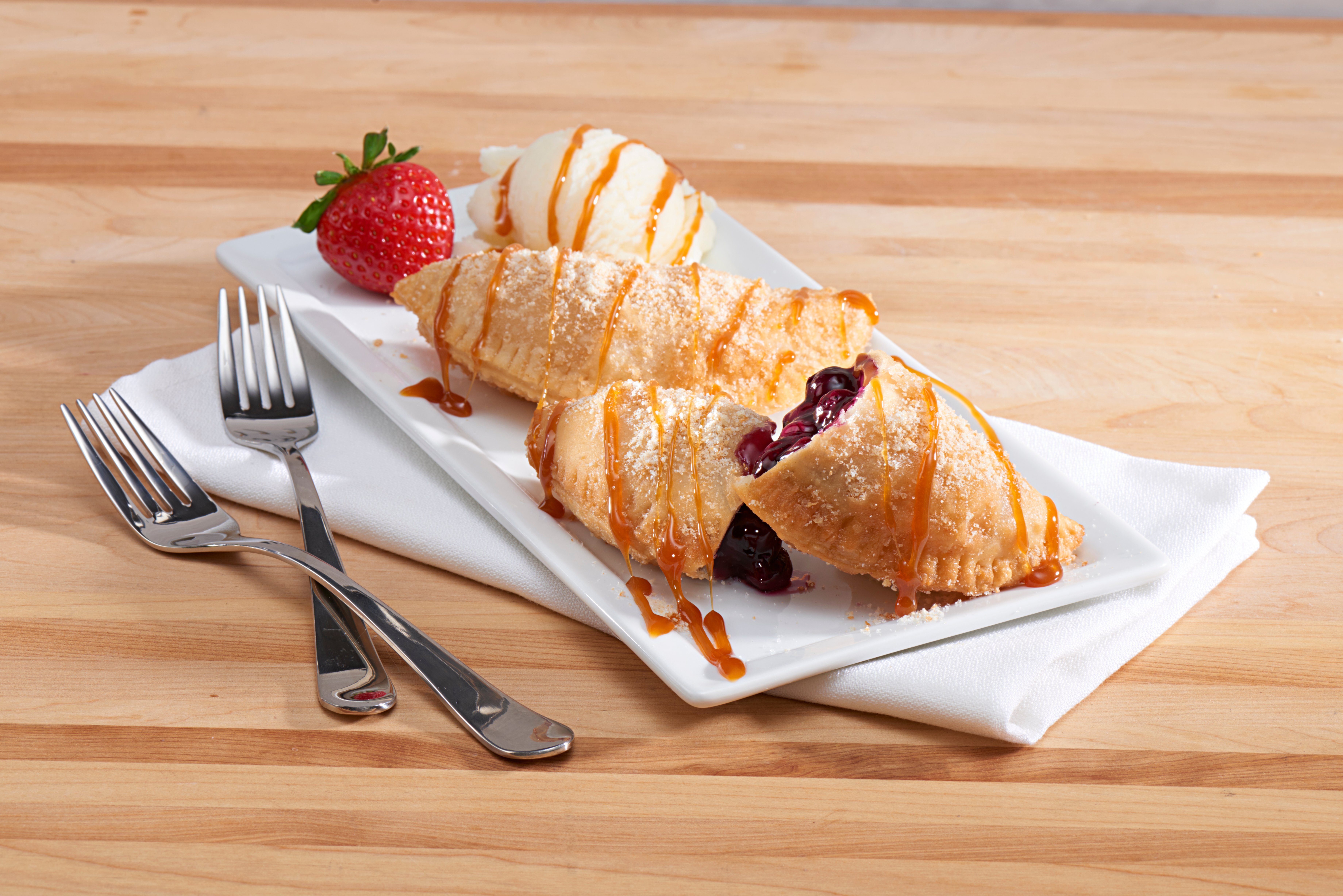 Globally inspired street food snacks and desserts from all over the world have gained popularity on U.S. menus.
These restaurant menu street food trends tend to satisfy multiple consumer demands. Their portability appeals to consumers eating on the go, and their use of ingredients and flavors from foreign cuisines create easily accessible culinary experiences.
A recent report on street foods from Datassential found that 49% of consumers say they are interested in global street foods, and the term "street" now appears on 9.3% of menus, up 111% over the last 10 years. (The word "street" often appears as a descriptor in menu items such as "street tacos," for example.) Projections call for steady growth in street food trends in restaurant menus, reaching 11.2% menu penetration by 2026.
Street foods from South of the Border
Mexican cuisine has provided one of the main platforms for the growth of street food on menus, according to the Datassential report. Street tacos in particular have been at the forefront of this culinary trend, both as an entrée and a snack item. Street tacos have increased their menu penetration by 33% in the last four years, and are expected to grow another 40% in the next four years, according to the Datassential report.
Mexican corn and elote, a street-food snack made with grilled corn on the cob that is slathered in a spicy, creamy sauce that usually contains mayonnaise and cotija cheese, have also been surging on U.S. menus. Elote has soared 111% in restaurant menu penetration in the last four years, and is projected to grow another 62% during the next four years.
One idea for menuing this portable, on-trend snack is Elotes made with RITZ Crackers, which feature grilled corn on the cob and cotija cheese, Mexican crema, chili-lime seasoning, cilantro, and the crunchy, buttery taste and texture of RITZ Crackers.
Churros expand as a menu item and a flavor
Churros, originally from Spain but now enjoyed across Latin America, are one of the best known globally inspired snack and dessert items, and they are growing in popularity as a food trend in 2023, not just as a simple dessert or snack, but also as a flavor, according to Datassential. The flavor, whether in its traditional or nontraditional form, is extremely popular among consumers, with 76% of those who have tried it saying they love or like it, according to Datassential's FLAVOR report.
It is found on 6.1% of restaurant menus, up 37% during the last four years, according to Datassential. Operators often menu the cinnamon-sugar-coated, fried dough treat with a chocolate or caramel dipping sauce. Max Brenner chocolate restaurants, for example, offers Crystal Churros Fondue, featuring churros made in-house served with toffee sauce, muddled raspberry sauce, and choice of milk, dark or white chocolate fondue for dipping.
Regional fast-casual operator Taco Cabana, which had Datassential's highest-scoring street taco introduction last year with its Carne Asada Street Tacos, also featured a special churros menu item for the holidays. Its OREO® Churros were available as an add-on to any order in a pack of five for just $2.99.
Another idea following global food trends in 2023 is to tweak the classic, ridged churro form and turn it into Churro Ice Cream Sandwiches made with OREO Cookie Pieces. These hand-held treats feature vanilla ice cream blended with OREO Cookie Pieces held between layers of chewy, sweet churro dough.
Empanadas are another Latin American street food popular in the U.S., with 19% of consumers saying they "love" them, according to Datassential, second only to tamales.
Consider the empanada as a hand-held dessert option, such as Fruit-Filled Empanadas Made with NILLA Wafers. These deep-fried treats can be filled with any type of fruit pie filling to create a variety of unique menu items, perhaps incorporated into a rotating series of limited-time offers to meet modern street food trends on your restaurant menu.
Menuing Asian snacks and desserts
Street food snacks and desserts from Asian countries are also appearing increasingly on U.S. menus. These are often savory items such as samosas, bao, and dumplings, but some sweet treats are also making inroads.
Halo-halo, a Filipino take on the shaved-ice desserts that are popular across the Asia-Pacific region, traditionally includes the purple yam, ube, in some form, together with an amalgam of other ingredients that often make it well-suited for sharing on social media. It has become a highlight of the menu at Café 86, a California quick-service chain with a focus on ube-based dishes.
"Halo-halo is definitely one of our top-three favorite desserts, and we are just over the moon to see the popularity of this dessert go beyond the Filipino palate," says James Dimapasok, founder. "For us Filipinos in the diaspora, it just brings us back to our roots and allows us to share a bit of our culture. For Café 86, we wanted to create a version of halo-halo that embodies our Filipino-American culture."
Halo-halo was also the winning dish that Ginger Dimapasok, James' wife and co-owner of Café 86, made for the Chopped Sweets competition on Food Network. She used a base of ube paste, coconut milk, heavy cream, and condensed milk for the ube ice cream, along with a coconut lime sorbet with rambutan, and sprinkled with ground circus peanuts and unicorn popcorn (required ingredients and part of the challenge), among other toppings.
Other versions of shaved-ice desserts from around Asia that are appearing on U.S. menus include kakigori, from Japan; patbingsu, from South Korea, and bao bing from China and Taiwan. Like halo-halo, these desserts are often platforms for a variety of creative toppings.
"Bao bing shops in the U.S. offer a massive array of toppings, from fruit and beans to OREO [Cookies] and gummy bears," according to Eater.
Street foods trends are on the rise on U.S. restaurant menus, and operators can lean into the trend with items from around the world, both savory and sweet. For more recipes and inspiration on global food trends and street foods for your dessert or snack menu, visit the Mondelēz Foodservice Culinary Center.
Sweet and Savory Global Street Food Snacks
Operators innovate to create their own takes on global street food snack and dessert menu ideas
Restaurant operators are appealing to the adventurous palates of today's consumers with a variety of snacks and desserts inspired by street foods from around the world. Some operators have built their entire concept around street food menu ideas, such as the Indian-inspired foods at Curry Up Now, and others have focused on one street food in particular, such as Arancini Bros., with its singular Sicilian menu of stuffed rice balls.
Others have made street food dessert menu ideas a part of their core offerings, including Café 86, which offers Philippine halo halo — a shaved ice dessert featuring the purple ube and other ingredients. Globally inspired street foods can also make great limited time offers that support growing international food trends, such as the OREO® Churros that Taco Cabana put on its menu for the holiday season last year.