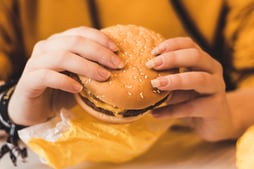 As fallout from the pandemic persists, major chains are stepping up efforts to connect with consumers and spur sales through digital channels and creative promotions.
Fast food sales may have been stuck in neutral as in-store traffic trickled away and takeout and delivery couldn't gain ground fast enough. But big brands like McDonald's have been cooking up ingenious promotions to jumpstart sales. The Golden Arches have struck gold with the Travis Scott meal. In its first celebrity collaboration since partnering with pro basketball superstar Michael Jordan in 1992,1 the burger behemoth has teamed up with Scott, an acclaimed rap artist, to offer "The Cactus Jack," a $6 meal named after Scott's record label.
The meal—a Quarter Pounder with cheese, bacon and lettuce, fries with barbecue sauce and a Sprite—quickly went viral. Originally scheduled to run Sept. 8 through Oct. 4, the limited time offer became so popular—with orders overflowing at restaurants, for carryout, in drive-thrus and on the app—that it caused a shortage of burgers for franchisees nationwide. As a result, on Sept. 22, the chain limited Cactus Jack ordering to the app.2
To support the promotion and dig into another meaty source of revenue, the partnership also featured merchandise, including the giant $90 McNugget pillow, $290 denim shorts and a $40 "Smile Clutch" (a Happy Meal box with a special print on it). The exclusive collection, which was available on the rapper's website, quickly sold out.3
Other major chains are making headway, if not headlines, with innovative digital strategies and promotions to propel sales. As paid delivery continues to drive sales—and controversy—chains are steering consumers to free delivery deals. Chipotle Mexican Grill and El Pollo Loco continue to build on the success they've had with free delivery promotions through their app and Postmates.4 KFC's delivery promotion through DoorDash, meanwhile, includes a free food add-on.4
Digital prize promotions and gamification also continue to whet the consumer appetite for excitement and rewards. Taco Bell is stepping up its game with in-app giveaways of gaming consoles and Xbox Series X bundles, and Popeyes is tapping into the popularity of sports with a virtual tailgate party that offers everything from home theater equipment to free food.4
Chipotle's Free Delivery Monday Matchup was a slam-dunk sports promotion that gave loyalty members the opportunity to win free burritos for a year if they correctly guessed the final score of a designated basketball game of the week. As an incentive to participate, the fast-casual chain offered free delivery on orders of $10 or more placed through its app or website while the promotion was running.4
"Sports are officially back, and fans want to be a part of the action even though stadiums are empty," said Chris Brandt, Chipotle's chief marketing officer. "Free Delivery Monday Matchup gives our rewards members an opportunity to gamify their favorite Chipotle orders in parallel with live sports for the chance to win real food and big-time bragging rights."5
Marketing promotions such as this one have helped grow Chipotle's digital sales $216.3% and reach a record-breaking $829 million for the quarter ended June 30.5
At Mondelēz International Foodservice, our trusted brands can help excite your consumers and drive additional sales. Any culinary challenges you're facing? Opportunities you'd like to leverage? We're here to help. Just reach out below.
1 McDonald's Newsroom, McDonald's and Iconic Global Artist Travis Scott Embark on an Unprecedented Collaborative Partnership Across Food, Fashion and Community Efforts, Launching with His Signature Order on Menus Across the U.S., Sept. 3, 2020
2 Fickenscher, Lisa, "McDonald's says demand for Travis Scott meal spurring burger shortages," New York Post, Sept. 16, 2020
3 Dellatto, Marisa, "Travis Scott's giant Chicken McNugget pillow is now reselling for $450," New York Post, Sept. 15, 2020
4 Luna, Nancy, "Big digital moves from Chipotle Mexican Grill, Popeyes, Taco Bell, White Castle, KFC," Nation's Restaurant News, Sept. 14, 2020
5 Luna, Nancy, "Chipotle Mexican Grill digs deeper into its digital channels with free delivery 'Monday Matchup' promotion," Nation's Restaurant News, Aug. 24, 2020