Posted in Millennials on September 11, 2017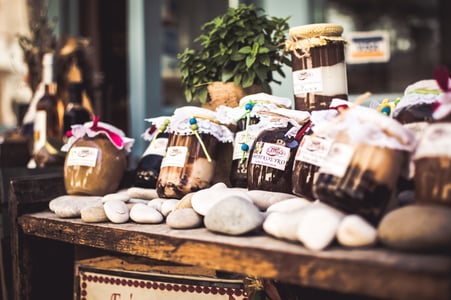 Challenges and opportunities loom large for big food sellers. While the 25 largest players feasted on 63% of $495 billion in U.S. food and beverage sales in 2016, their share declined from 66% in 2012.1 Private label products, meanwhile, have seen a 3.5% year-over-year expansion of shelf space since 2012.1 Increasing price pressure from upstart store brands and retailers insisting on lower prices are turning up the competitive heat.1
Big food sellers maintain their preeminence in the marketplace, but resting on their laurels is no longer an option. As Robert Moskow, an analyst with Credit Suisse, told The Wall Street Journal: "Up to now, the Big Food companies had sufficient pricing power to drive earnings higher even though they had been losing market share to smaller entrepreneurial organic and natural brands."1
Well-Being a Home Run for Millennnials
Evolving consumer preferences are driving the foodservice trend of better-for-you product innovations, including reductions in fat and sugar content and the removal of artificial colors, flavors and preservatives.1 While major packaged-goods companies may still be market leaders, they need to be nimble enough to adapt to a rapidly changing foodservice landscape that emphasizes the importance of organic, clean-label and well-being options.1
Mondelēz International is addressing consumer demand and global need with a holistic approach to well-being based on four pillars: safety, sustainability, community and well-being snacks. The company's goal is "to create meaningful, lasting impact—for people, our planet and our businesses."2
Aligning with millennial values that stress the well-being of self, society and planet is key.3 As explained in The Snack Hack report from FutureCast, a marketing consultancy that specializes in millennial and Gen Z trends and modern consumer behavior: "Great brands are providing more than just a value benefit, they are aligning with Millennial consumer values—and by values we expressly mean a set of beliefs. When a brand can come in and become a badge that represents the things Millennials care about, it beats the competition that is solely focused on value—and they are willing to pay the premium for those brands."3
Ensuring their food tastes better than inexpensive store brands while delivering on better-for-you claims and sustainable practices can help big brands encourage a higher check average, especially among millennials who are willing to pay more for premium products.1 68% of millennials surveyed by consumer market insights firm Maru/Matchbox are willing to pay more for organic foods, while 66% (30% more than survey participants aged 55+) agree that sustainable foods are worth the extra cost.4
Scoring Big with Innovation
Innovations in marketing and distribution channels always bring new challenges and opportunities for major food brands. The web and social media provide smaller players in the industry with pathways into the mass market, allowing them to make inroads through blogs and social outlets and to sell their products online. The digital marketplace enables them to have a big impact while bypassing the need for a big market budgets.
By leveraging the same digital technology, major brands can extend their reach deeper into the millennial market. As the first Internet generation, millennials are predisposed to satisfy their needs through digital means. 41% of millennials surveyed would prefer to purchase all of their food online, compared to 14% of those aged 50+.4 Millennials are also active brand advocates on social media, where 69% of those surveyed share photos or videos of their meals.4
As small brands gobble up half the growth in premium sales, thanks in part to millennials associating them with premium quality, it becomes increasingly important to appeal to America's largest demographic group.4 35% of millennial survey participants say their trust in smaller brands has grown.4
Matt Kleinschmit, Maru/Matchbox's managing director of consumer and shopper insights, summed up the need for brands of all sizes to cover the bases when it comes to millennials. "Millennials are discerning consumers, and they are increasingly willing to pay a premium for brands and products that embody their preferences for authenticity, transparency and responsible ingredient sourcing," Kleinschmit said. "The impact of this emergent generation continues to grow as they advance in their careers and become more established, and their habits are dramatically reshaping the food industry."4
What are your thoughts on the big changes in the big food industry? Looking for expert guidance in product assortments with strong appeal for the millennial market?
3

Huff, Skyler, The Snack Hack, FutureCast, Feb. 7, 2017, pp. 5, 6,