Posted in Millennials on December 12, 2016
With so much attention lavished on their consumer preferences and personality traits, millennials definitely feel the love. With 75.4 million members, they're everywhere, having edged out the baby boomers as America's largest generation. 1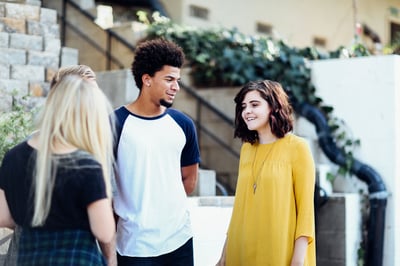 Hot on their heels, Gen Zers are blazing their own trail as snacking trendsetters. Twenty-three million young upstarts strong, born between 1996 and the present,2 Gen Zers are a big deal too–and they're in the process of becoming a bigger deal as they get older and their buying power increases. While many are still too young to make their own consumer purchases, Gen Zers stand poised to become the "fastest growing generation in the marketplace and workforce," as Food Management describes them.2
As Jay Dorsey, founder of the millennial and Gen Z research firm Center for Generational Kinetics, told FM: "Members of Generation Z are now the trendsetters. They're the ones driving the trends that millennials will adopt."2
With their rise to the top of the consumer heap and all the potential sales and revenue they bring to the table, the new kids on the block are whetting foodservice and restaurant operations' taste for Gen Z mania. The following are five key points to keep in mind as you market to this increasingly influential demographic powerhouse.
They love to eat out. Gen Z has already spent $78 billion at restaurants, taking the second-largest bite out of the restaurant market (first is baby boomers).3 Gen Zers enjoy eating out as a social experience: 58% of them love to eat out with their families; 47% influence what restaurants their families choose; and 62% decide with friends what restaurants to visit.4
Faster is better. They most often visit foodservice locations that specialize in grab-and-go snacking occasions (e.g., ice cream, yogurt, and juice chains).4 Tasty, craveable food is by far the strongest driver behind their dining preference–and the faster, the better. 6% prefer to eat at quick service restaurants, with fast casual a distant second at 23.6%, while only 0.3% like fine dining. 4
Flavor first (a.k.a., sustainability isn't sustaining). In comparison to older generations, Gen Z is de-emphasizing sustainability and less enthusiastic when asked about their interest in locally sourced ingredients, unprocessed food, grass-fed proteins, and authentic ingredients. Their primary concern is with taste and flavors (56%), with clean utensils (55.1%) and food quality (53%) close behind.4
They're web-oriented. Gen Z is the first generation to be born into a digital landscape driven by smartphones and social media. Ordering food online and posting pictures of their food experiences are natural to them. As the generation most likely to use technology to choose a foodservice location, Gen Z tends to order food directly from restaurant websites. Fifty-two percent order most frequently from restaurants online, and 58% order from a laptop, compared to 38% of millennials.4
They're diverse. As the most culturally varied generation, Gen Z has a distinct appetite for adventurous, international and ethnic cuisine. With nearly 50% of them non-Caucasian compared to 28% of baby boomers,5 Gen Zers reflect a broad demographic shift in America that first gained momentum with the millennials. As such, they are expected to accelerate the foodservice trend of global culinary experiences and menu innovation driven by cross-cultural influences.
NPD analyst Bonnie Riggs cautions against underestimating Gen Z's ability to influence foodservice trends: "Gen Z are very important and only going to get bigger. Now is the time to start building loyalty with them. They're going to drive your business in the years to come."3
What are you doing to drive sales among this coveted cohort of consumers? Any snack trends that you envision will be especially appealing to them and lead to a higher check average? Feed our community's need for your thoughts below.
1 Fry, Richard, Millennials overtake Baby Boomers as America's largest generation, Pew Research Center, Apr. 25, 2016, http://www.pewresearch.org/fact-tank/2016/04/25/millennials-overtake-baby-boomers/
2 Taylor, Marygrace, "Move over millennials: Here's what you need to know about Gen Z," Food Management, Aug. 23, 2016, http://food-management.com/k-12-schools/abcs-gen-z
3 Glazer, Fern, "Move over Millennials: Gen Z takes a seat at the table," Nation's Restaurant News, June 29, 2016, http://nrn.com/consumer-trends/move-over-millennials-gen-z-takes-seat-table-0
4 Technomic SmartSupport, The Gen Z Selfie (custom report), June 2016
5 Watrous, Monica, "How boomers and Gen Z are changing food," Food Business News, June 30, 2016,
http://www.foodbusinessnews.net/articles/news_home/Consumer_Trends/2016/06/How_boomers_and_Gen_Z_are_chan.aspx?ID=%7BCE7E5EBD-336B-49A7-8FE4-7B3D4641B1E1%7D&cck=1