Even when baseball season is in full swing, snacking hits it out the park as the true great American pastime. According to Mintel, 94% of Americans snack at least once a day and 50% two or three times a day.1 Given such demand, savvy food operators stand a sporting chance at increasing sales if they know what snacks to pitch consumers.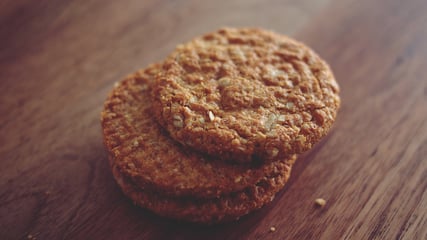 As a perennial favorite, cookies continue to be a home run for the snack market. For the 52 weeks ending April 17, 2016, cookie sales soared to $8.1 billion, with many iconic brands scoring dollar sales growth over the previous year.2 During that short span of time, one brand alone hit the $639.1 million mark. 2 Private label cookies more than held their own, reaching $1.15 billion in sales for the same period, growing at a faster pace than the category overall and spiking frozen cookie dough sales by nearly 50%.2
A Big Hit as a Foodservice Trend
As the largest bloc of consumers, more numerous than the baby boomers,3 millennials represent the big leagues of the snack market. To capitalize on the millennial foodservice trend of healthy snacks that offer satisfying flavor, many baking innovators are adding nutrients, removing allergens or taking other measures to transform cookies from an ordinary treat to a go-to wholesome option.
While cookies have historically been viewed as a delicious sweet, the millennial insistence on healthy options is helping to drive better-for-you and clean label innovations in snacking trends. Replacing artificial ingredients with natural, non-GMO offerings has become key, along with shifting from traditional sweeteners like sugar and high-fructose corn syrup to low-glycemic and low-calorie sweeteners.
Swinging for the Fences
As more and more big players in the cookie category commit to eliminating high fructose corn syrup and including more natural ingredients in their products,4 the heat is on for manufacturers to cook up ways to maintain flavor. Swapping out high-fat and artificial ingredients for whey protein is a popular solution to making cookies healthier while retaining their appealing taste, texture and appearance. Given the clean-label craze, it should come as no surprise that nutrient-rich, high-fiber ingredients are finding their way onto the labels of cookie products.
But how do you balance the millennial insistence on healthy snacks with their appetite for rich flavor profiles? As 62% of consumers opt for minimally processed foods while shopping, and 84% buy "free-from" foods (e.g., gluten free, sugar-free, fat-free, preservative-free, etc.),4 increasing demand for allergen-free options from traceable sources are driving innovative approaches. One cookie manufacturer developed its own flour from cassava root to accommodate gluten-free baking.2 Another developed calcium fortification technology to increase the calcium content in their cookies to match that of a glass of milk, without compromising flavor.2
Sweet Success in the Cookie Big Leagues
While chocolate chip and chocolate are the fastest-growing cookie flavors across the U.S.,5 the millennial taste for new flavors and varieties allows foodservice operations to branch out beyond traditional favorites. As Angie Singer, director of sales and marketing, Delavau Food Partners, explains: "Whether they're free from gluten or other allergens, or have a moist, cakelike texture to complement a red velvet cake-inspired flavor, the possibilities for the cookie category are virtually endless."2 Foodservice operators who can combine clean-label appeal with great taste are in a good position to keep cookie sales sweet.
Do you agree that old favorites like cookies need a healthy makeover to score points with millennials? Got a winning strategy to cover the bases and make millennial snacks both healthful and flavorful? Pitch in your thoughts below.
1 PR Newswire, A snacking nation: 94% of Americans snack daily, July 9, 2015,
http://www.mintel.com/press-centre/food-and-drink/a-snacking-nation-94-of-americans-snack-daily
2 Kvidahl, Melissa, "State of the Industry 2016: Cookies continue to evolve into better-for-you treats," Snack Food & Wholesale Bakery, June 13, 2016
3 Fry, Richard, "Millennials overtake Baby Boomers as America's largest generation," Pew Research, Apr. 25, 2016,
http://www.pewresearch.org/fact-tank/2016/04/25/millennials-overtake-baby-boomers/
4 Nielsen, Brad, Finding the Balance Between Taste and Health: 2016 Cookie and Cracker Trends, Grande Custom Ingredients Group, May 31, 2016,
http://www.grandecig.com/blog/finding-the-balance-between-taste-and-health-2016-cookie-and-cracker-trends
5 Viteri, Angela, "Cookies Q1-16," Technomic Grab-and-Go Reports, Apr. 22, 2016,
https://technomic.net/#/report/cookies-q1-16?country=US&cuisine=&rank=&category=&segment=&headquarter=&date=ly&custom-text=cookies&company=&program=&news-list=type.report&news-focus=&report-category=